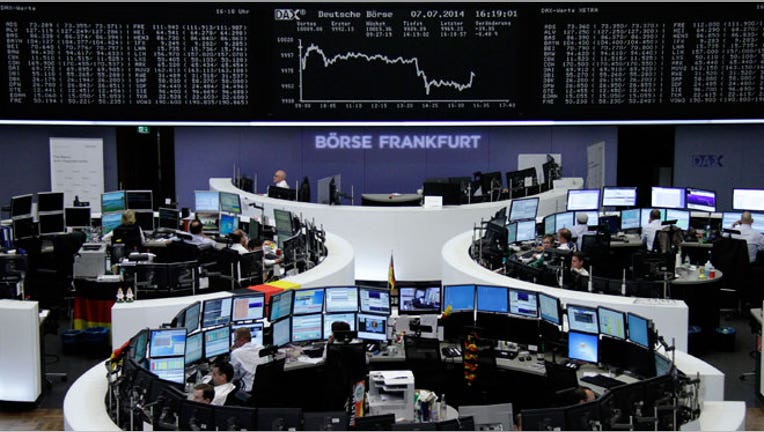 European shares dropped on Friday following disappointing company updates, with WPP falling after giving a cautious outlook and Berendsen plunging on its results.
Investors have become cautious as recent comments from some Fed policymakers have raised expectations that the U.S. Federal Reserve will hike interest rates later this month. Fed Chair Janet Yellen and Vice Chair Stanley Fischer are both due to speak later on Friday and are expected to echo the same view.
"Main focus today will be on Fed chief Yellen's speech later this evening. Even as many traders and analysts basically think that a rate hike in March is more or less a done deal, any comments to clarify this matter even more would be considered as positive for markets," said Markus Huber, a trader at City of London Markets.
The pan-European STOXX 600 was down 0.3 percent by 1047 GMT after briefly climbing to a 15-month high in the previous session. However, the benchmark index is up more than 1 percent so far this week and headed for a positive weekly close.
WPP shares were down nearly 7 percent after the world's largest advertising group said it had a relatively slow start to 2017 and would plan conservatively for the year ahead after hitting its 2016 target for net sales growth.
"WPP is a hugely successful business, but it is feeling the effect of slower growth in the UK and USA, where clients are spending less. When you are the size of WPP, you can't but notice the broader state of the economy," Hargreaves Lansdown fund manager Steve Clayton said.
The British company dragged down the European media index , which fell 1.6 percent to feature as the biggest sectoral faller in Europe.
Workwear and hygiene company Berendsen slumped 16.7 percent, the biggest faller in the STOXX 600 index, after its financial results and outlook statement. The company said the first half would continue to be impacted by legacy operations in the United Kingdom.
However, losses were capped by some individual companies.
Gemalto shares rose 5 percent, top gainers in the STOXX 600 index, after the digital security company said its profits from operations rose 7 percent in 2016.
Across Europe, Germany's DAX was down 0.3 percent, while Britain's FTSE 100 fell 0.2 percent.
Investors were in a risk-off mode on the last trading day of the week and ignored some encouraging regional macroeconomic indicators.
A survey by IHS Markit found that activity in euro zone businesses grew at its quickest pace in nearly six years in February and job creation reached its fastest in almost a decade, driven by robust demand and exports.
The expansion was broad-based and may put to rest doubts about uneven growth in the region. If sustained, economic growth could hit 0.6 percent in the first quarter, according to Markit.
During the month, growth in Germany's services sector accelerated, the French private sector picked up to expand at a pace not seen since 2011, while Italy's service sector grew at its fastest rate for more than a year.
(Editing by Susan Thomas)