European stocks drop amid Italy uncertainty, oil falls again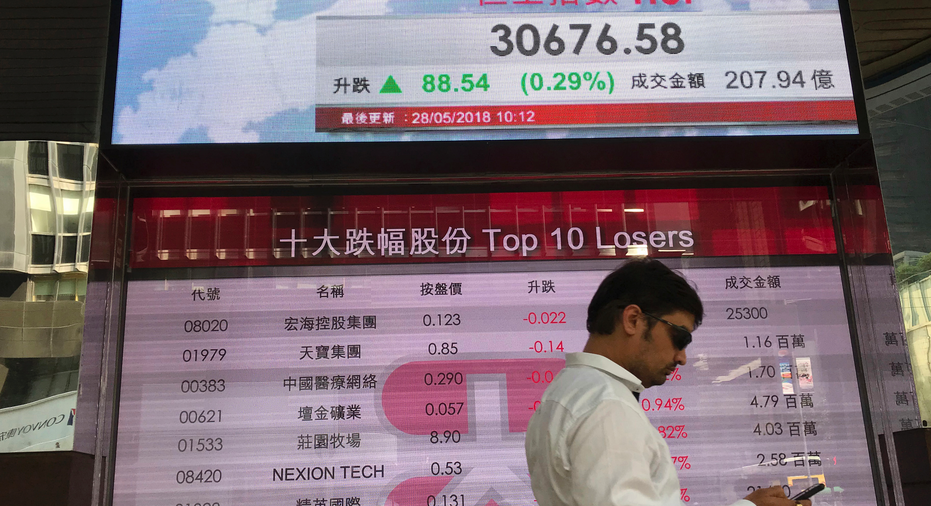 European stock markets fell Monday after small gains in Asia as investors digested political uncertainty in Italy, while crude oil fell further amid expectations for output increases. Markets remained closed for holidays in the U.S. and Britain.
KEEPING SCORE: France's CAC 40 fell 0.6 percent to 5,508.93 and Germany's DAX dropped 0.6 percent to 12,863.46. Italy's benchmark FTSE MIB opened higher but drifted lower to close down 2.1 percent at 21,932.69. Japan's Nikkei 225 edged 0.1 percent higher to 22,481.09 and South Korea's Kospi rose 0.7 percent to 2,478.96. Hong Kong's Hang Seng rose 0.7 percent to 30,792.26 while the Shanghai Composite in mainland China dipped 0.2 percent to 3,135.08. Australia's S&P/ASX 200 fell 0.5 percent to 6,004.00.
ITALIAN POLITICS: The euro was volatile, touching a six-month low after Italy's president vetoed a euroskeptic candidate for economy minister proposed by leaders of two populist parties trying to form a government. President Sergio Mattarella said Sunday he was refusing to appoint Paolo Savona, whose policies could rattle nervous markets and further inflate the country's staggering debt load. Instead, he named an economist, Carlo Cottarelli, to lead the country until new elections. While avoiding a populist government that investors had worried about, the move means more political uncertainty. The euro fell to $1.1627 from $1.1652 on Friday.
ANALYST TAKE: "The euro has had a rough go lately, reflecting a firehose of negative news headlines. It started with the loss of data momentum and now political risks have injected a new risk premium. We still believe that Italy doesn't pose systemic risks to the single currency," said Mark McCormick, the North American Head of FX Strategy at TD Securities.
NORTH KOREA: President Donald Trump's latest reversal on a summit with North Korean leader Kim Jong Un and South Korean President Moon Jae-in's impromptu meeting with Kim on Saturday eased fears over the Korean Peninsula's nuclear crisis. Trump tweeted that a U.S. team is in North Korea to make arrangements for the planned June 12 summit in Singapore, days after he said the U.S. was withdrawing from the meeting. Meanwhile, Moon revealed details about his surprise meeting with Kim in the Panmunjom truce village, saying Kim had committed to sitting down with Trump and to a "complete denuclearization of the Korean Peninsula."
CURRENCIES: The dollar slipped to 109.32 yen from 109.40 yen late Friday. The pound was roughly flat at $1.3309.
ENERGY: Oil futures resumed tumbling after taking their worst losses in months on Friday, battered by reports that OPEC countries and Russia could start pumping more oil soon. Benchmark U.S. crude tumbled $1.45 a barrel, or 1.7 percent, to $66.43 a barrel in electronic trading on the New York Mercantile Exchange. The contract dropped $2.83, or 4 percent, to settle at $67.88 on Friday. Oil producing countries cut output at the start of 2017 following a big supply buildup and agreed last year to extend those cuts through the end of 2018, but according to reports last week, they might agree to start raising production in June.