European Shares Gain for 3rd Day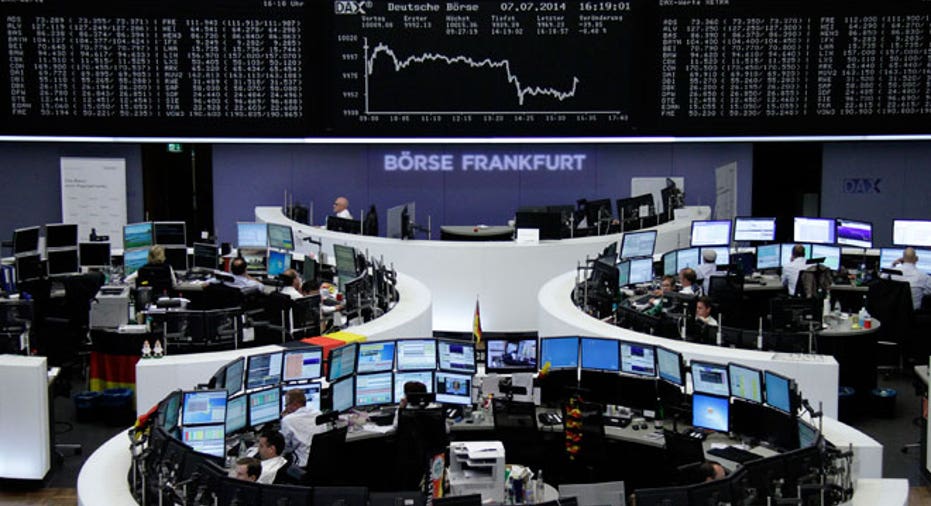 European shares climbed for a third consecutive session on Thursday, with some major companies such as France's second-biggest listed bank Societe Generale and oil major Total advancing after their results.
Eutelsat also surged, up 6 percent and the top gainer in the STOXX 600 index, after the telecommunication services firm's first half revenue fell less than expected. It also predicted higher Internet and mobile satellite sales and planned to buy a Viasat satellite.
Shares in Societe Generale rose 2 percent after the bank reported better than expected net income in the final three months of last year and said it would float a stake in its booming vehicle leasing unit ALD.
France's Total gained 0.8 percent after the company also reported better than expected fourth quarter net profits, thanks to cost savings that enabled it to raise its dividend, and said it was hunting opportunities to buy assets from struggling rivals.
Bank of America Merrill Lynch said that there was a strong value case for European equities relative to the United States. However, the value case was conditional on the earnings cycle in Europe turning to relative profit growth and the impact of political and sovereign risks.
"So far the signs are positive. Earnings (in Europe) are now rising relative to the U.S. and we expect double digit EPS growth in 2017," Bank of America ML analysts said in a note.
The pan-European STOXX 600 index was up 0.2 percent by 0959 GMT after rising in the past two straight days. Across Europe, the DAX, up 0.1 percent, was little changed after data showed Germany's trade surplus hit a new record in 2016.
However, gains were limited by some weaker sectors and poor company updates.
The European mining index fell 1.3 percent, the biggest sectoral decliner, after copper and nickel dropped. Shares in Anglo American, Antofagasta and Glencore were down 2.6 to 3.5 percent.
Commerzbank fell 3 percent after the German lender said it needed to do more to get back to sustainable growth. Germany's second-largest lender behind Deutsche Bank, however, beat quarterly profit forecasts.
Thomas Cook fell 7 percent on its cautious outlook. It said summer bookings were ahead of last year, but it was cautious for the rest of the year due to uncertain political and economic outlook.
However, some analysts were mildly positive.
"Times are tough in the European travel industry and Thomas Cook isn't having the best of it, though the good news is things don't seem to be getting any worse," Laith Khalaf, senior analyst at Hargreaves Lansdown, said.
Yara International and Gjensidige both fell 6 percent after their results.
Smith & Nephew dropped 3.3 percent after Europe's biggest artificial hip and knee maker reported a 7 percent drop in full-year trading profit, missing average forecasts, on tough market conditions in China and the Gulf.
Yara International and Gjensidige both fell 6 percent after their results.
(Reporting by Atul Prakash; Editing by Keith Weir)