European Shares Edge Up, Traders Eye ECB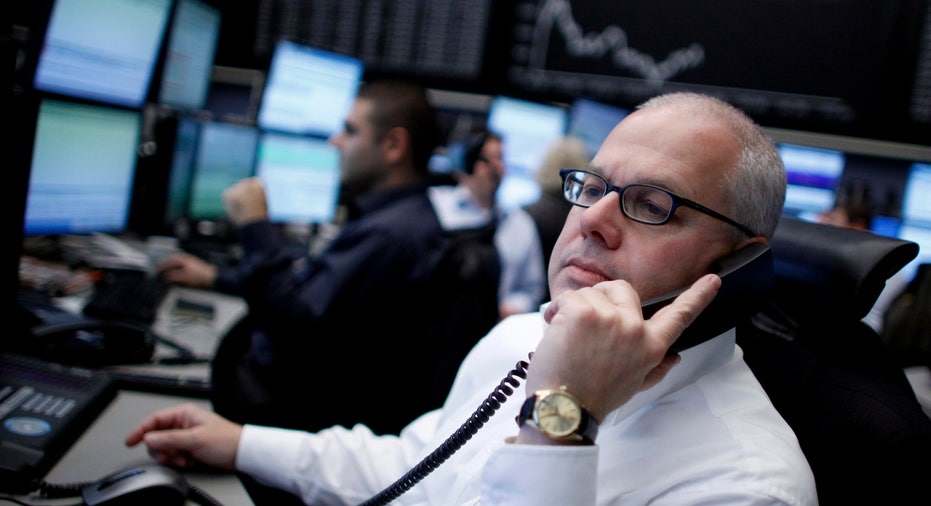 The euro and shares inched higher on Thursday, as investors awaited the European Central Bank's policy meeting later in the day and President Mario Draghi's views on the region's growth outlook.
Testimony from the new head of the Bank of England, bond auctions by France and Spain, earnings reports from a host of major European companies and the start of a two-day European Union summit provided more reasons for investors to be cautious.
The euro edged up 0.3 percent to $1.3570, holding above this week's low of $1.3458 plumbed on Tuesday but well shy of a 15-month peak of $1.3711 set last Friday.
The common currency has now soared 20 percent against Japan's yen in just three months, risen 8 percent on sterling and 7 percent on the dollar, increasing tensions among policymakers across the recession-hit region.
The gains have put the spotlight firmly on ECB president Draghi's 1330 GMT news conference, which follows the bank's meeting where interest rates are expected to be left unchanged.
"Draghi has to be very careful because it's a very sensitive time in currency markets, and investors will be looking for any hint of the ECB's thinking on this issue," said Ned Rumpeltin, head of G10 FX strategy at Standard Chartered Bank.
"It is probably the wisest path for him to avoid the debate on the currency at this point in time."
At his news conference last month, Draghi read out a G20 statement on exchange rates in which members pledged to avoid competitive devaluations. With another meeting of the group due next week, it's likely Draghi will keep to this line.
BRITAIN VIEW
Ahead of the ECB meeting, the man about to take the helm at the Bank of England, Canadian Mark Carney, faces his first public grilling about how he would revive Britain's stagnant economy.
Carney, the first foreigner to run the bank in its 318-year history, faces a three-hour question-and-answer session that could also signal how he will bring his banking expertise to bear on the UK's crisis-hit banks.
The Bank of England also holds its monetary policy meeting later. No policy changes are expected at the BoE's monthly meeting, with an announcement due at 1200 GMT.
The UK central bank is unlikely to change interest rates though to signal an unchanged monetary policy stance it needs to announce fresh purchases of bonds to maintain its stock at the current level of 375 billion sterling.
Ten-year gilt yields were 1 basis point lower at 2.09 percent ahead of the testimony and the bank's announcement.
German Bund futures reflected the cautious mood across all markets, edging up 5 ticks to 142.61, with attention on reaction to a Spanish sale of 4.5 billion euros of new debt.
Increasing calls for Spain's prime minister Mariano Rajoy to resign over a corruption scandal may have hit investor demand for the bonds, which saw higher yields at the sale.
Ten-year Spanish government bond yields were 3.7 basis points higher at 5.48 percent, while two-year borrowing costs rose 1.9 bps to 2.89 percent.
SHARES STABLE
European shares were mostly little changed, stabilising after sharp losses in the previous session, as mixed corporate results and rising economic concerns in the euro zone added to the nerves ahead of the ECB meeting.
The FTSEurofirst 300 index of top European shares was slightly higher in early trade, despite disappointing results from French pharmaceutical group Sanofi, telecoms firm Alcatel Lucent and Credit Suisse .
London's FTSE 100, Paris's CAC-40 and Frankfurt's DAX were all around 0.1 percent higher.
"The medium and long-term positive trend is still intact, although on the short term, we're turning 'neutral'; indexes are very close to key support levels," said Aurel BGC chartist Gerard Sagnier.
Commodities markets were all trading within tight ranges, with investors' attention firmly fixed on the currency implications of anything the ECB's Draghi might say.
The euro often dictates gold's movements in particular, and ahead of the meeting it had inched up to about $1,680 an ounce .
"Gold is very much dependent on the outcome of the ECB. I don't think today they will give us a clear indication whether the euro is indeed overvalued," said Joyce Liu, an investment analyst at Phillip Futures in Singapore.
"If they try to weaken the euro because the economy hasn't bottomed out, then in that case, it's possible gold may go up a bit."
Brent crude was steady in a tight range around $117 per barrel ahead of the meeting.
Brent has gained over the last three weeks as positive data suggested the global economy had turned a corner, which augurs well for fuel demand, while supply worries stemming from tensions in the Middle East have also supported prices.