European Sales Hurt Illumina Inc. Q1 Earnings Results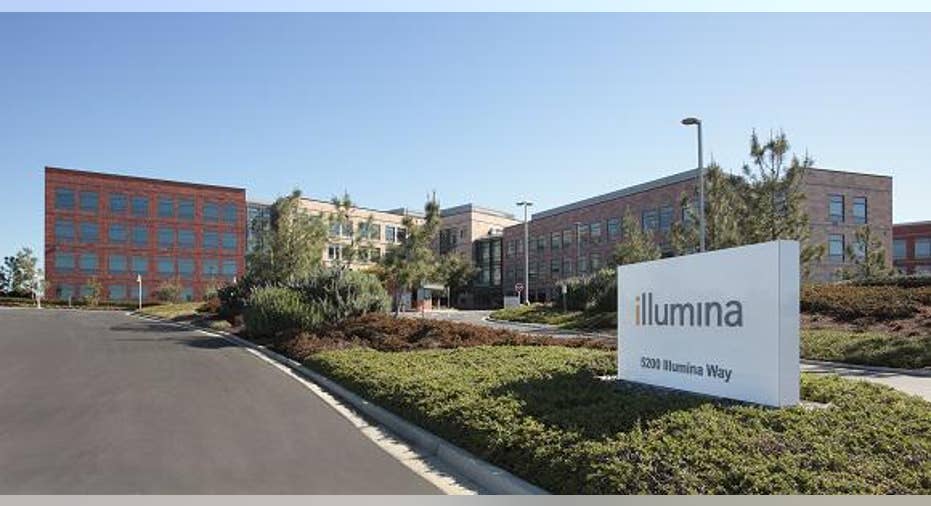 Image source: Illumina.
Investors already knew that bad news was coming for Illumina . The genomic-sequencing leader gave a sneak peek of its first-quarter revenue figures on April 18. Those figures were so disappointing that Illumina's shares dropped 24%. The company announced its full first-quarter results after the market closed on Tuesday. Here are the highlights.
Illumina results: The raw numbers
| Metric | Q1 2016 Actuals | Q1 2015 Actuals | Growth (YOY) |
| --- | --- | --- | --- |
| Sales | $572 million | $539 million | 6.1% |
| Net income from continuing operations | $90 million | $137 million | (34.3%) |
| Earnings per diluted share | $0.60 | $0.92 | (34.8%) |
Data source: Yahoo! Finance.
What happened with Illumina this quarter?Illumina's first-quarter results were disappointing across the board. The company revealed in its preview on April 18 that sales were lower than expected for itsHiSeq 2500, 3000, and 4000 instruments. Illumina particularly cited challenges in Europe.The lower-than-expected revenue, combined with higher expenses, made for pretty dismal year-over-year comparisons.
On a positive note, Illumina'sHiSeq X benchtop sequencing array and services revenue was solid in the first quarter. Sequencing consumable shipments also grew at a respectable 24% compared with the prior-year period.
Other highlights of the first quarter:
The company announced co-marketing agreements with10X Genomics and NRGene to enable long read applications.
Illumina forged a partnership with Genomics England with the goal to build a platform to help improve genome interpretation.
BaseSpace Informatics Suite, a new product, launched, offering tools to facilitate precision medicine initiatives and genomic research.
Illumina committed $100 million to a new venture-capital company focused on early-stage investments that align with the company's vision.
The company announced that current CEO Jay Flatley will assume the role of executive chairman as of July 5, with Francis deSouza moving into the position of president and CEO.
What management had to sayFlatley didn't try to gloss over the disappointing results:
Looking forwardThe first-quarter disappointment seems likely to spill over into the rest of the year. Illumina anticipates revenue growth of around 12% in fiscal 2016. Non-GAAP earnings per diluted share for the year are expected to be between $3.35 and $3.45. Illumina also projects second-quarter revenue of $590 million to $595 million, with non-GAAP earnings per diluted share between $0.72 and $0.74.
Illumina's problems in the first quarter don't appear to be a symptom of wider challenges for the entire industry. The company's first-quarter results were notably worse than those of one of its main rivals, Thermo-Fisher Scientific . Thermo-Fisher reported that its life sciences solutions business segment, which competes against Illumina, grew revenue by 11% in the first quarter.But while Thermo-Fisher saw strong growth in China, European sales increased by only a mid-single-digit percentage.
Like Thermo-Fisher, Illumina forecasts continued slow growth in Europe in the low to mid single digits. However, Illumina isn't just sitting tight. The company has already moved one of its most senior sales executives from the U.S. to Europe to shake things up.
Flatley suggested that the market potential for next-generation sequencing systems in Europe is much better than the company's revised outlook. If Illumina's changes help prove him right, the company's current woes could prove to be only temporary.
The article European Sales Hurt Illumina Inc. Q1 Earnings Results originally appeared on Fool.com.
Keith Speights has no position in any stocks mentioned. The Motley Fool owns shares of and recommends Illumina. Try any of our Foolish newsletter services free for 30 days. We Fools may not all hold the same opinions, but we all believe that considering a diverse range of insights makes us better investors. The Motley Fool has a disclosure policy.
Copyright 1995 - 2016 The Motley Fool, LLC. All rights reserved. The Motley Fool has a disclosure policy.