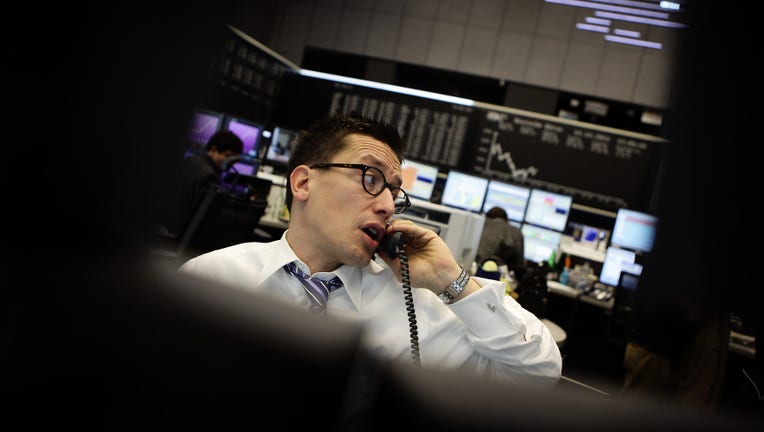 Banks and miners led European shares lower around midday on Wednesday as uncertainty over the future of equity-friendly monetary stimulus sapped the appetite for risk.
European markets echoed falls overnight in the United States and Asia after Atlanta Fed President Dennis Lockhart, seen as a centrist in policy terms, said on Tuesday a cut in the Federal Reserve's bond-buying operations remained a possibility at its Dec. 17-18 meeting.
A faster than anticipated recovery in Britain's job market was also increasing speculation that the record low interest rate of 0.5 percent could be raised sooner than expected - denting the attraction of equities.
Sterling overnight interbank average rates now price in a 40 percent chance of a rate hike in two years, up from around 35 percent on Tuesday.
And stronger than anticipated production figures in the euro zone also conflated worries that central banks may soon have to rethink their stance towards easy monetary policy.
By 1157 GMT, the FTSEurfirst 300 was down 7.66 points, or 0.6 percent, at 1,283.26, while Britain's FTSE 100 underperformed falling 1.2 percent.
Financials - banks, insurers and asset managers - and miners, sectors most acutely exposed to the easy monetary policy adopted by central banks, led the fallers, down up to 1.6 percent.
Asia-focused Standard Chartered shed 3.2 percent hurt by Mizuho Securities cutting its rating on the lender to "underperform" from "neutral", citing worries over growth particularly in emerging markets that have been stung by stimulus worries in 2013.
Growth concerns also knocked Italian banks such as Unicredit , down 4.2 percent, which are being required to raise more capital to meet higher quality capital requirements.
"The market is running out of steam," Dean Cook, investment research analyst at Duncan Lawrie Private Bank, said
"We wouldn't be surprised in the short-term if there is a bit of a correction as investors digest the (monetary policy) goalposts being moved."
EARNINGS BOOST
While equity markets wobbled at the margin on the words of central bankers, more broadly they remain supported around multi-year highs on expectations that monetary policy will still be in place for the foreseeable future and earnings will soon pick-up to support recent rise in valuations.
Drinks firm Carlsberg rallied 2.8 percent after its third-quarter results met market expectations and it maintained earnings guidance, traders said.
Food retailer Sainsbury's 7 profit rise put British rival Tesco in the shade, helping send its shares up 3.8 percent and its larger peer's down 0.8 percent.
HSBC's downgrade of Tesco to "neutral" also weighed on sentiment towards Britain's biggest retailer. The investment bank questioned the wisdom of Tesco's strategy and cut its target price by 7 percent to 400 pence.
There was technical support, however, for euro zone stocks with the region's blue chip Euro STOXX 50 index down 13.3 points at 3,021.38.
"The Euro STOXX 50 is in a short-term consolidation within its long-term resistance zone of 3,050-3,080. Next support level is 3,000," Sophia Wurm, technical analyst at Commerzbank, said.
"Nevertheless, from a medium-term view, the current consolidation should have a trend-confirming character to the upside."