Europe Stocks Higher as French Vote Sparks Rally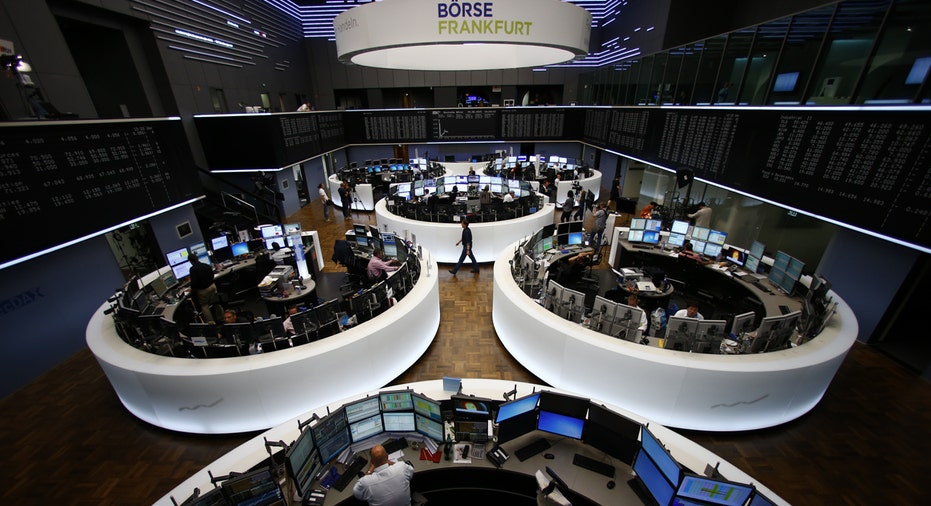 Banks rallied, powering European shares to their highest levels in more than a year, while volatility and safe-haven gold stocks slumped on Monday on abating political anxiety in the euro zone.
Investors cheered the first-round results of France's presidential election in which centrist Emmanuel Macron took a big step towards leading his country, with polls now putting him comfortably ahead of far-right leader Marine Le Pen in the May 7 run-off.
The outcome lessens the risk of an anti-establishment shock on the scale of UK's vote to quit the European Union and bolsters the case for closer ties between France and Germany.
"The risk of a europhobic president has been lifted for markets. I think there will be a period of relief," said Pascale Auclair, global head of investment at La Francaise Asset Management.
Europe's main gauge of equity market anxiety, the Euro STOXX 50 Volatility index fell 7 points, wiping out the rapid surge it made this month when investors grew cautious in the run up to the French vote.
Shares in French companies and banks saw the biggest gains across the region with the euro zone's bank index rising more than 5 percent to its highest level in 16 months and Paris blue chips hitting their highest since April 2015.
"French banks alongside European banks will likely be the biggest winners," said UniCredit analysts in a note.
Europe's STOXX 600 index was up 1.7 percent by 0826 GMT, while UK's FTSE added 1.6 percent and Germany's DAX was up 2.6 percent.
The top six gainers on the pan-European index were banks with Commerzbank, Societe Generale and UniCredit leading the way, all up more than 8 percent.
Brokers including Goldman Sachs, Citi and Kepler Cheuvreux all came out heavily in favor of European banks on Monday morning.
Industrials were also in demand with shares in French construction companies Saint-Gobain and Vinci soaring 6.4 percent and 5.5 percent respectively, as investors turned their focus to their earning prospects.
"There was already a case for this sector before the election, but now we are looking beyond and back to fundamentals," says Vincent Juvyns, global market strategist at JP Morgan Asset Management.
The broader rush into risky assets weighed on precious metal miners Randgold Resources and Fresnillo which fell 4.1 percent and 2.6 percent respectively, as prices of gold, seen as a safe haven asset, fell more than 1 percent to their lowest in nearly two weeks.
Next up on investors' radars will be the slew of results poised to kick off European earnings season this week including heavyweight banks UBS and Credit Suisse.
European first-quarter earnings are expected to rise 7.2 percent, according to Thomson Reuters I/B/E/S data. Excluding the energy sector, this would be a rise of 2.9 percent.
Meanwhile, some results on Monday cheered investors.
Philips rose 3.2 percent after the maker of medical devices and healthcare products beat expectations, while results at Swedish telecoms firm Tele2 were also stronger than expected, sending its shares up 7.2 percent.
(Reporting by Danilo Masoni; Editing by Jon Boyle)