EU warns Turkey after its warships force gas rig to halt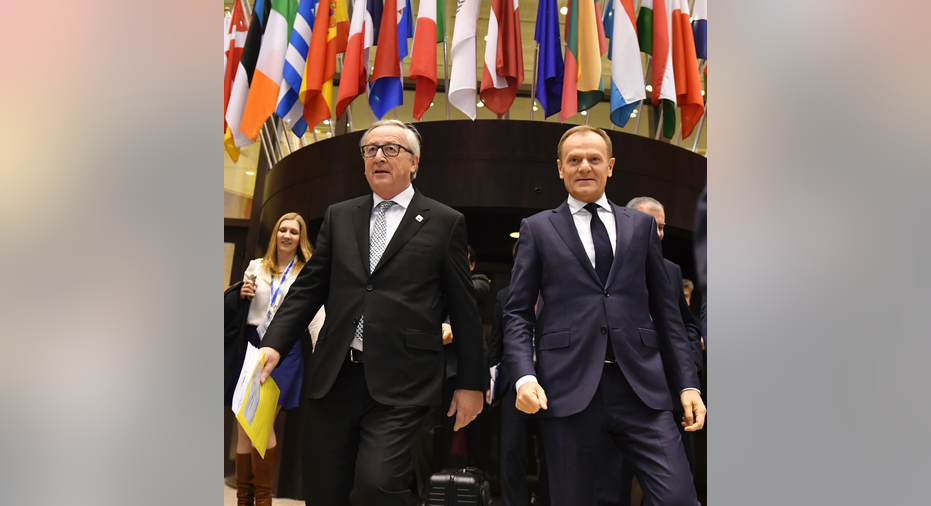 The European Union warned Turkey on Friday to rein in its navy after Turkish warships threatened and blocked a rig from reaching a site southeast of Cyprus where it was to drill for natural gas.
EU leaders said they could abandon a meeting with Turkish President Recep Tayyip Erdogan next month and expressed solidarity with Cyprus and Greece.
Cypriot Energy Minister Yiorgos Lakkotrypis told local TV station Antenna that the rig's skipper showed "great determination" to reach the target where Italian company Eni was scheduled to carry out exploratory drilling. But he said Turkish warships "threatened to use force," got in the rig's way and stepped up their threats the closer the rig came to the drilling site, forcing it to stop.
EU Council President Donald Tusk, speaking Friday in Brussels after chairing a summit of EU leaders, said they "urgently call on Turkey to terminate these activities."
Tusk said the leaders underlined the right of Cyprus "to explore and exploit its natural resources in accordance with EU and international law."
He said the EU is "ready to cooperate with Turkey" but will assess at their March 22-23 summit whether to go ahead with a meeting with Erdogan on March 26 in Bulgaria.
Greek Prime Minister Alexis Tsipras said the EU needed to send Turkey a clear message that its relations with the 28-member bloc can't move forward "in the face of constant breaches of the sovereign rights" of EU countries.
Turkey says it won't allow the government in Cyprus to proceed with a "unilateral" offshore gas search as long as the rights of breakaway Turkish Cypriots to the ethnically split island's resources are being ignored.
The Cyprus government says drilling off its shores is its sovereign right and will benefit all Cypriot citizens after the island is reunified.
Lakkotrypis said the Cyprus government had agreed with Eni to make another attempt to reach the area, known as Block 3, southeast of Cyprus. The Saipem 12000 rig had been anchored 30 miles (50 kilometers) from the drilling target since Feb. 9 when Turkish warships initially blocked its course, saying they were conducting military maneuvers.
Cyprus spokesman Nikos Christodoulides told state broadcaster RIK that Eni's exploratory drilling at Block 3 has been put off and the rig will move on to Morocco.
Lakkotrypis called the incident a setback, but said Turkey won't stop Cyprus' offshore gas search. Cyprus has issued drilling licenses to other companies, including France's Total and ExxonMobil, which will start exploratory drilling later this year.
Earlier this month, Cyprus said that Eni discovered a potentially significant gas deposit at another site southwest of the island.
___
Lorne Cook in Brussels and Nicholas Paphitis in Athens contributed.