EU official Tusk: No sufficient progress in Brexit talks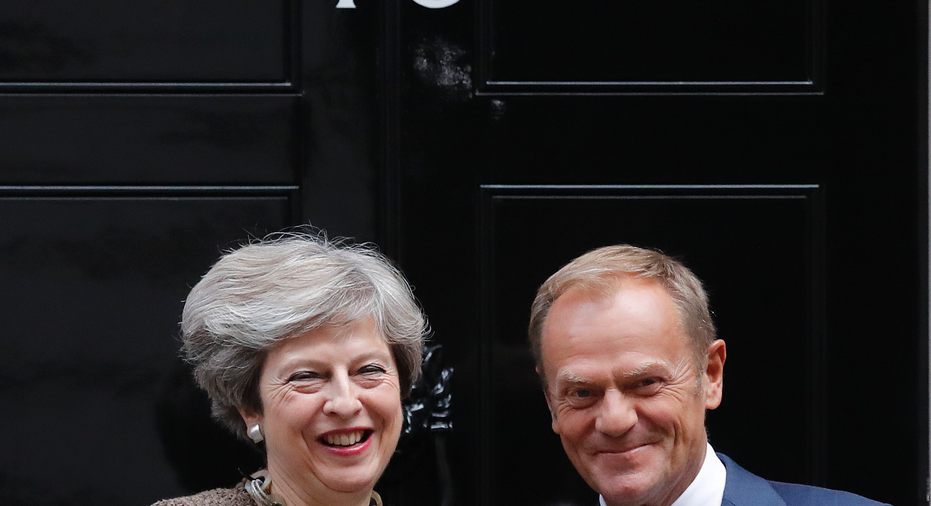 Brexit talks haven't yet made sufficient progress to begin negotiating a new relationship between Britain and the European Union, European Council President Donald Tusk said Tuesday. But Tusk said he's now "cautiously optimistic" about the way ahead.
After meeting with British Prime Minister Theresa May in London, Tusk said he believed Britain had finally abandoned its unrealistic "having a cake and eating it" approach to Brexit.
Britain triggered a two-year countdown to leaving the EU in March, but since then talks have made little progress. Negotiators are meeting in Brussels this week for a fourth round of discussions, as EU officials warn Britain that time is running out.
Britain is keen to start discussing future trade and security relations with the bloc, a move that would alleviate some of the uncertainty rattling the British economy. But EU officials say those talks can't happen until there has been "sufficient progress" on the terms of the divorce.
In a bid to break the logjam, May made a conciliatory speech Friday in Florence, Italy, saying the U.K. would be willing to pay into EU coffers during a two-year transition phase after it formally leaves the bloc in March 2019.
Tusk said Tuesday he felt Britain had finally abandoned an unrealistic belief that it could leave the EU while keeping all the advantages of membership.
"I feel cautiously optimistic about the constructive and more realistic tone in the prime minister's speech in Florence and of our discussion today," Tusk said after meeting May at 10 Downing St.
"There is no sufficient progress yet, but we will work on it," he added.
Other EU officials also gave a cautious welcome to May's speech, but said more details are needed. Chief Brexit negotiator Michel Barnier said Monday he was "keen and eager" to understand how May's words would be turned into a negotiating strategy.
May's office said the Florence speech had been intended to create momentum in the talks and "it was important for EU negotiators to now respond in the same spirit."
The EU insists it won't discuss future relationships until it has guarantees on Britain's outstanding financial commitments, on the rights of more than 4 million EU and British citizens affected by Brexit and on the status of the Irish border.
EU leaders are to assess at an Oct. 19-20 meeting whether Britain has made "sufficient progress" on the divorce arrangements for negotiations to move on. It's likely they will decide it's too soon and will reassess the decision in December.
In another sign of Britain's more conciliatory tone, U.K. Foreign Secretary Boris Johnson tried to reassure eastern Europeans that they will remain welcome. Brexit will end the automatic right of EU nationals to live and work in the U.K., and that has left many of the 3 million EU citizens in Britain worried for their futures.
Johnson told Romania's Agerpres news agency that the estimated 500,000 Romanians currently in Britain are "hugely valued members of our society."
"We would be crazy to let them go back to Romania, we want to ensure ... their rights are protected," said Johnson, who is on a visit to the Czech Republic, Romania and Slovakia.
Johnson also seemed to have changed his tune since July, when he said the EU could "go whistle" if it wanted a big exit payment from Britain.
"We're putting some money on the table," Johnson said, adding that Britain would "continue to honor our commitments" to the EU.
___
Alison Mutler in Bucharest, Romania, contributed to this story.