EU leaders struggle to break through Brexit talks impasse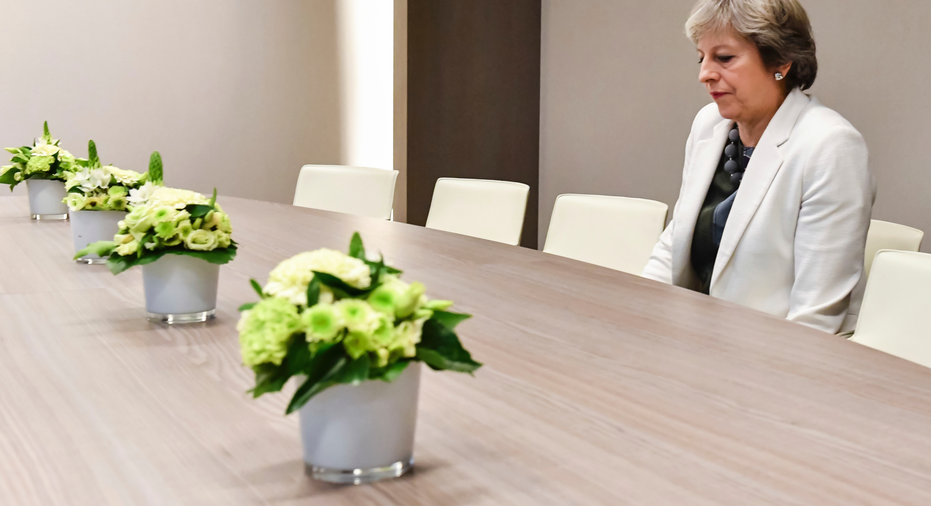 Leaders of Britain and the 27 other European Union members agreed Friday that much remains to be done in Brexit talks amid deep divisions about the terms of their breakup, particularly on how much London should pay in the divorce.
While EU President Donald Tusk said that "reports of a deadlock between the European Union and the United Kingdom have been exaggerated," many other leaders were far less upbeat as a two-day summit in Brussels wrapped up.
French President Emmanuel Macron said "there is a lot of work left to do" in the highly complex talks on Britain's exit from the bloc, which will take place on March 29, 2019.
"We have not gone even halfway down the road," Macron told reporters.
British Prime Minister Theresa May urged her EU counterparts to bring new momentum to the talks, even as an interim goal was missed to widen the talks from the more immediate divorce issues to future EU-U.K. relations and trade arrangements after Britain leaves.
The aim is now to widen the talks in mid-December, but doubt remains over whether that deadline can be met.
"I am ambitious and positive for Britain's future and for these negotiations. But I know we still have some way to go," May said, after informal breakfast talks with the other leaders.
Despite calls from both sides to accelerate the negotiations, they remain bogged down on the terms of divorce, which the EU insists must be finalized before talks move onto trade. The main divorce issues include the rights of citizens affected by Brexit, the status of the Ireland-Northern Ireland border and the exact sum of Britain's exit bill — which the EU estimates at 60-100 billion euros ($70-120 billion), compared with a possible 20 billion euro offer from London.
May has promised to pay into the EU budget until 2020, but has not committed her country to future financial obligations or specified what these would be.
She said her government is now going through this "line by line."
To try to break the deadlock, May's EU partners agreed Friday to begin discussing among themselves what their joint position should be on future relations and trade. That would get them ready to tackle the issue at their next summit on Dec. 14-15, provided they find the divorce terms are settled, and shows the British a measure of goodwill.
May argues that the divorce terms and future relations are closely interlinked and cannot therefore be negotiated separately. She acknowledged Friday that much remains to be done on some of the divorce issues before the European Union sees "enough progress" to move on.
She said both sides were within "touching distance" on citizens' rights but still had more work to do on settling the border between EU member country Ireland and Northern Ireland, which is part of the U.K., and agreeing on the Brexit bill.
Ireland's leader, Leo Varadkar, praised May for what he called her "very positive language" but said "we're a long way" from getting to the next step.
German Chancellor Angela Merkel said the way things proceed next depend largely on the British government.
"We would hope that we would be ready in December to initiate phase two," Merkel said, but added: "This depends to a large extent on Britain preparing progress to such an extent that we can call it sufficient. The topic of financial commitment is of course the dominating issue in that regard."
Several officials also say that changes to the format of the negotiations are being considered. At the moment, Brexit negotiators meet roughly every three weeks for four days, bringing the media spotlight on the process and raising expectations about what can be achieved. The idea would be to do away with rounds and hold talks on a rolling basis.
Reflecting those concerns, Lithuanian President Dalia Grybauskaite, said that "we all — not only the U.K. but us also — (must) go for real negotiations and not just negotiating in the media by rhetoric."
She said that an address May made to the EU leaders Thursday night appeared to be made up of extracts from a previous speech and said that it is now time to move "from words to real deeds."
Maltese Prime Minister Joseph Muscat was more upbeat. He praised May's address as her "best performance yet."
"It conveyed a warm, candid and sincere view that she wants progress to be made," Muscat said.
___
Raf Casert and Angela Charlton contributed to this report.