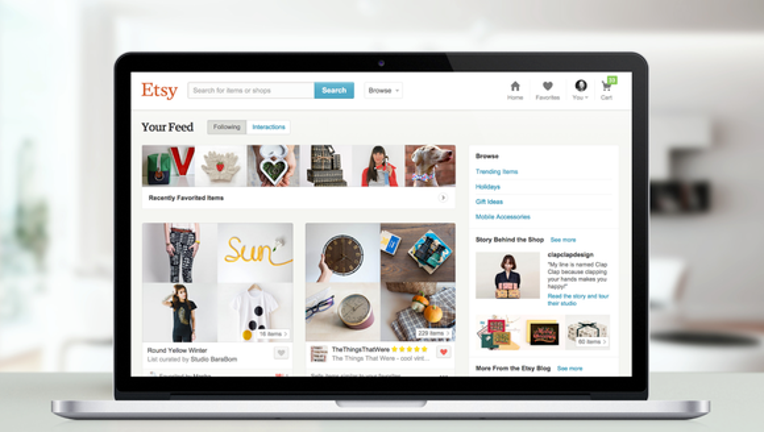 Shares are trading about 5% lower on Wednesday morning following Etsy's (NASDAQ: ETSY) fourth-quarter earnings release on Tuesday afternoon. While the report was marked by sharp growth in revenue and users, Etsy reported a wider-than-expected loss for the quarter.
Here's what investors should know.
Image source: Etsy.
Etsy results: The raw numbers
Data source: Etsy fourth-quarter earnings.
Etsy's 25% year-over-year growth in revenue easily exceeded management's expectation for revenue growth of at least 20%. The growth was driven primarily by a 30.7% year-over-year increase in its seller services revenue, which includes revenue from promoted listings, direct checkout, shipping labels, and other services for Etsy sellers. Seller services revenue was $61.7 million, accounting for 56% of total revenue, up from 54% of revenue in the year-ago quarter.
Notably, active sellers moved higher at a healthy pace. Increasing 11.8% year over year, active seller growth accelerated from 11.3% growth in Q3.
Etsy's wider loss of $0.19, compared to a loss of $0.04 in the year-ago quarter, was primarily driven by the company's fourth-quarter operating expenses of $69.8 million, up 41.5% year over year. Handily outpacing revenue growth, Etsy's operating expenses swelled to represent 63.3% of revenue, up from 56.1% or revenue in the year-ago quarter.
"The increase in operating expenses as a percent of revenue is primarily due to an increase in employee-related expenses related to our acquisition of Blackbird Technologies and marketing expenses related to our brand campaign," management said in the company's fourth-quarter earnings release.
Marketing expenses, which are included in operating expenses, increased 38% year over year to $31 million, accounting for 28.1% of total revenue.
Key takeaways
Despite the fourth-quarter increase in operating expenses as a percentage of revenue, operating expenses as a percentage of full-year revenue improved. Operating expenses in 2016 were $224 million, or 61.4% of revenue. Operating expenses in 2015 were $178 million, or 65.2% of revenue.Furthermore, Etsy's full-year gross margin also improved, rising from 64.5% to 66.2%.
Fourth-quarter gross margin improved, too, climbing to 66.4%, up from 65.6% in the year-ago quarter. "Gross profit grew faster than revenue in the fourth quarter due to the leverage we achieved in technology infrastructure," management explained.So, despite the fourth quarter's sharp increase in operating costs, Etsy is still benefiting from increasing operating leverage overall.
CEO and Chairman Chad Dickerson was happy with Etsy's "strong momentum" at the end of 2016, citing new products like Google Shopping and a new global marketing campaign as highlights in last year's performance.
What now?
Going forward, Etsy expects revenue to rise between 20% and 22%, helped by continued growth in seller services and 15% to 17% GMS growth. Dickerson is optimistic as well about the way the company started 2017.
10 stocks we like better than EtsyWhen investing geniuses David and Tom Gardner have a stock tip, it can pay to listen. After all, the newsletter they have run for over a decade, Motley Fool Stock Advisor, has tripled the market.*
David and Tom just revealed what they believe are the 10 best stocks for investors to buy right now... and Etsy wasn't one of them! That's right -- they think these 10 stocks are even better buys.
Click here to learn about these picks!
*Stock Advisor returns as of February 6, 2017
Daniel Sparks has no position in any stocks mentioned. The Motley Fool owns shares of and recommends Etsy. The Motley Fool has a disclosure policy.