ETF Ideas for the Fourth Quarter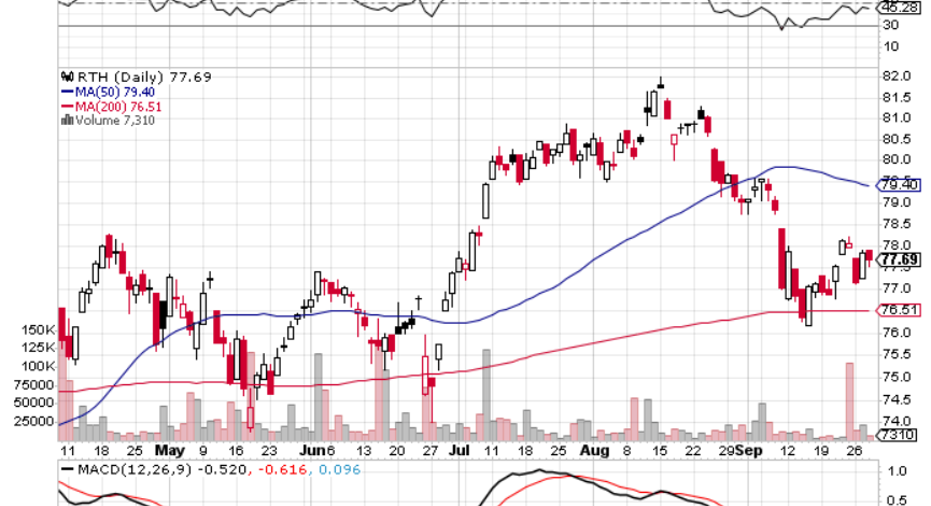 The fourth quarter starts next week, so now is a good time for investors to start considering exchange traded funds that have reputations for performing well in the last three months of the year. Some predictable sectors and industries are part of that equation.
Of course that includes consumer discretionary and retail offerings such as the SPDR S&P Retail ETF (NYSEArca: XRT), the largest dedicated retail exchange traded fund, and the VanEck Vectors Retail ETF (NYSEArca: RTH). There are fundamental factors that should buoy consumer discretionary and retail ETFs. For example, the U.S. has been adding about 200,000 new jobs each month for the past two years, a rapid pace not seen since the boom days of late 1990s, and we are now at an unemployment rate of just 5%.
SEE MORE: Amazon in Focus for Retail ETFs
The Consumer Discretionary Select Sector SPDR (NYSEArca: XLY) is usually a stout performer in the fourth quarter.
"Over the past 15 years' worth of fourth quarters, the Consumer Discretionary Select Sector SPDR Fund (XLY) has averaged a total return of 6.12 percent, easily besting the 4.6 percent return for the Standard & Poor's 500 index over those 15 fourth quarters, but the index's total average return from 2001 through the end of 2015," according to US News and World Report.
On the other hand, economists and investors waiting on wage growth to catch up to the boom. When the economy is at full employment, wages grow about 3% to 3.5% per year, but wages are only rising 2.5% so far.
The Amplify Online Retail ETF (NasdaqGM: IBUY), which began trading April 20, tries to track the performance of the EQM Online Retail Index, which is comprised of global companies that generate at least 70% of revenue from online or virtual sales.
Amplify Investments believes that the companies with significant online retail revenues may be best positioned to capitalize on growth in online retail sales and shoppers, compared to companies with less significant online retail revenues.
Related: ETFs to Follow Growth of Amazon and E-Commerce
"Almost a quarter of XLY's weight is in media companies such as Comcast Corp. (CMCSA). RTH is much more focused on retailers, from Amazon to Home Depot (HD) to Wal-Mart Stores (WMT) — though it has an odd 10 percent exposure to health care companies. RTH's composition has resulted in an 8.28 percent to 6.7 percent advantage over XLY in the four fourth quarters since RTH's inception," adds US News.
For more information on the consumer sector, visit our consumer discretionary category.
VanEck Vectors Retail ETF
The opinions and forecasts expressed herein are solely those of Tom Lydon, and may not actually come to pass. Information on this site should not be used or construed as an offer to sell, a solicitation of an offer to buy, or a recommendation for any product.
This article was provided by our partners at ETFTrends.