Equinix Posts Strong Revenue and AFFO Growth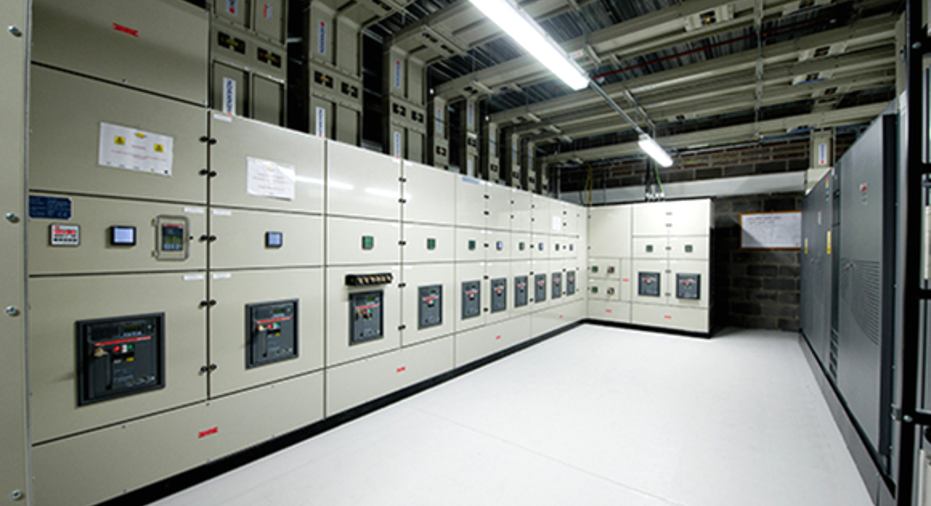 Equinix(NASDAQ: EQIX)reported first-quarter 2017 results after the market closed on Wednesday.
Here's how the quarter worked out for the data-center operator and global interconnection specialist real estate investment trust (REIT) and its investors.
Equinix's key quarterly numbers
| Metric | Q1 2017 | Q1 2016 | Year-Over-Year Change |
| --- | --- | --- | --- |
| Revenue | $949.5 million | $844.2 million | 12.5% |
| Net income | $42.1 million | ($31.1 million) | N/A |
| Earnings per share | $0.57 | ($0.46) | N/A |
| Adjusted funds from operations (AFFO)* | $304.1 million | $209.8 million | 44.9% |
| AFFO per share | $4.14 | $3.03 | 36.6% |
Data source: Equinix. *AFFOis a closely watched metric for companies organized as REITs, as it's a driver of payouts to shareholders. It's akin to "earnings" for REITs.
Equinix's revenue came in above its guidance range of $940 million to $946 million. The company doesn't provide quarterly AFFO guidance.
The company's quarterly year-over-year comparisons are still getting a boost from its acquisition of Telecity, a European data-center operator, as that closed in February (or mid-first quarter) of 2016.
Image source: Equinix.
What happened with Equinix in the quarter?
Recurring revenue, consisting primarily of colocation, interconnection, and managed services, was $898.4 million, a 12.8% increase over the year-ago period. Non-recurring revenue was $51.1 million.
Customer deployments across multiple metro areas increased to 83% of total recurring revenue, which the company said demonstrates the value of its global platform -- and I agree.
The company achieved record quarterly bookings in Europe.
It also achieved records in terms of total new customer wins and new enterprise customer wins.
Eleven new Fortune 500 customers came on board, includingProgressive Corp.andEli Lilly.
Enterprise remained its fastest-growing vertical, with recurring revenue exceeding $100 million.
The company achieved record quarterly bookings in its network vertical, driven by major telecommunication providers expanding capacity and capabilities for digital services such as streaming, cloud, and security, and upgrading network deployments with more advanced optical technologies.
A new international business exchange data center opened in Sao Paulo, Brazil.
What management had to say
Here's what CEO Steve Smith had to say about the quarter:
Looking ahead
Equinix's results should get a boost starting next quarter from its acquisition of 29 data centers from Verizon; this acquisition is expected to close in the second quarter.
The company provided second-quarter guidance and slightly tweaked its previously issued full-year 2017 guidance. For the second quarter, it expects revenue in the range of$976 million to $982 million, which at the midpoint represents growth of 3.1% and constant-currency growth of 2.6% over the second quarter of 2016. Equinix does not issue quarterly AFFO guidance.
Updated 2017 guidance is as follows:
| Metric | Previous 2017 Guidance | Updated 2017 Guidance | Projected Year-Over-Year Change |
| --- | --- | --- | --- |
| Revenue | Greater than $3,933 million | Greater than $3,976 million | 10.1% (more than 11.1% on normalized and constant-currency basis) |
| AFFO | Greater than $1,249 million | Greater than $1,214 million | 13% |
Data source: Equinix.
10 stocks we like better than EquinixWhen investing geniuses David and Tom Gardner have a stock tip, it can pay to listen. After all, the newsletter they have run for over a decade, Motley Fool Stock Advisor, has tripled the market.*
David and Tom just revealed what they believe are the 10 best stocks for investors to buy right now... and Equinix wasn't one of them! That's right -- they think these 10 stocks are even better buys.
Click here to learn about these picks!
*Stock Advisor returns as of April 3, 2017
Beth McKenna has no position in any stocks mentioned. The Motley Fool owns shares of and recommends Verizon Communications. The Motley Fool recommends Equinix. The Motley Fool has a disclosure policy.