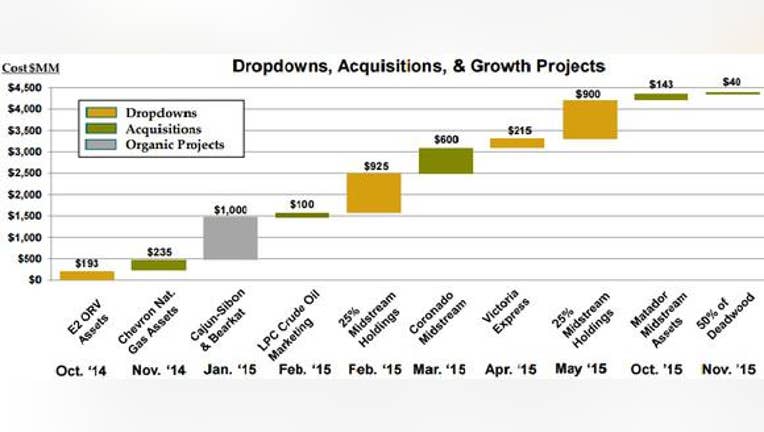 Source: EnLink Midstream Partners
This long lasting oil crash has been brutal for many energy companies, including some midstream MLPs. Take, for instance, EnLink Midstream Partners (NYSE: ENLK) and its general partner, EnLink Midstream LLC (NYSE: ENLC), which just reported a massive $755 million quarterly loss. Yet this quarter's results were, in reality, fantastic. Here's why long-term income investors should ignore this quarter's loss and instead focus on the MLP's 2016 plans for both securing and growing its generous distributions.
EnLink delivers where it counts
Source: EnLink Midstream earnings report.
EnLink Midstream's quarterly loss was entirely due to a one-time $799.2 million non-cash goodwill impairment charge and so can largely be ignored because it doesn't affect the MLP's ability to pay its distribution.
What investors really need to focus on is EnLink's stellar growth in adjusted EBITDA and DCF. Those were a result of 10 dropdowns, third-party acquisitions, and organic growth projects coming online that totaled $4.35 billion.
Source: EnLink Midstream Partners presentation.
Risks remainDespite the impressive growth, it's important for investors to realize that EnLink's cash flow isn't as secure as those of some other midstream MLPs. For example, all of EnLink's major operating regions saw volume declines and reported mild margin pressure.
That's because while EnLink Midstream derives 95% of its gross margin from fee-based contracts, the MLP is vulnerable to declining gas and oil production, because only 80% of its contracts have firm volume commitments. In addition, EnLink has some commodity exposure because some of its contracts have their fees derived from a percentage of proceeds from gas, NGL, and oil sales.
Distribution profile improves, but still risky
Sources: Yahoo Finance, Fastgraphs, EnLink earnings report.
Thanks to the massive growth EnLink Midstream Partners has experienced in the past year, its DCR has improved from 0.76 to 1.0. This improvement has greatly benefited EnLink Midstream LLC, since its only assets are its 27.5% stake in the MLP, as well as the incentive distribution rights that entitle it to a large percentage of EnLink Midstream Partners' distributable cash flow.
That said, for EnLink Midstream to hit those distribution growth projections in this era of much cheaper energy prices, EnLink Midstream Partners will need to continue growing its asset base quickly. To that end, management has several options to continue growing in 2016.
Solid growth prospects for 2016EnLink Midstream has four major growth avenues going into 2016.
The first consists of two short-term dropdown prospects from Devon Energy . These are the Access Pipeline -- in which Devon owns a 50% stake and has invested around $1 billion -- and the NGPL pipeline, which Devon plans to purchase in the first half of 2016 and immediately drop it down to EnLink. The NGPL pipeline has an additional benefit in that there is considerable expansion capacity, which could expand EnLink Midstream's organic growth backlog.
Further volume growth potential on EnLink's existing assets comes in the form of Devon's current drilling activity in the Woodford-Cana shale of Oklahoma. Since Q4 of 2014, Devon has reduced the time it takes to drill a well in this formation by 42%. This improvement has greatly reduced costs and allowed Devon to plan to drill 115 additional wells in the area in 2015, of which around 60 are scheduled for completion in Q4 of 2015.
Another growth path for EnLink Midstream is new organic growth projects, particularly in natural gas pipelines for transporting natural gas from the prolific Marcellus and Utica shale to the Gulf Coast to help fuel America's coming LNG boom. Between now and the end of 2017, midstream operators are planning on bringing online 4 billion cubic feet per day of new gas transport pipelines for this purpose. EnLink could either construct additional pipelines of its own, join existing projects already under way as part of a joint venture, or potentially acquire some of these pipelines through third-party acquisitions, which is EnLink Midstream's fourth growth avenue.
The MLP currently has $1.35 billion in total liquidity with which to fund such growth efforts.
Bottom line: The distribution is safe for now, but EnLink remains among the riskier midstream investmentsDespite this quarter's massive earnings loss, EnLink is doing rather well, with the payout unlikely to be cut over the next few quarters. However, investors need to realize that EnLink's substantial volume risk and relatively high commodity exposure (for a midstream MLP) means that EnLink needs to keep growing aggressively to preserve its existing distribution, much less increase it, barring a strong rebound in energy prices in 2016.
The article EnLink Midstream Reported a Loss Last Quarter, but Dividend Investors Still Have Reason to Celebrate originally appeared on Fool.com.
Adam Galas has no position in any stocks mentioned. The Motley Fool owns shares of Devon Energy. Try any of our Foolish newsletter services free for 30 days. We Fools may not all hold the same opinions, but we all believe that considering a diverse range of insights makes us better investors. The Motley Fool has a disclosure policy.
Copyright 1995 - 2015 The Motley Fool, LLC. All rights reserved. The Motley Fool has a disclosure policy.