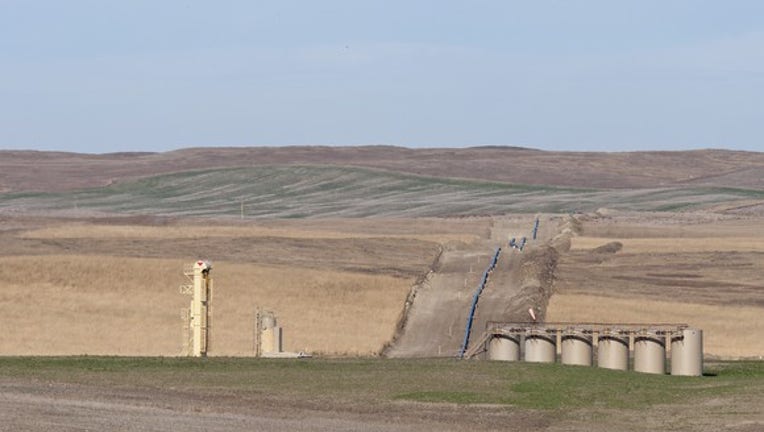 Last year was an eventful one for Energy Transfer Partners (NYSE: ETP). Weaker commodity prices put pressure on several of the company's business segments, causing cash flow to decline. Meanwhile, mergerdrama at its parent company, Energy Transfer Equity (NYSE: ETE), took the whole franchise on a wild ride. Making matters worse, one of the company's key growth projects hit a major roadblock right before completion.
However, the company now appears to have put these issues in the rearview mirror. Driving that view home was its solid fourth-quarter results, which showed improving cash flow and good news on the project front. That report suggests 2017 should be a better year for the pipeline giant.
Image source: Getty Images.
Drilling down into the numbers
After slipping for most of the last year, Energy Transfer Partners' financials seemed to turn the corner in the fourth quarter. Adjusted EBITDA edged up $73 million to $1.43 billion, while distributable cash flow, once adjusted for a one-time tax item last year, was up $100 million to $796 million. These rising results helped take some of the sting away from last year's troubles, when full-year adjusted EBITDA slipped 1.9% while distributable cash flow slumped 9.7%.
Fueling last quarter's improvement were rising earnings across several of the company's segments:
Data source: Energy Transfer Partners.
The largest contributor to growth during the quarter was the liquids transportation and services segment, where earnings grew $55 million, or 24.3%. Fueling that segment's good quarter was the completion of several new projects, including the first phase of the Bayou Bridge pipeline and the fourth fractionator in Mont Belvieu. The company also benefited from rising NGL volumes, especially in the Permian Basin, as well as higher storage margins.
The interstate pipeline and storage segment was also strong during the quarter, with earnings rising $30 million, or 24.6%. While volumes in the system declined, the company benefited from higher realized gains as a result of buying and selling gas along its system as well as a higher storage margin.
Finally, the company also saw higher earnings from its investment in Sunoco Logistics Partners (NYSE: SXL), where profits rose $10 million, or 3.2% thanks to improving crude oil earnings.
The laggards this quarter were the midstream and interstate transportation and storage segments. Midstream, which has been a problem for quite some time, continued to feel the impact of lower commodity prices on volumes. The company partially offset this by acquiring a stake in PennTex Midstream Partners (NASDAQ: PTXP) as well as by growing volumes in the red-hot Permian Basin. Meanwhile, the interstate segment was also under pressure due to lower capacity on several of its systems.
Image source: Getty Images.
What's coming down the pipeline?
While last year was a tough one for the company, 2017 has gotten off to a much better start. In early January, the company completed its Comanche Trail Pipeline, which will supply gas from the Permian Basin to Mexico. Meanwhile, in February, the company finally received its long-awaited easement to finish the construction of the Dakota Access Pipeline, which it anticipates placing into service by the second quarter. That permit also enabled the company to gain access to the remaining $1.4 billion project financing it needed to complete the project. Further, it was able to close the sale of a 36.75% interest in the project to a joint venture owned by MPLX (NYSE: MPLX) and Enbridge Energy Partners (NYSE: EEP). The MPLX/Enbridge Energy Partners' joint venture paid $2 billion for the stake, with $1.2 billion of that cash going into Energy Transfer's coffers, and the balance heading over to Sunoco Logistics Partners.
That said, the two companies will not remain separated for too much longer because they are in the process of combining. They'd initially hoped to close the transaction during the first quarter of this year, but they now believe it will not close until mid-April. That transaction will bring a significant change to Energy Transfer Partners because it will result in the company's taking on Sunoco's lower distribution rate.
However, the companies expect that payout to steadily rise over time thanks to a boatload of projects under way. For example, Energy Transfer recently received approval to build its Rover Pipeline, which should be complete later this year. In addition, it plans to build a fifth fractionator at Mont Belvieu, which should start up next September. Meanwhile, Sunoco recently started construction on its Mariner East 2 project, which is the largest investment ever in the state of Pennsylvania. Finally, the company entered into a joint venture with ExxonMobil (NYSE: XOM) last year in the Permian Basin that should fuel growth going forward. Not only did ExxonMobil just spend $5.6 billion to double its Permian resource position, but Sunoco announced the Permian Express 3 project to expand its oil takeaway capacity in the region. The first phase should be complete by the end of next year, with additional expansions likely to follow in the future. Needless to say, both companies see plenty of growth in the future.
Investor takeaway
Energy Transfer Partners ended 2016 on a high note, delivering improving financial results. That said, the company is still glad to put the wraps on that year, which was a tough one for the entire franchise. Now it can focus on the future, which looks bright thanks to its coming merger with Sunoco and a bevy of projects to drive growth going forward.
10 stocks we like better than Energy Transfer PartnersWhen investing geniuses David and Tom Gardner have a stock tip, it can pay to listen. After all, the newsletter they have run for over a decade, Motley Fool Stock Advisor, has tripled the market.*
David and Tom just revealed what they believe are the 10 best stocks for investors to buy right now...and Energy Transfer Partners wasn't one of them! That's right -- they think these 10 stocks are even better buys.
Click here to learn about these picks!
*Stock Advisor returns as of February 6, 2017.
Matt DiLallo has no position in any stocks mentioned. The Motley Fool owns shares of ExxonMobil. The Motley Fool has a disclosure policy.