Energy Transfer Equity Investors Shrugged Off the Dakota Access Pipeline Decision in December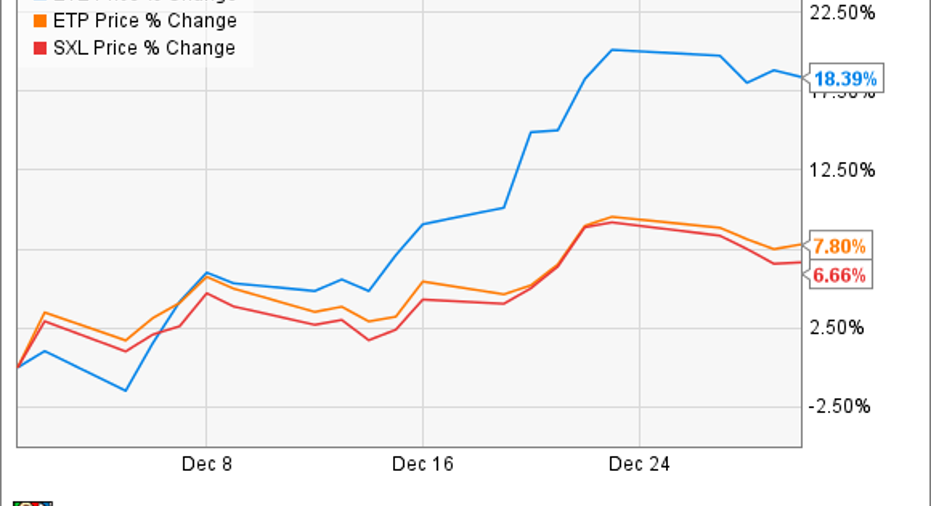 Image source: Getty Images.
What happened
Despite the decision from the U.S. Army regarding the route of the Dakota Access Pipeline, shares of Energy Transfer Equity (NYSE: ETE) rose 18% in December.
So what
On Dec. 4, the U.S. Army denied the easement required for the Dakota Access Pipeline to cross under Lake Oahe in North Dakota. Doing so put the brakes on Energy Transfer's $4.8 billion pipeline project, which is owned by its subsidiary partnerships Energy Transfer Partners (NYSE: ETP) and Sunoco Logistics Partners (NYSE: SXL). While this doesn't completely sink the project, it certainly isn't news that would inspire such a large gain in stock price. It's also worth considering that this may just be temporary, as the incoming Trump administration has said it will reexamine the decision.
That these stocks jumped is much more about other developments in the business, notably the merger of Energy Transfer Partners and Sunoco Logistics Partners, its other major projects, and a potential deal with private equity firmBlackstone Group LP(NYSE: BX).
On Nov. 22, the company announced that Sunoco Logistics would buy out all of Energy Transfer Partners' outstanding shares in an all-stock deal. There were good reasons for the deal, such as a simpler business structure, a more diverse assets base under one roof, and improved access to credit. Probably the most important reason, though, was that Energy Transfer Partners was struggling with its debt load and was likely headed for a cut to its payout. The merger will prevent this from happening.
The biggest beneficiary of this deal was Energy Transfer Equity because its revenue comes from its ownership of limited partner shares in the two as well as the general partner/incentive distribution rights stake in both subsidiaries. If a distribution cut were to take place, it would have significantly compromised Energy Transfer Equity's ability to make its own dividend payments.
The real good news that fueled much of this rise in share price was when The Wall Street Journal reported that Blackstone Groupwas interested in taking a stake in some of Energy Transfer's assets. According to the report, the deal could be worth $5 billion or possibly more. That would certainly help clear up some financial issues plaguing the company.
Now what
2016 was an up and down year for Energy Transfer Equity -- it managed to back out of theWilliams CompaniesandPennTex Midstream Partners acquisitionsand now its two largest subsidiaries have merged. While the latter merger will certainly make the business easier to understand and help put the subsidiaries on more stable financial footing, Energy Transfer Equity itself is hanging on to a sizable debt load. Perhaps as these multibillion-dollar projects are put into service -- or if Blackstone Group helps to ease the financial burden -- that debt will look much more manageable.
That being said, there are a lot of balls up in the air for Energy Transfer Equity today. So it may be best to see some more definitive results from its combined subsidiaries and whether Blackstone Group does get involved before making your own financial decisions.
10 stocks we like better than Energy Transfer Equity When investing geniuses David and Tom Gardner have a stock tip, it can pay to listen. After all, the newsletter they have run for over a decade, Motley Fool Stock Advisor, has tripled the market.*
David and Tom just revealed what they believe are the 10 best stocks for investors to buy right now... and Energy Transfer Equity wasn't one of them! That's right -- they think these 10 stocks are even better buys.
Click here to learn about these picks!
*Stock Advisor returns as of January 4, 2017
Tyler Crowe has no position in any stocks mentioned.You can follow himat Fool.comor on Twitter@TylerCroweFool.The Motley Fool has no position in any of the stocks mentioned. The Motley Fool has a disclosure policy.