Energy Powers Brookfield Infrastructure Partners L.P.'s Q1 Results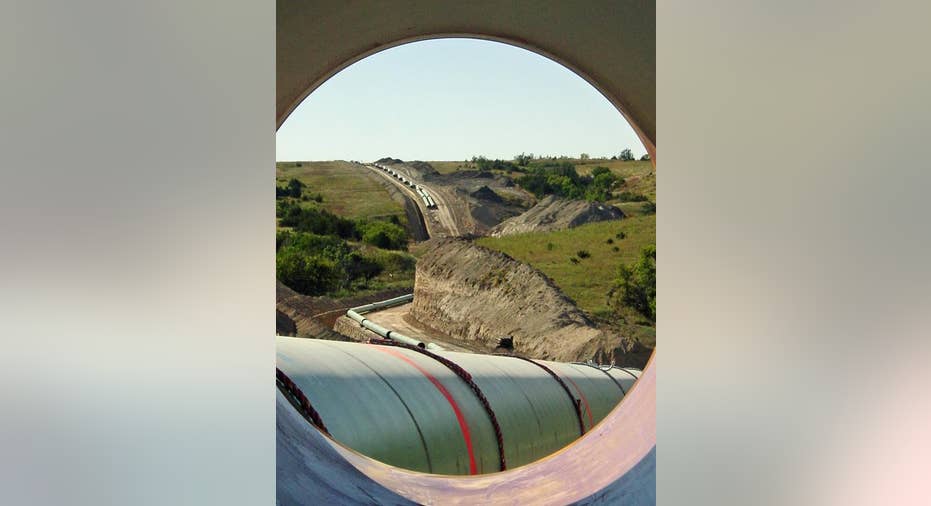 Brookfield Infrastructure Partners continues to deliver steady growth, with its funds from operations (FFO) jumping 15% to $234 million, or $1.02 per unit, for the first quarter. Fueling this increase was the company's energy segment, largely due to its joint acquisition with Kinder Morgan of the rest of the Natural Gas Pipeline Company of America (NGPL) that the partners didn't already own. That acquisition, as well as a number of strategic initiatives the company has in the pipeline, are expected to continue to power growth in 2016.
Brookfield Infrastructure Partners results: The raw numbers
| Funds From Operations by Segment | 1Q16 Actuals | 1Q15 Actuals | Growth (YOY) |
| --- | --- | --- | --- |
| Utilities | $100 million | $95 million | 5.3% |
| Transport | $94 million | $96 million | -2.1% |
| Energy | $40 million | $28 million | 42.9% |
| Communication | $19 million | N/A | N/A |
Data source: Brookfield Infrastructure Partners.
What happened with Brookfield Infrastructure Partners this quarter?Energy was the big story in the first quarter:
The utilities segment continues to be a steady performer, with growth driven by connection activity in its UK regulated distribution business, inflation indexation, and growth projects that came online over the past year.
The transportation segment was weaker on the surface due to foreign currency fluctuations. However, on a constant currency basis this segment's results would have actually improved by 10% year-over-year, driven by tariff growth across most of its operations, higher volumes on its Brazilian rail business, and lower costs at its Australian rail operations.
FFO growth in the energy segment was primarily fueled by the increased ownership interest in NGPL. However, that segment's FFO would have still grown 20% on a same store basis thanks to operating efficiency gains at NGPL as well as growth at the company's district energy business.
The communications segment once again delivered solid results, with the business continuing to perform above expectations.
What management had to sayCEO Sam Pollock,commenting on the company's results, said:
Image source: Kinder Morgan.
Brookfield Infrastructure Partners has been focusing a lot of its attention on bolstering its balance sheet and liquidity so that it can capture opportunities it sees on the horizon. It currently has $3 billion of liquidity, which is poised to grow by $900 million due to asset dispositions it has in the pipeline. At the same time, its shoring up its balance sheet to remove future risk given the volatility in the credit markets. In particular, it refinanced the acquisition financing it had in place to acquire its communications segment last year. Further, Brookfield and Kinder Morgan each injected $310 million to retire 20% of the outstanding debt at NGPL. The partners are working toward the goal of boosting that entity's credit rating back to investment grade, which should take some of the pressure off of Kinder Morgan as it was its decision to boost its stake in NGPL late last year that caused concerns about its ability to retain its own investment grade rating.
Looking forwardBrookfield Infrastructure Partners has big plans for its liquidity, with it currently advancing three transactions valued at almost $500 million. The largest is its participation in a consortium to acquire Australia's Asciano. Brookfield estimates that it will invest at least $350 million in this transaction, which it expects will close in the third quarter. In addition to that it is working with a partner in Brazil on the privatization of its Brazilian toll roads business. Finally, it's progressing on the acquisition of a natural gas storage business, which it expects will close in July.
The company also continues to build out its organic growth pipeline, which has now grown to $1.7 billion. New to the backlog is an agreement to build a number of transmission lines in Brazil over the next five years. The company anticipates investing about $200 million on these projects. Further, it is evaluating additional brownfield and greenfield opportunities to invest in the sector, which could quickly enable Brookfield to build an industry leading position in Brazil.
Given everything the company has in the pipeline at the moment, Brookfield Infrastructure Partners believes that this year it will deliver FFO growth at the high end of its long-term target range of 6% to 9%.
The article Energy Powers Brookfield Infrastructure Partners L.P.'s Q1 Results originally appeared on Fool.com.
Matt DiLallo owns shares of Brookfield Infrastructure Partners and Kinder Morgan andhas the following options: short Jan. 2018 $30 puts on Kinder Morgan and long Jan. 2018 $30 calls on Kinder Morgan. The Motley Fool owns shares of and recommends Kinder Morgan. The Motley Fool has the following options: short June 2016 $12 puts on Kinder Morgan. The Motley Fool recommends Brookfield Infrastructure Partners. Try any of our Foolish newsletter services free for 30 days. We Fools may not all hold the same opinions, but we all believe that considering a diverse range of insights makes us better investors. The Motley Fool has a disclosure policy.
Copyright 1995 - 2016 The Motley Fool, LLC. All rights reserved. The Motley Fool has a disclosure policy.