Energy ETFs Rally as Russia Joins OPEC in Considering Supply Limits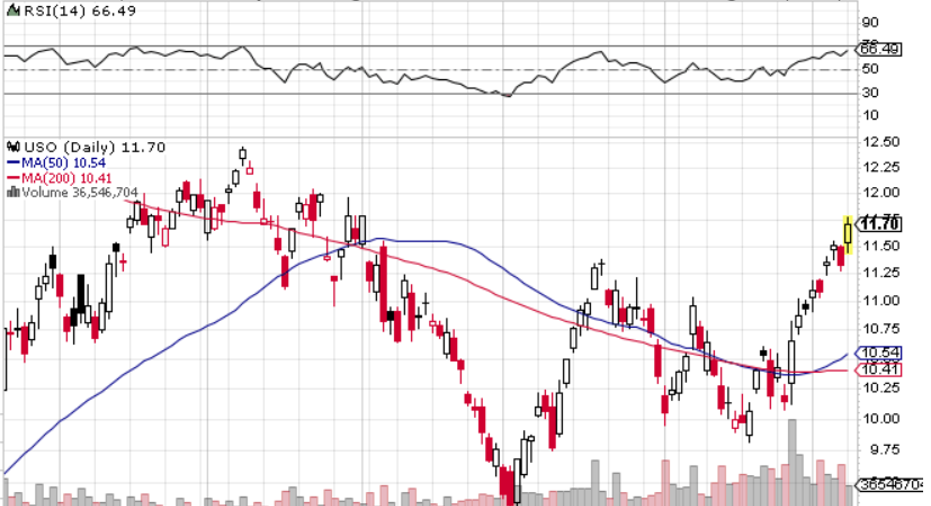 Oil and energy exchange traded funds bounced higher Monday on speculation that major crude producers will work alongside the Organization of Petroleum Exporting Countries to curtail output and help support depressed prices.
On Monday, the United States Oil Fund (NYSEArca: USO), which tracks West Texas Intermediate crude oil futures, gained 3.3% and the United States Brent Oil Fund (NYSEArca: BNO), which tracks Brent crude oil futures, rose 2.9%. The oil-related ETFs have been on a streak after OPEC signaled it would diminish production, with USO up 7.7% and BNO 6.8% higher over the past week.
Meanwhile, WTI crude oil futures increased 3.1% to $51.4 per barrel and Brent crude advanced 2.5% to $53.2 per barrel on Monday.
Additionally, the Energy Select Sector SPDR (NYSEArca: XLE), the largest equity-based energy ETF, was up 1.5% and was the best performing S&P 500 sector as of mid-Monday.
The energy market rallied after President Vladimir Putin said Russia, the world's largest energy exporter, is ready to join OPEC in limiting oil production with either a freeze or a cut, Bloomberg reports.
"Russia is ready to join in joint measures to limit output and calls on other oil exporters to do the same," Putin said at the World Energy Congress in Istanbul. "In the current situation, we think that a freeze or even a cut in oil production is probably the only proper decision to preserve stability in the global energy market."
OPEC has already reversed its policy of pumping oil without constraints, which helped bolster crude oil prices. The cartel previously adhered to an oil production policy aimed at defending its market share by undercutting costlier crude producers, namely the upstart U.S. shale oil industry, contributing to the increased global supply glut that depressed prices to multi-year lows.
SEE MORE: Supply Still a Problem for Oil ETFs
Looking ahead, Putin hoped OPEC would agree in November to limit crude oil production and promised Russia was ready to back such a decision.
"We support OPEC's recent initiative to cap output and think that at the OPEC meeting in November this idea will materialize in a specific agreement, giving a positive signal to the markets and investors," Putin added.
Energy stocks also rallied on expectations of higher oil prices in light of potential production cuts.
SEE MORE: Energy ETFs May Be Seeing Clearer Skies Ahead
"The gains today could be because Putin has said that he's willing to reduce output and freeze production," John Conlon, the chief equity strategist at People's United Wealth Management, told Bloomberg.
For more information on the crude oil market, visit our oil category.
United States Oil Fund
This article was provided by our partners at ETFTrends.