Enbridge Energy Partners' Record Pipeline Volumes Give Earnings a Welcome Boost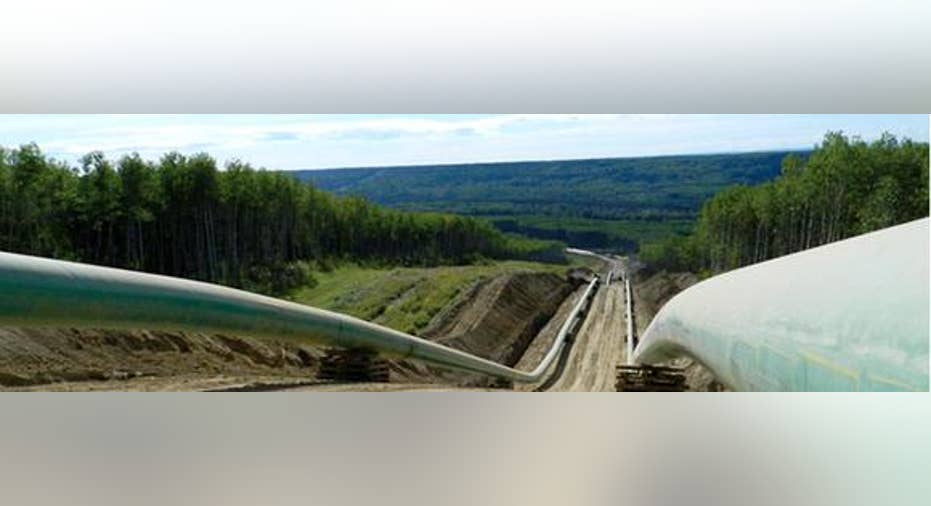 Image source: Enbridge Energy Partners.
Enbridge Energy Partners got exactly what it needed this past quarter: a decent boost in profits thanks to two major projects coming online. That boost in profits from its oil pipelines helped to mask some of the issues that the company has experienced with its natural gas business as of late as gas volumes slowly decline. Let's take a quick look at Enbridge Energy Partners recent results and what the company plans to do about the problems its natural gas business presents to the overall profitability of the company.
Enbridge Energy Partners earnings: The raw numbers
| Results (in millions, except per-share data) | Q1 2016 | Q4 2015 | Q1 2015 |
| --- | --- | --- | --- |
| Revenue | $1,061 | $1,136 | $1,428 |
| Adjusted EBITDA | $466.3 | $450.7 | $432.2 |
| Net income per share attributable to Enbridge Energy Partners | $0.17 | ($0.14) | $0.26 |
Data source: Enbridge Energy Partners earnings release.
This quarter was a welcome sign for Enbridge after the company's financial results started to crack under the pressure of low oil prices. After bringing two projects online in the prior quarter, the company was able to realize the benefit of having these assets online for an entire quarter. The decline in revenue for the quarter is mostly attributable to commodity prices, but the way in which Enbridge structures its fees means that revenue is much less relevant than adjusted EBITDA.
On a distributable cash flow basis -- the all important number for master limited partnerships -- Enbridge actually saw a decline of a couple million to $244 million. The largest reason for the change was increased interest expenses and payments to non-controlling interests.
What happened with Enbridge Energy Partners this quarter?
The company saw record liquids pipeline deliveries of 3.3 million barrels per day for the quarter. The lower pipeline volumes on its smaller Mid-Continent liquids pipelines was more than offset by a 400,000 barrel per day gain on its primary lakehead system and a 60,000 barrel per day gain in the Bakken system.
Enbridge is seeking "strategic alternatives" for its investment in Midcoast Energy Partners and its other natural gas assets.
Total pipeline volume for its natural gas assets declined 14% to 1,186 billion BTU per day
Two assets that were brought online at the end of the fourth quarter -- Line 9B expansion and reversal and the Southern Access Extension. These two projects were responsible for a large portion of the company's gains in volume for the quarter.
The distribution coverage ratio for the quarter came in at 1.13 times, but were a slightly less healthy 0.93 times when paid in kind distributions were included.
The company declared a distribution to shareholders of $0.583 per unit, the same as the prior quarter but 2.3% greater than the same time last year.
Enbridge Energy Partners booked $15 million in costs related to its Line 6B incident
What management had to sayEnbridge Energy Partners earnings were starting to feel the pressure of the decline in oil and gas activity recently, and the lack of new projects was starting to weigh on the bottom line. Now that Line 9B and the Southern Access Extension are up and running, though, President Mark Maki used the opportunity to take a little victory lap on its strong performance while acknowledging the need to address the issues with its natural gas business.
Looking forwardThe one thing that investors should be mindful of in the coming quarters is what exactly Enbridge Energy Partners decides to do with its natural gas assets. These assets have been a bit of a trouble spot for the company in recent months asnaturalgas volumes have started to decline. To make matters harder in thisenvironment, its current natural gas footprint is somewhat disjointed and has little connection to its core liquids pipelines. While the idea of selling these assets at what is probably one of the lowest points in the market doesn't sound too appealing, their underperformance suggests it's time to let them go and focus on the more attractive liquid pipeline assets.
The article Enbridge Energy Partners' Record Pipeline Volumes Give Earnings a Welcome Boost originally appeared on Fool.com.
Tyler Crowe has no position in any stocks mentioned.You can follow him at Fool.comor on Twitter@TylerCroweFool. The Motley Fool recommends Enbridge Energy Partners. Try any of our Foolish newsletter services free for 30 days. We Fools may not all hold the same opinions, but we all believe that considering a diverse range of insights makes us better investors. The Motley Fool has a disclosure policy.
Copyright 1995 - 2016 The Motley Fool, LLC. All rights reserved. The Motley Fool has a disclosure policy.