Emergent BioSolutions Inc in Transition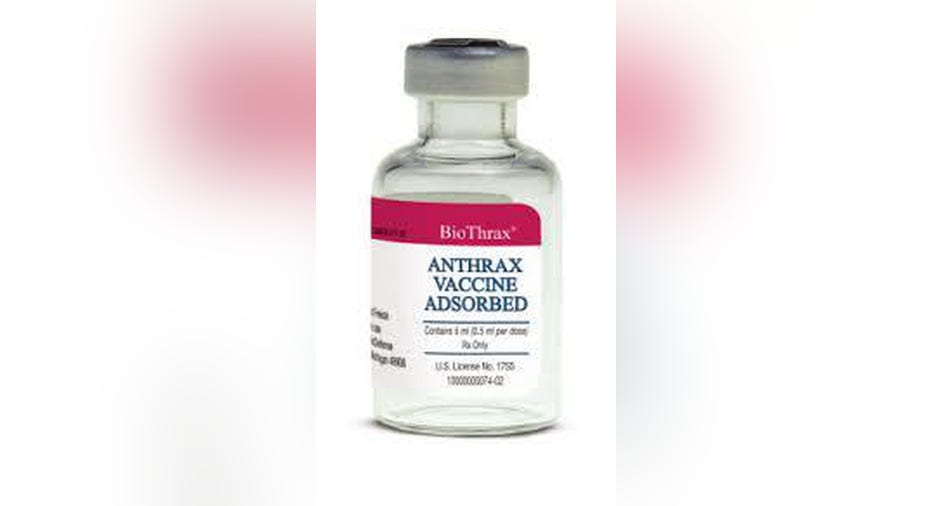 Emergent BioSolutions released solid first-quarter results last week. The next few quarters are up in the air due to the transition of the company's biodefense contract with the government, but management seems unfazed about Emergent's long-term prospects.
Emergent BioSolutions results: The raw numbers
| Metric | Q1 2016 Actuals | Q1 2015 Actuals | Growth (YOY) |
| --- | --- | --- | --- |
| Revenue | $111 million | $63.6 million | 74% |
| Income (Loss) From Operations | $8.5 million | ($28.3 million) | N/A |
| Earnings (Loss) Per Share | $0.10 | ($0.57) | N/A |
Data source: Company press release.
What happened with Emergent BioSolutions this quarter?
Image Source: Emergent BioSolutions.
Don't get too excited about the revenue growth. The year-ago quarter had no revenue from BioThrax while the company worked through manufacturing issues. First-quarter revenue came in at the middle of management's guidance.
The spinoff of the biosciences business, Aptevo Therapeutics, is progressing, and the company still expects to complete it in the middle of the year.
In April, Emergent BioSolutions submitted an application to the FDA to manufacture BioThrax in its new plant, Building 55, which should result in a decision in mid-August.
The current contract with the CDC to make BioThrax for the government's strategic stockpile ends September 30, but Emergent BioSolutions is confident that a new contract will be in place on October 1.
With the transition to Building 55, which has a higher production rate, and the new contract coming due around the same time, the CDC expects to buy less BioThrax in the second and third quarters, but hopefully will make up for it with larger amounts under the new contract.
What management had to say
Dan Abdun-Nabi, Emergent BioSolutions' president and CEO, explained that management's guidance for BioThrax would need to be suspended until the company had a better idea of how much the CDC will buy under the current contract:
Abdun-Nabi seemed confident that the CDC would eventually buy whatever the company could make. When asked about slowing down manufacturing in the old plant, Abdun-Nabi replied:
Looking forward
Emergent BioSolutions is at a crossroads with the spinoff of Aptevo Therapeutics jettisoning some higher-cost R&D, and the potential for larger sales of BioThrax from Building 55 under the new contract with the CDC. Fortunately, both events appear to be on track, setting the biotech up for a solid 2017.
The article Emergent BioSolutions Inc in Transition originally appeared on Fool.com.
Brian Orelli has no position in any stocks mentioned. The Motley Fool recommends Emergent BioSolutions. Try any of our Foolish newsletter services free for 30 days. We Fools may not all hold the same opinions, but we all believe that considering a diverse range of insights makes us better investors. The Motley Fool has a disclosure policy.
Copyright 1995 - 2016 The Motley Fool, LLC. All rights reserved. The Motley Fool has a disclosure policy.