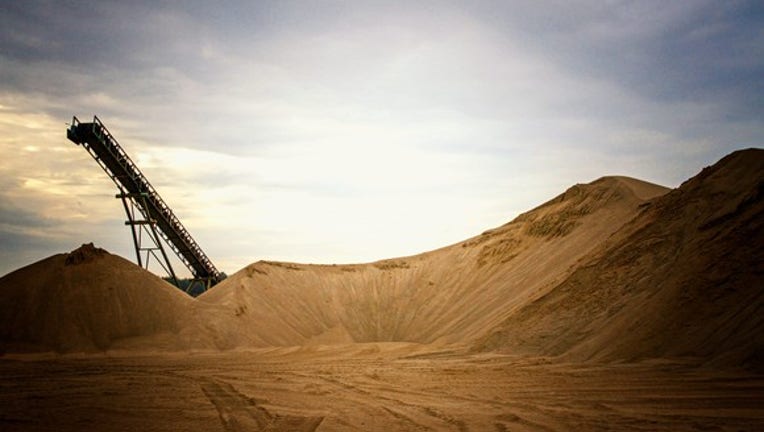 In the fourth quarter of last year, there was a major shift in Emerge Energy Services (NYSE: EMES) results from a long stretch of flat to declining sales to a period of rapid growth. Unfortunately, that growth hasn't quite translated to higher profits.
That same thing happened this past quarter: rapid sales increases, but little in earnings to show for it. This isn't necessarily a bad thing, though, as it looks as though the company is setting itself up to do some interesting things in the coming quarters. Here's a quick look at the company's most recent results and what the company has up its sleeves for the rest of the year.
Image source: Getty Images.
By the numbers
*EBITDA= Earnings before interest, taxes, depreciation, and amortization. Source: Emerge Energy Services earnings release
I'm pretty sure that investors were hoping Emerge would post a profit this quarter after so many quarters in a row of heavy losses. That sentiment is also compounded by the fact that sand demand has grown at a breakneck pace over the past several quarters as more and more producers seek out their next fortune in the Permian Basin.
Probably the most impressive number in the company's results was volume growth. Total sand supplied grew to 1.25 million tons in the first quarter, up from 826,000 tons in the prior quarter. That's two straightquarters where volumes increased 50% ormore.
The reason those sales didn't quite translate to profits was rising costs of goods sold. This has been pretty typical for sand suppliers these pastfew quarters. To meet all of this growing sand demand, Emerge and others have had to quickly bring idle mines and equipment back on lineor ramp back up to full capacity. In doing so, these sand suppliers are incurring substantial one-time expenses that are a temporary drag on the income statement.
In theory, these costs should subside as these facilities get back to firing on all cylinders. It is probably worth checking back in over the next quarter or to make sure this is actually the case and not a structural issue that can't be fixed.
Instead of the usual update on reducing the company's debt load and leverage this past quarter, the companyannounced it purchased a new sand mine near San Antonio for $20 million. The location has about 80 million tons of sand reserves,but it was originally constructed to serve the construction materials industry. Emerge wants to repurpose this facility to produce frack sand that can serve the Eagle Ford shale and the Permian Basin in West Texas.
With the addition of the San Antonio mine, Emerge updated its 2017 guidance. It now expects EBITDA for the year to be $27 million and will produce a net loss of $13 million. For investors in this master limited partnership, though, the more important thing to hear from management is when they plan to start paying a distribution again.
What management had to say
Ted W. Beneski, Chairman of the board's outlook for the oil and gas industry as a whole in the coming quarters and how that translates to Emerge's business in the long run.
What a Fool Believes
It's probably best to just give Emerge Energy Services a mulligan on this earnings report. Sales are growing at such a rapid pace that it needs to spend some extra money to meet demand. That's a pretty good problem to have compared to a few quarters ago when there were legitimate fears that the company may go under.
The addition of this new San Antonio mine is an intriguing move, although not a unique one as every sand producer wants to get mines closer to the Permian these days. One has to wonder, though, that Emerge was a little late to the game with acquisitions, so there is a possibility that this was an asset that others looked at and passed up.
Either way, these next couple quarters are critical for Emerge. It still has some more production capacity available to get back on stream, but production volumes are growing fast enough that we can reasonably expect to start generating cash to pay down debts and hopefully start rewarding investors with a distribution again.
10 stocks we like better than Emerge Energy ServicesWhen investing geniuses David and Tom Gardner have a stock tip, it can pay to listen. After all, the newsletter they have run for over a decade, Motley Fool Stock Advisor, has tripled the market.*
David and Tom just revealed what they believe are the 10 best stocks for investors to buy right now... and Emerge Energy Services wasn't one of them! That's right -- they think these 10 stocks are even better buys.
Click here to learn about these picks!
*Stock Advisor returns as of May 1, 2017
Tyler Crowe has no position in any stocks mentioned. The Motley Fool has no position in any of the stocks mentioned. The Motley Fool has a disclosure policy.