Embraer Gains Altitude on Strong 2017 Outlook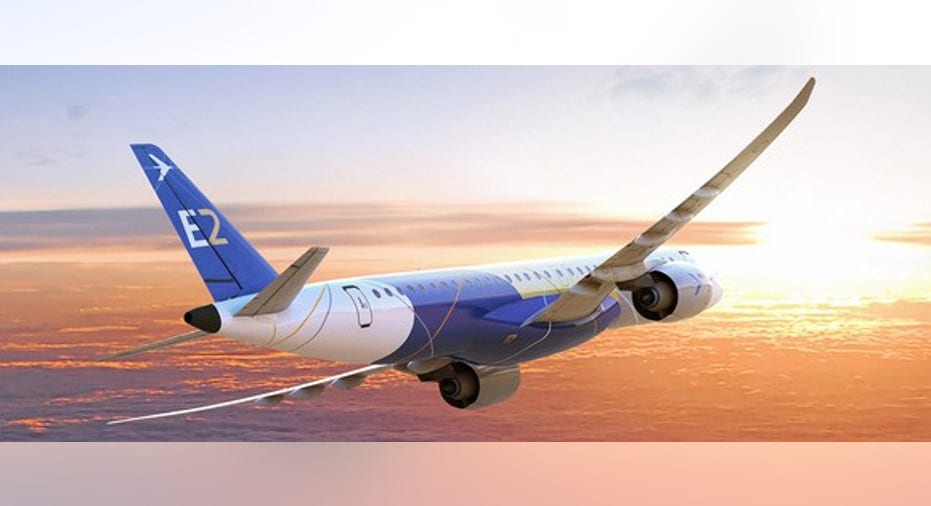 The aerospace industry has done extremely well lately, and Brazil's Embraer (NYSE: ERJ) has sought to take advantage of favorable conditions across the sector. But the Brazilian economy has only recently started to recover from the negative impact of the plunge in commodity prices in recent years, and coming into its fourth-quarter financial report, Embraer investors weren't certain how well the aircraft manufacturer would do. Embraer's report was better than many had expected, and its outlook for 2017 brought hope that the company will be able to participate fully in aerospace success going forward.
Let's look more closely at Embraer to see how it did and what's ahead for the aircraft maker.
Embraer finishes 2016 defensively
Embraer's fourth-quarter results showed some of the challenges that the company faces as well as the impact of its efforts to overcome those challenges. Revenue was down 2% to $2.03 billion, but that was quite a bit better than the 8% decline that many investors had expected to see. Net income soared 75% to $195.2 million, and after making some allowances for one-time items, adjusted earnings of $1.14 per share were far more than the $0.75-per-share consensus forecast among those following the stock.
Image source: Embraer.
Looking more closely at the numbers, Embraer's segments saw their relative performance shift dramatically. The commercial aviation unit stumbled badly, posting revenue losses of 7.5% compared to the year-ago period. The executive jet segment saw even worse top-line performance, with segment revenue falling more than 10%. Only the defense and security division was able to lift its sales, but it did so sharply, posting a nearly 60% gain.
In terms of deliveries, Embraer wasn't able to match up to last year's strong performance. The company delivered 32 commercial aircraft, with 26 E-175 regional jets and three E-190 and E-195 planes respectively. That figure was down by one plane from year-ago levels. Similarly, on business jets, Embraer delivered 43 jet aircraft, down two from the fourth quarter of 2015, composed of 25 light jets and 18 large jets. Total backlog was down sharply, falling about $1.8 billion to $19.6 billion in just the past three months.
What Embraer sees ahead
For 2017, Embraer's plans include investing in new products and controlling its costs, with the expectation that by doing so, the aircraft manufacturer can maximize profit. On the commercial side, Embraer is working hard to make its transition to the E2 line of aircraft, with first deliveries expected in the first half of 2018. Meanwhile, though, Embraer has enjoyed a lot of success in the U.S., where the company has won the majority of orders from airlines. Executive jet sales face difficult conditions, and Embraer is more guarded about its prospects there, but the defense and security segment has plenty of promise. In particular, the KC-390 program is proceeding according to plan, and other projects like its border monitoring system, Super Tucano light attack aircraft, and satellite programs are also doing well.
In particular, Embraer expects to deliver between 97 and 102 commercial aircraft in 2017, along with 105 to 125 executive jets. Of the executive aircraft, between 70 and 80 are likely to be light jets, with 35 to 45 large jets targeted. Revenue targets include $3.25 billion to $3.4 billion from commercial aviation, $1.6 billion to $1.75 billion from executive jets, and $800 million to $900 million from the defense and security business, totaling $5.7 billion to $6.1 billion when you include other small business lines. Pretax operating earnings should come in between $770 million and $890 million, representing a margin of about 14%.
Embraer shareholders were pleased with the report, and the stock climbed more than 5% immediately following the announcement before giving back much of those gains. Nevertheless, for long-term investors, the fact that Embraer is performing as well as it has points to even better prospects ahead once the company starts enjoying economic tailwinds from the rebounding Latin American economy.
10 stocks we like better than Embraer-Empresa BrasileiraWhen investing geniuses David and Tom Gardner have a stock tip, it can pay to listen. After all, the newsletter they have run for over a decade, Motley Fool Stock Advisor, has tripled the market.*
David and Tom just revealed what they believe are the 10 best stocks for investors to buy right now... and Embraer-Empresa Brasileira wasn't one of them! That's right -- they think these 10 stocks are even better buys.
Click here to learn about these picks!
*Stock Advisor returns as of February 6, 2017
Dan Caplinger has no position in any stocks mentioned. The Motley Fool recommends Embraer-Empresa Brasileira. The Motley Fool has a disclosure policy.