Embraer: Big Earnings Beat but Mixed Outlook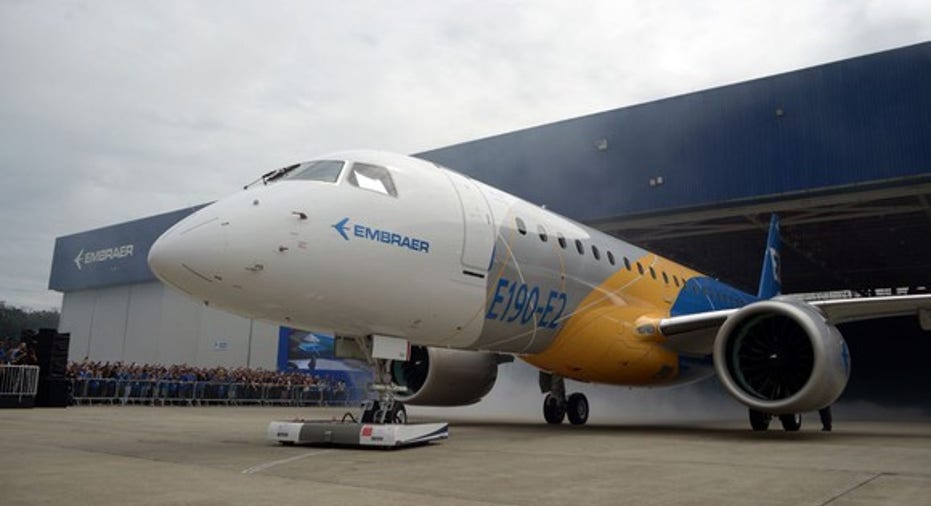 Shares of Brazilian aircraft manufacturer Embraer (NYSE: ERJ) took off last week after the company reported a big earnings beat for the fourth quarter. Earnings per share reached $1.14, well ahead of the average analyst estimate of $0.74. Embraer also announced a relatively favorable earnings outlook for 2017.
Embraer will benefit in the coming years from a slew of new products. However, it continues to face significant headwinds across multiple business lines. As a result, while Embraer stock has a lot more upside, it is still a risky bet for investors.
New products like the E190-E2 could lift Embraer's earnings going forward. Image source: Embraer.
Cost cuts take effect
In the past two years, Embraer has faced severe earnings pressure from a combination of big defense spending cutbacks in Brazil and weak business jet demand. During 2016, Embraer's management finally recognized that these headwinds weren't about to disappear, and so the company implemented a $200 million cost-cutting plan in the second half of 2016.
These cost cuts started to filter through in the fourth quarter. As a result, Embraer's adjusted operating income surged nearly 50% year over year, from $166.2 million to $246.1 million. This surge in profit came even as revenue declined slightly relative to Q4 2015.
In 2017, Embraer will get the full benefit of its recent cost cuts. This will allow the company to hold its adjusted profit roughly flat this year despite an expected revenue decline of 2% to 8%.
New products on the way
One big reason to be optimistic about Embraer's prospects is that the company will soon have a very fresh product portfolio. Two new Embraer executive jet models have hit the market in the past few years: the Legacy 450 and the Legacy 500. Next year, Embraer will start delivering two even more important new products: the next-generation E190-E2 commercial jet and the KC-390 military tanker/transport.
The KC-390 military tanker/transport should receive certification in late 2017. Image source: Embraer.
The E190-E2 -- along with its larger sibling, the E195-E2 (due in 2019) and a smaller model called the E175-E2 (tentatively scheduled to arrive in 2021) -- will have more fuel-efficient engines than Embraer's current offerings. This could help them compete better with the larger and typically more fuel-efficient planes sold by Boeing (NYSE: BA) and Airbus.
Meanwhile, the KC-390 will move Embraer into a new section of the military aircraft market. The KC-390 is the only jet aircraft in its size class -- its main competitors are turboprops. This could give it an advantage while competing in the huge replacement market for aging C-130s. Embraer has teamed up with Boeing to help sell and support this new model.
Any customers for these new jets?
While Embraer has several important new products coming, they aren't guaranteed to sell well. In the military market, the KC-390 has about 60 commitments, but most of those are not firm orders yet. Furthermore, Embraer reached that sales milestone about six years ago. So far, its joint marketing efforts with Boeing haven't brought in new customers.
Boeing may have more luck selling the KC-390 after the aircraft is certified later this year. Militaries usually prefer to buy proven technology, for obvious reasons. Still, it's not clear how well the KC-390 will be able to compete with the entrenched C-130 or cheaper competing designs from Russia and China.
Sales activity for the E2-series jets has slowed recently. Image source: Embraer.
Meanwhile, on the commercial side, Embraer's order book for the next-generation E2 jets is looking shaky. The company ended 2016 with 275 firm orders on the books.
However, 100 of those come from U.S. regional operator SkyWest, which won't be able to buy the E175-E2 unless U.S. legacy carrier scope clauses are modified -- a prospect that seems increasingly unlikely. Another 50 orders come from Indian regional airline Air Costa, which was forced to ground its entire fleet two weeks ago due to financial difficulties.
Thus, more than half of the backlog for E2 jets could melt away. Furthermore, Embraer only brought in eight firm orders for E2-series jets in 2016. Clearly, demand for smaller jets is dramatically less than for the larger models sold by Boeing and Airbus.
That said, Embraer executives expect a wave of sales starting later this year from European airlines looking to upgrade their fleets. Meanwhile, new regulations in China could lead to an explosion in the regional aviation industry there.
Embraer's up-to-date product portfolio gives it a good shot at growing its revenue and earnings in the coming years. Nevertheless, until Embraer starts to bring in a steady stream of new orders, shareholders will face the risk that these new products prove to be less popular than expected.
10 stocks we like better than Embraer-Empresa BrasileiraWhen investing geniuses David and Tom Gardner have a stock tip, it can pay to listen. After all, the newsletter they have run for over a decade, Motley Fool Stock Advisor, has tripled the market.*
David and Tom just revealed what they believe are the 10 best stocks for investors to buy right now... and Embraer-Empresa Brasileira wasn't one of them! That's right -- they think these 10 stocks are even better buys.
Click here to learn about these picks!
*Stock Advisor returns as of February 6, 2017
Adam Levine-Weinberg owns shares of Boeing and Embraer-Empresa Brasileira. The Motley Fool recommends Embraer-Empresa Brasileira. The Motley Fool has a disclosure policy.