Elvis, Beatles memorabilia items on display at Hard Rock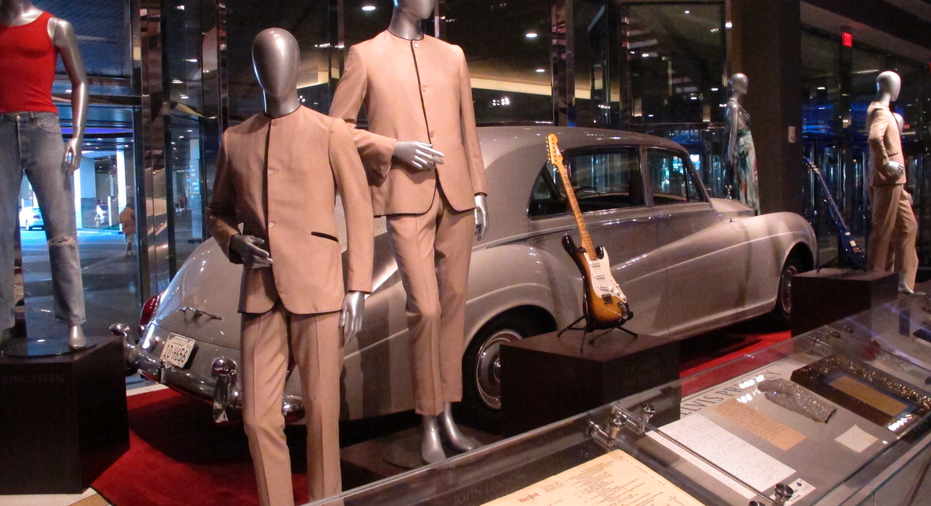 Elvis Presley's Rolls Royce, the suits the Beatles wore on their first tour of America, Bruce Springsteen's sleeveless faded denim jacket and colorful headband, and Michael Jackson's famous glove are among the items of music memorabilia on display at Atlantic City's new Hard Rock casino.
There are outfits worn by Lady Gaga, Cher, Barbra Streisand, Whitney Houston and Mariah Carey, and shoes from Elton John, Buddy Holly and Gene Simmons of Kiss — if dragon-scale boots count as shoes.
Guitars in all shapes, sizes and colors, including ones played by Tom Petty, Bob Dylan and Slash, are there, too.
Just about the only thing this casino doesn't have is the Rolling Stones' "Tumbling Dice."
When the Hard Rock opened June 28 in what used to be the Trump Taj Mahal, the casino opened in 1990 by Donald Trump, it brought with it a large display of items from what it calls the world's largest collection of music memorabilia.
"The memorabilia displayed at each Hard Rock International property holds a special connection to its specific destination and allows visitors a glimpse into the music and the pop culture surrounding it," said Matt Harkness, president of the Atlantic City casino. "The collection of rare memorabilia items that are displayed throughout Hard Rock Hotel & Casino Atlantic City is tied to musicians from New Jersey, along with those who have a history of performing in our area."
At the front entrance is the cream-colored Rolls that Elvis used to pick up the Beatles from the airport in Los Angeles, surrounded by mannequins wearing the similarly hued collarless suits in which the Beatles used to perform in the early days.
Alongside is a vintage Springsteen stage outfit (headband included). A glass display case includes autographs from all four Beatles, from Jimi Hendrix and his bandmates, sunglasses and bowties worn by Roy Orbison, and a piece of junk mail delivered to Nirvana singer Kurt Cobain (with his last name spelled wrong) advising him he might already be a winner in a publishing sweepstakes.
There's a state of New Jersey accident report involving Springsteen, a purple guitar played by Prince, and John Lennon's handwritten lyrics to "Imagine" on a fading piece of white lined paper.
Then there's The Glove, the iconic sparkly hand covering Michael Jackson made famous in his videos and concerts. It was donated to Hard Rock in London by Jackson himself, said Giovanni Taliaferro, Hard Rock's director of memorabilia. The company obtains its music memorabilia in a variety of ways, including direct donations by artists or purchases at auctions. Sometimes Hard Rock will make a donation to an artist's charity in return for a piece of memorabilia, he said.
New Jersey native Eddie Trunk, host of several rock shows on satellite radio and host of the TrunkFest show on AXS TV, said memorabilia helps connect fans to their favorite artists.
"Seeing a particular stage prop, article of clothing, instrument, poster or even ticket stub can transport us back to when we first saw that artist play, or one of their most celebrated eras," he said. "When I see things I've collected over the years, it often brings back the time and place I was in during my life, and creates a remembrance to that time. I can look at the memorabilia and it connects me to the point I was in my life and what I was doing."
An upstairs room is devoted to New Jersey artists including Springsteen, Bon Jovi, Debbie Harry of Blondie (it includes her handwritten lyrics to "Dreaming" scrawled around a poster of herself), as well as Frank Sinatra, Whitney Houston and the famous Stone Pony rock club.
Still to arrive at the Atlantic City Hard Rock are items including a Hendrix guitar, Frank Sinatra's piano, and the shoe-shine chair that James Brown used as a 12-year-old.
___
Follow Wayne Parry at http://twitter.com/WayneParryAC