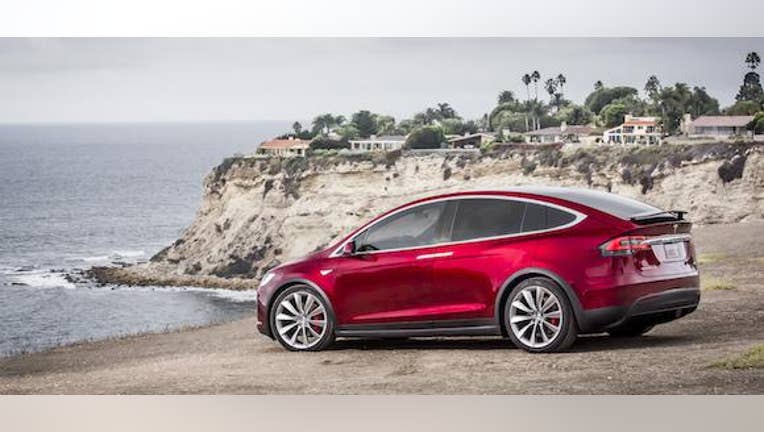 Several of Elon Musk's performance milestones were related to launching Model X. Image source: Tesla.
With Tesla's annual shareholder meeting just around the corner on May 31, the electric automaker has recently filed its annual proxy statement with the SEC. Among other things like propositions to vote on, proxy statements always contain useful information for investors regarding executive compensation.
Like many founder CEOs, Elon Musk doesn't take home much in the way of base salary. Still, he's making his way toward a massive payday.
10 more years! 10 more years!Musk's base salary last year was $37,584, and he received no additional compensation from Tesla in 2015, equity grants or otherwise. But way back in 2012, Tesla's board gave musk a large long-term, performance-based equity grant, consisting of options that allow Musk to purchase upwards of 5.3 million shares at an exercise price of $31.17 per share. With share prices trading in the neighborhood of $250, the in-the-money value of those options is now worth approximately $1.15 billion.
However, the 2012 grant would only vest in 10 equal tranches contingent upon the completion of performance milestones combined with gains in Tesla's market capitalization. Musk has 10 years to complete all 10 milestones, and Tesla's market cap must be at least $43.2 billion eventually in order for the grant to fully vest. Tesla's market cap is currently $32.7 billion.
Here are the 10 operational milestones, of which half have been completed:
Successful completion of the Model X Alpha Prototype. (completed)
Successful completion of the Model X Beta Prototype. (completed)
Completion of the first Model X Production Vehicle. (completed)
Successful completion of the Model 3 Alpha Prototype. (completed)
Successful completion of the Model 3 Beta Prototype.
Completion of the first Model 3 Production Vehicle.
Gross margin of 30% or more for four consecutive quarters.
Aggregate vehicle production of 100,000 vehicles. (completed)
Aggregate vehicle production of 200,000 vehicles.
Aggregate vehicle production of 300,000 vehicles.
Tesla has already achieved seven of the market cap requirements, and 2.6 million of these options have now vested. Musk has not yet exercised any options from this particular grant.
All eyes on Model 3As you can see, the performance milestones are all centered around growing Tesla's unit volumes, and delivering the Model X and Model 3. The company has now launched Model X, and cumulative vehicle deliveries as of the first quarter are now over 125,000, including Roadster, Model S, and Model X. Full-year 2016 guidance calls for deliveries of up to 90,000, which would bring Tesla right to the 200,000 cumulative threshold -- and another milestone for Musk.
The Model 3 that Musk unveiled last month was the Alpha prototype. Other than the margin goal, the rest of Musk's payday depends on successfully launching Model 3.
The article Elon Musk Is Halfway to a Massive Tesla Motors Payday originally appeared on Fool.com.
Evan Niu, CFA owns shares of Tesla Motors, andhas the following options: long January 2018 $180 calls on Tesla Motors. The Motley Fool owns shares of and recommends Tesla Motors. Try any of our Foolish newsletter services free for 30 days. We Fools may not all hold the same opinions, but we all believe that considering a diverse range of insights makes us better investors. The Motley Fool has a disclosure policy.
Copyright 1995 - 2016 The Motley Fool, LLC. All rights reserved. The Motley Fool has a disclosure policy.