Electronic Arts Inc. Earnings Surge as Digital Transition Progresses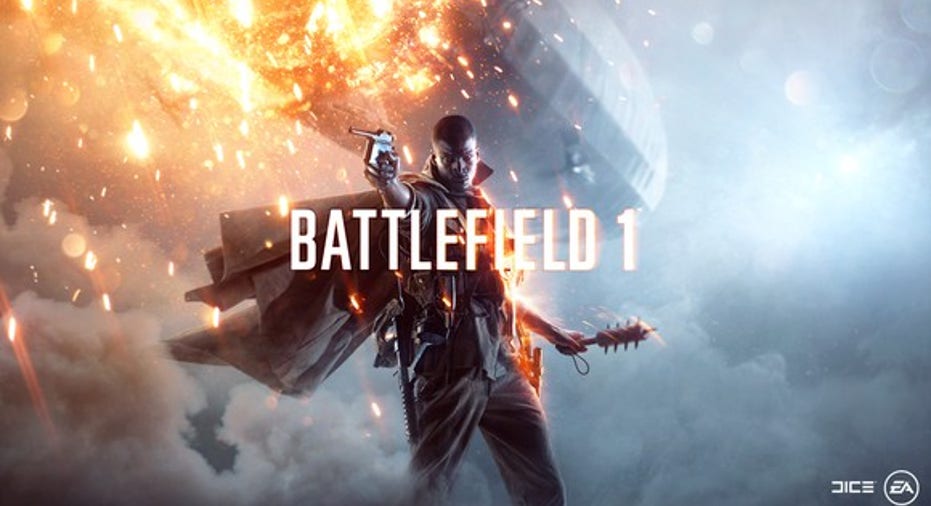 Electronic Arts (NASDAQ: EA) reported fiscal 2017 fourth-quarter financial results on May 9. The video game publisher delivered sharply higher revenue and profits, fueled by strong digital game sales.
Electronic Arts results: The raw numbers
| Metric | Q4 2017 | Q4 2016 | Year-Over-Year Change |
| --- | --- | --- | --- |
| Revenue | $1.527 billion | $1.308 billion | 17% |
| Gross profit | $1.325 million | $1.082 million | 22% |
| Operating income | $717 million | $536 million | 34% |
Data source: Electronic Arts Q4 2017 earnings release.
Image source: Electronic Arts.
What happened with Electronic Arts this quarter?
Revenue jumped 17% year over year to $1.5 billion, driven by the continued success of Electronic Arts' Battlefield, FIFA, and Star Wars franchises.
Notably, EA's first-person shooter game Battlefield 1 has seen a 50% surge in players -- to more than 19 million -- compared to a previous version of the game. EA's soccer franchise is also enjoying strong growth, with more than 21 million players joining FIFA 17 through the end of fiscal 2017 and FIFA Ultimate Team players up 13% year over year. Additionally, Star Wars: Galaxy of Heroes user engagement continues to strengthen, with average gameplay time per player reaching a new high of 162 minutes per day in the fourth quarter.
Electronic Arts remains on the path toward full-scale digital distribution, with 61% of its fourth-quarter total net revenue coming from digital game sales, compared to 55% in fourth-quarter 2016. That helped gross margin increase to 86.8%, up from 82.7% in the prior-year period.
All told, net income fell 37% year over year to $566 million, or $1.81 per share, largely due to an income tax credit that boosted EA's fourth-quarter 2016 results. On a pre-tax basis, Electronic Arts' earnings rose 36% to $716 million.
Moreover, Electronic Arts' cash production remained strong, with fiscal 2017 full-year net cash provided by operating activities coming in at nearly $1.4 billion.
"We generated record net sales and operating cash flow in fiscal 2017, driven by our ongoing transition to digital as well as our increasing success with live services," CFOBlake Jorgensen said in a press release. "Our long-term vision, to leverage deep player engagement to drive growth and profitability, is enabling us to execute on our near-term financial goals to increase revenue, earnings and cash generation."
Looking forward
Electronic Arts expects revenue of approximately$1.425 billion in the first quarter, with net income of $605 million, or $1.93 per share.
EA also issued its fiscal 2018 full-year outlook, including:
Net revenue of approximately$5.075 billion
Net income of $1.125 billion, or $3.57 per share
Operating cash flow of $1.575 billion
"Fiscal 2017 was a milestone year forElectronic Arts, defined by groundbreaking games and live services that delivered more fun and connected more players with their friends," added CEO Andrew Wilson. "In Fiscal 2018, we are focused on innovating for our players with extraordinary new experiences across our portfolio, continuing to grow our global network, and extending our reach across new platforms and more ways to play."
10 stocks we like better than Electronic ArtsWhen investing geniuses David and Tom Gardner have a stock tip, it can pay to listen. After all, the newsletter they have run for over a decade, Motley Fool Stock Advisor, has tripled the market.*
David and Tom just revealed what they believe are the 10 best stocks for investors to buy right now... and Electronic Arts wasn't one of them! That's right -- they think these 10 stocks are even better buys.
Click here to learn about these picks!
*Stock Advisor returns as of May 1, 2017
Joe Tenebruso has no position in any stocks mentioned. The Motley Fool recommends Electronic Arts. The Motley Fool has a disclosure policy.