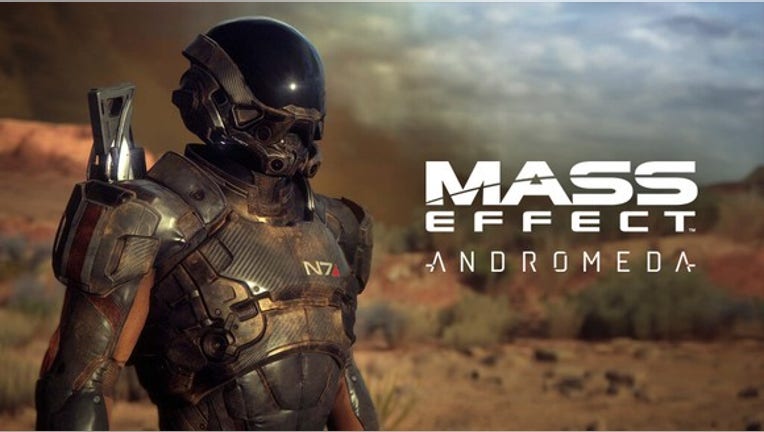 When Electronic Arts (NASDAQ: EA) reports fiscal fourth-quarter earnings on Tuesday, May 9, the first item investors should check is how well Mass Effect: Andromeda sold during March (which fell in the fourth quarter) and how sales are faring in the current quarter. Management should give analysts on the conference call an update on the game's sales performance because of high anticipation leading up to the game's release and its very weak review scores since then.
If Mass Effect: Andromeda had lower sales than management anticipated, the financial results for the quarter that ended in March could be disappointing.
Mass Effect's poor reviews could spell trouble for short-term sales
IMAGE SOURCE: ELECTRONIC ARTS INC.
Mass Effect: Andromeda is the fourth installment following the initial trilogy of games released from 2007 to 2012. While the first three in the series were well-received,Andromeda has, surprisingly, gotten mediocre reviews at best. The game didn't break any new ground over the original trilogy, disappointing fans who were expecting something new, especially given that this marked the debut of Mass Effect on more powerful, current-generation consoles.
But even more bothering than the lack of novelty is that Electronic Arts seems to have rushed the game to market to get the game out by the end of its fiscal fourth quarter. Some reviewers have reported that the game has glitches in facial animations and inconsistent frame-rate performance in game play.
Problems like these are nothing major in the long run. Game companies typically use software updates or offer patches directly to gamers over consoles or PCs to fix performance issues with game play. EA has been listening to feedback and is expected to correct these problems in the coming months. Still, the damage could be done in terms of short-term sales of the game.
Other hit games muted the Mass Effect release
On top of technical problems, Mass Effect: Andromeda was up against a surprisingly strong lineup of new games in the first three months of the year. Nintendo'sThe Legend of Zelda: Breath of the Wild,released in March along with the new Switch console, has been a strong seller and received outstanding reviews. Ubisoft Entertainment's Ghost Recon: Wildlands wasa surprise hit, with a debut at No. 1 on the sales charts in March, according to NPD Group.
Yet even with all the challenges, Mass Effect: Andromedastill managed to rank among the top five best-selling games for March. According to NPD's numbers, Mass Effect: Andromedamade its debut at No. 3 on the list of top 10 games for March. For year-to-date sales through March, Andromeda is the No. 5 best-selling game.
However, it's possible Mass Effect: Andromeda could be further down the best-sellers list when we take into account digital sales of games. The sales numbers for Andromeda include both physical disc sales and fully downloaded digital sales directly over PC and console. However, the two games below it on the sales chart -- Horizon: Zero Dawn and MLB The Show 17 -- don't include digital sales, which means it's possible Mass Effect: Andromeda may be as low as the No. 5 best-selling title for March.
Either way, based on the hype leading up to its March release, Mass Effect: Andromeda should have been No. 1 or No. 2 on the sales charts. With the game sitting on the sales charts at No. 3 or lower, it appears the game is not selling quite as well as many had expected.
Digital sales from key titles are important
Electronic Arts is coming off a holiday quarter in which digital sales from full-game downloads, extra in-game content, subscriptions, and mobile games grew 36% year over year to $1.1 billion. FIFA 17's Ultimate Team digital card game, and newly released in-game content for Battlefield 1 and Titanfall 2, should have been key contributors to digital sales in the fiscal fourth quarter.
Analysts expect EA to report $1.09 billion in total revenue for the fiscal fourth quarter, an 18% increase year over year. As for earnings per share, analysts expect the company to report $0.75, representing a 50% increase over 2016's fiscal fourth quarter.Revenue from Battlefield 1 and Mass Effect were expected to be the key drivers going into the quarter. If Mass Effect: Andromeda performed lower than management's expectations, EA will need strong performance from in-game digital content sales from Battlefield 1, Titanfall 2, and FIFA 17 to make up for it.
10 stocks we like better than Electronic ArtsWhen investing geniuses David and Tom Gardner have a stock tip, it can pay to listen. After all, the newsletter they have run for over a decade, Motley Fool Stock Advisor, has tripled the market.*
David and Tom just revealed what they believe are the 10 best stocks for investors to buy right now... and Electronic Arts wasn't one of them! That's right -- they think these 10 stocks are even better buys.
Click here to learn about these picks!
*Stock Advisor returns as of April 3, 2017
John Ballard has no position in any stocks mentioned. The Motley Fool recommends Electronic Arts. The Motley Fool has a disclosure policy.