Ecclestone overseeing sale of F1 to US firm Liberty Media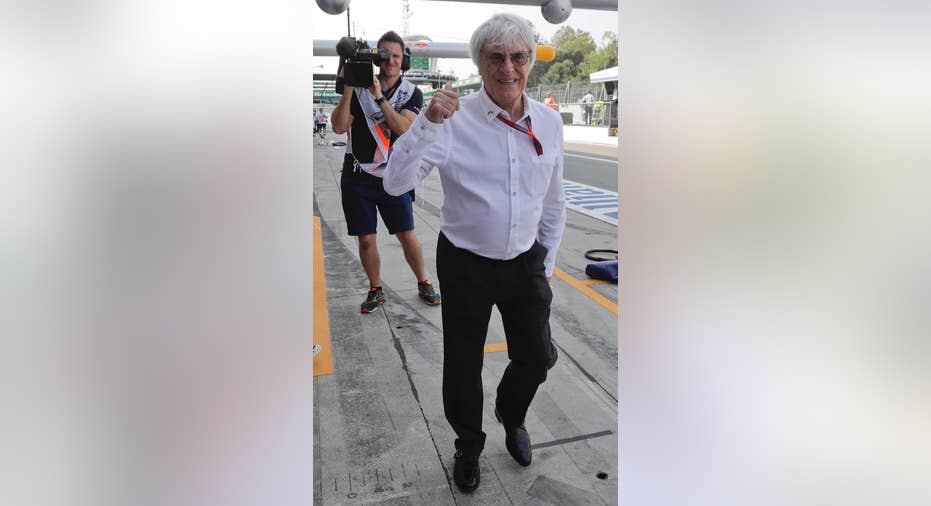 Formula One commercial chief Bernie Ecclestone said Wednesday he is overseeing the sale of the motorsport series to an American media conglomerate.
In an interview with The Associated Press, Ecclestone said he will retain his role as F1 enters a new era under the ownership of cable TV group Liberty Media, which is controlled by 75-year-old tycoon John Malone.
"After two or three years I will maybe take it easy a bit," Ecclestone said.
The 85-year-old Ecclestone said "probably nothing" can hold up the sale of F1, whose biggest shareholder is investment fund CVC Capital Partners, and there is only the "belt and braces" of the deal to resolve.
The impending buyout by Malone who also owns Major League Baseball side Atlanta Braves, has led to Ecclestone scrapping a trip to the Singapore Grand Prix next week.
"They have asked me to hang on and not go to Singapore," Ecclestone said by telephone. "There's lots of new things we are going to have to start putting into place, bringing them up to speed ... I am very, very happy that they can come in and do things (for the sport)."
Ecclestone is optimistic Liberty has the resources, expertise and modern outlook to drive the growth of F1 — particularly in the United States.
"I hope they do a lot because they are American and have had dealings in television in America for a long time," Ecclestone said. "They have dealings with a lot of sponsors because of their TV networks and social media which we haven't done (as much) in the past."
Chase Carey, an American executive vice-chairman of 21st Century Fox, is also set to assume the role as chairman of F1.
The sport returned to the U.S. in 2012 after a five year absence, with Austin hosting the race under the current deals.
"I have been trying to do things in America for years but not very successfully," Ecclestone said. "We tried but maybe they are the people that can get it done."
Asked about challenging NASCAR's supremacy in the U.S., Ecclestone said: "They are the people that should be concerned, of course."
CVC is F1's biggest shareholder with a 35.5 percent stake, followed by U.S. fund manager Waddell & Reed with just over 20 percent. Ecclestone has 5.3 percent stake in F1 but his family Bambino Trust has a further 8.5 percent, rounding up his involvement up to about 14 percent.
___
Rob Harris can be followed at www.twitter.com/RobHarris and www.facebook.com/RobHarrisReports