ECB Agrees on New Bond-Buying Program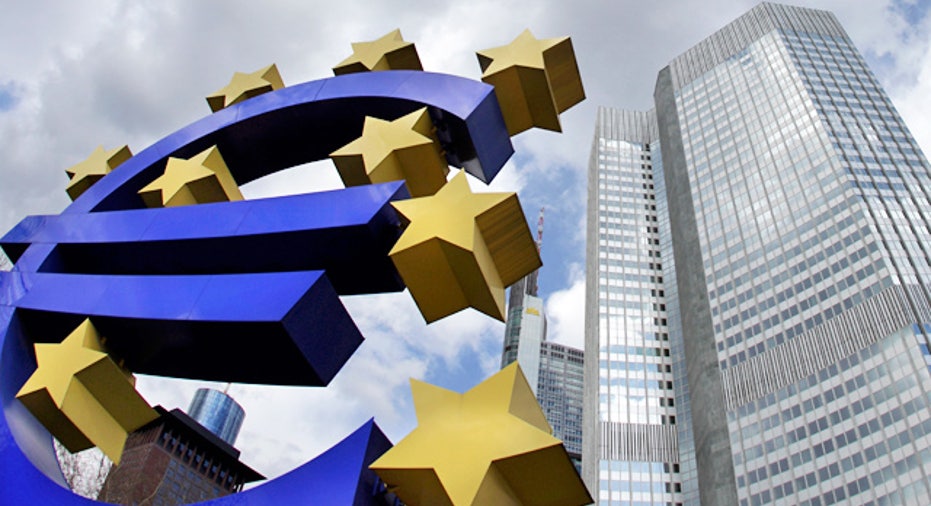 The European Central Bank agreed on Thursday to launch a new and potentially unlimited bond-buying programme to lower struggling euro zone countries' borrowing costs and draw a line under the debt crisis.
Seeking to back up his July pledge to do whatever it takes to preserve the euro, ECB President Mario Draghi said the new plan, aimed at the secondary market, would address bond market distortions and "unfounded" fears of investors about the survival of the euro.
The scheme, to which Germany's Bundesbank reiterated its opposition, would focus on bonds maturing within three years and was strictly within the ECB's mandate, Draghi said. Only one member of the ECB Governing Council had dissented, he said.
"Under appropriate conditions, we will have a fully effective backstop to prevent potentially destructive scenarios," Draghi told a news conference after the central bank's monthly meeting On Thursday.
"No ex-ante quantitative limits are set on the size of outright monetary transactions," he said, using the formal term for ECB bond-buying programmes.
Investors were on tenterhooks, waiting to hear how decisively the ECB would act to help bring down the borrowing costs of Spain and Italy, after disagreements among policymakers on the plan were played out in public last week.
Draghi's statement at least met expectations, analysts said. With the bond-buying plan the focus of Thursday's meeting, the ECB kept interest rates on hold, leaving its main rate unchanged at 0.75 percent.
"The details ... released today add to the credibility of the safety net taking shape in the euro zone and should support demand for euro zone assets," said Andrew Cox, G10 strategist at CitiFX in New York.
Euro zone blue chip stocks soared 3.2 percent to levels not seen since March in response.
Pressure on Draghi intensified after an unsubstantiated German newspaper report last week that Bundesbank chief Jens Weidmann had considered resigning over his opposition to bond-buying, although several sources say he has made no such threat and believes in staying at the table to argue his case.
Draghi succeeded in securing overwhelming support on the Governing Council for the plan despite Weidmann's opposition.
"In the most recent discussions, as before, Bundesbank President Jens Weidmann reiterated his frequently substantiated critical stance towards the purchase of government bonds," the German central bank said in a statement.
"He regards such purchases as being tantamount to financing governments by printing banknotes," it added.
Other ECB policymakers saw a greater urgency to help Spain and Italy and prevent the euro zone crisis from deepening.
STRICT CONDITIONS
Draghi said the ECB would only help countries that signed up to and implemented strict policy conditions, with the euro zone's rescue fund also buying their bonds, and preferably with the IMF involved in designing and monitoring the conditions.
Renewed ECB intervention in the euro zone's bond markets is crucial to buy governments time to come up with a longer-term response to the bloc's debt crisis, which began in early 2010.
Spanish and Italian government bond yields have fallen significantly since Draghi said on Aug. 2 that the ECB would buy bonds issued by Madrid and Rome. They fell further after he fleshed out his plan to intervene on Thursday.
The ECB would not target specific bond yields, Draghi said.
ECB debt purchases - which would succeed the bank's Securities Markets Programme that has been dormant since March - would be suspended if countries did not comply with the terms.
With Germany's constitutional court not due to rule on the new ESM rescue fund until next week, there was no prospect of the ECB intervening immediately.
Highlighting the euro zone's economic predicament, Draghi said growth in the region would recover only gradually. Fresh ECB staff projections pointed to the economy contracting this year by between 0.2 and 0.6 percentage points.
One downside for policymakers may be an increase in commodity prices, which were buoyed by the ECB announcement. Brent crude oil gained rose $1.50 on Thursday to $114.59 a barrel and wheat rose 8 cents a bushel to $8.54.
NO SENIORITY
Draghi also said the ECB was prepared to waive its senior creditor status on bonds it purchased - meaning it would be treated equally with private creditors in case of default.
The central bank hopes that by removing private investors' concern about being paid back last in the event of a sovereign default, they will not head for the exits if the ECB intervenes and buys bonds.
The ECB assumed preferred creditor status in Greece's debt restructuring earlier this year, leaving private investors to suffer a writedown in the value of their Greek sovereign bond holdings while the paper it held was untouched.
In another potential sop to the Bundesbank, Draghi said all bond purchases would be "sterilised" by taking in an equivalent amount in deposits from banks to avoid any risk of inflation.
The ECB's insistence on countries agreeing to strict conditions before it buys their bonds fed doubts about whether Spain would seek help, and led to disappointment with the new ECB bond-buying programme among some investors.
Draghi said bond buys would be tied to "strict and effective conditionality" and focused on debt maturities up to 3 years.
"The involvement of the IMF shall be sought also for the design of country-specific conditionality and the monitoring of such programmes," he said, adding that now it was up to the governments of the euro zone to act.
International Monetary Fund chief Christine Lagarde welcomed the new ECB bond-buying programme and said the global lender was ready to cooperate "within our frameworks".
Spanish Prime Minister Mariano Rajoy and German Chancellor Angela Merkel said they did not discuss conditions for aid for Spain, despite expectations Rajoy would seek Germany's support for a bailout in a bilateral meeting in Madrid on Thursday.
"A lot depends on the country asking for help through the ESM, and Spain doesn't seem to be ready," said Francois Savary, chief investment officer at Reyl in Geneva. "It means that a lot remains in the hands of politicians."