eBay Stock Upgraded: 3 Things You Need to Know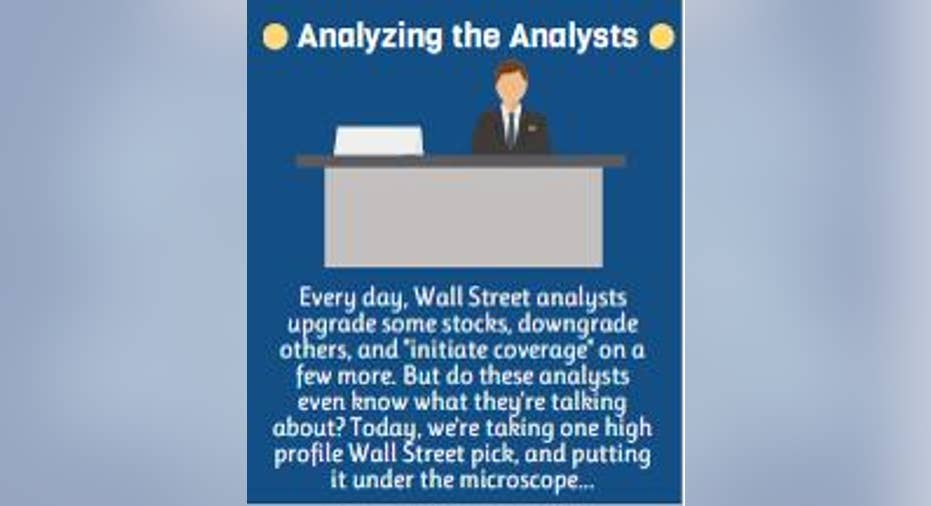 When it comes to internet stocks, a few names stand out from the crowd. Amazon.com (NASDAQ: AMZN), Facebook (NASDAQ: FB), and Alphabet (NASDAQ: GOOG)(NASDAQ: GOOGL)-- investment banker Deutsche Bank calls these threethe "best-of-breed names" in the internet industry. But there's one other name that Deutsche likes even more:eBay (NASDAQ: EBAY).
This morning, Deutsche Bank upgraded its rating on eBay stock from hold to buy, and assigned the stock a new $40 price target that is 33% higher than its previous estimate of the stock's worth. Even better, if eBay hits the new target, it promises to reward shareholders with a 21% profit.
Here are three things you need to know.
Deutsche Bank thinks eBay is on sale. Is it time to buy? Image source: Getty Images.
1. What eBay has done
Central to Deutsche Bank's buy thesis is its belief that eBay "is in the latter stages of its replatforming," and that "this is the time period where select internet stocks historically tend to generate the most alpha" -- the time when they deliver the most market-beating gains in stock price. Deutsche Bank explains, viaStreetInsider.com: "Expedia went from a $6B market cap to over $30B in the 24 months coming out of its replatforming back in 2011 (if you add the TRIP spin) and while we don't expect a 5-bagger at EBAY, it could certainly outperform the group over the next 2 years."
2. Come again? What is this "replatforming" you speak of?
eBay itself describes its replatforming initiative thusly: It's a "multiyear evolution" to "organize, catalogue, curate, and present our vast inventory in ways that enable every person who shops on eBay to find" what they're looking for.
eBay brags that it already has "robust and vast inventory" and "one of the very best search engines optimized for e-commerce" to sort it. What eBay intends to do now is make that search engine even better. Using "machine learning," eBay says it will move "beyond the listing-based approaches that have typifiedthe past" to create "powerful, new ways for consumers to shop."
A lot of that may sound like mere marketing chatter. But in fact, eBay is already rolling out its new shopping platform "in some categories" of products, such as digital cameras. Whether the improvements result in better sales and profits for eBay stock remains to be seen. Last quarter, for example, eBay's profits per share surged more than 420% -- but sales grew less than 6%.
3. What happens next?
According to Deutsche, eBay is turning into an "accelerating-growth" story "with upside to estimates and a reasonably low valuation." Guesstimating what the company might earn in 2018, the analyst says the stock sells for an "8% FCF field on conservative 2018 numbers."
Right now, eBay stock is generating $2.45 billion in annual free cash flow on a market capitalization of $37.25 billion. That works out to a 15.2 price-to-free-cash-flow ratio, or a free cash flow "yield" of 6.6%. But two years from now, Deutsche thinks the stock will be generating enough free cash flow to drop that ratio down to just 12.5 -- and give eBay an 8% yield.
The most important thing: Valuation
So what is Deutsche Bank really saying about eBay's prospects?
Growing the yield from 6.6% to 8% amounts to growing free cash flow from $2.45 billion to nearly $3 billion, or 22%, two years from now. That's basically an 11% compound growth rate. It's also way, way, way below the 55% growth rate that analysts expect Amazon.com to produce, below the 34% growth expected from Facebook, and the 17% growth rate expected out of Alphabet.
On the other hand, at just 20 times earnings, and 15 times free cash flow, eBay also costs a lot less than Amazon (207 times earnings), Facebook (61 times earnings), or Alphabet (31 times). Additionally, it's worth pointing out that Deutsche's estimate of 11% growth for eBay is about half-again as much as the 7.3% growth rate that most analysts ascribe to eBay, according to data from S&P Global Market Intelligence. So while eBay may not be growing as fast as its peers, Deutsche does think it will grow faster than many investors expect it to. And that, says Deutsche Bank, is the reason eBay will outperform its faster-growing, pricier peers over the next two years.
Is Deutsche Bank right about that? Check out the analyst's record on Motley Fool CAPS, and decide for yourself.
A secret billion-dollar stock opportunity The world's biggest tech company forgot to show you something, but a few Wall Street analysts and the Fool didn't miss a beat: There's a small company that's powering their brand-new gadgets and the coming revolution in technology. And we think its stock price has nearly unlimited room to run for early in-the-know investors! To be one of them, just click here.
Fool contributorRich Smithdoes not own shares of, nor is he short, any company named above. You can find him onMotley Fool CAPS, publicly pontificating under the handleTMFDitty, where he currently ranks No. 284 out of more than 75,000 rated members.
Suzanne Frey, an executive at Alphabet, is a member of The Motley Fool's board of directors.The Motley Fool owns shares of and recommends Alphabet (A and C shares), Amazon.com, eBay, and Facebook. Try any of our Foolish newsletter services free for 30 days. We Fools may not all hold the same opinions, but we all believe that considering a diverse range of insights makes us better investors. The Motley Fool has a disclosure policy.