Eaton Corp. Q1 Earnings: Better Than Expected, but Still Not Good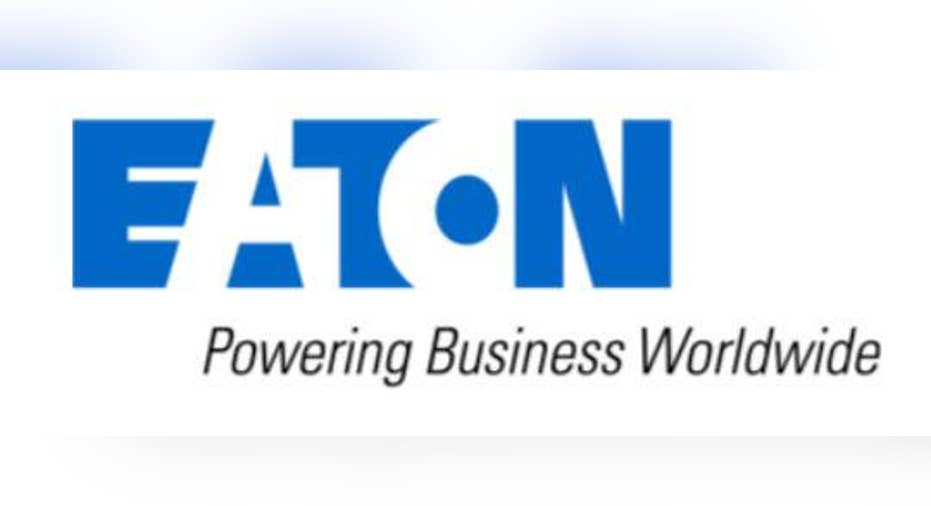 Eaton doesn't make construction equipment, but it does provide the hydraulics that make the equipment work. Image source: Eaton Corp.
Eaton Corp. posted first-quarter earnings that were above the midpoint of its guidance and analyst expectations. That, however, doesn't mean it was a good quarter. It just means it was a better-than-anticipated quarter. Here's the good and the bad that you need to look at.
Beating itGoing into the first quarter, analysts were calling for Eaton to earn $0.85 a share. But the industrial giant made $0.88 a share, handily beating expectations. However, that was some 13% below the figure in the year-ago period. So it was a good number, but definitely not a great one.
Image source: Eaton.
Looking at the top line, the company had revenues of $4.8 billion, down 8% from the year-ago period. Analysts had been expecting $4.77 billion, so Eaton basically met expectations here. Note, however, that the bottom line fell further than the top, which was the result of a drop in the company's operating margins from 14.6% in the year-ago period to 13.9% in the first quarter of 2016.
There's a grain of salt here, however, since the company has been slimming down. Pulling out restructuring charges, operating margins in the first quarter would have been 15.1%. Although you can't just make those costs go away, since they're real expenses, the adjusted number suggests that the company's efforts to right-size its business for the current market environment look like they're having the intended effect, even if that isn't flowing through to the bottom line just yet.
Underlying the weakness in the quarter, year over year, was a 6% decline in organic sales. That's not a pleasant figure, though it's not out of line with what the company was expecting. Nor was Eaton's organic sales decline unusual. Organic sales at Rockwell Automation , for example, fell 3.6% during its latest fiscal quarter. Even General Electric , which had a pretty solid first quarter, saw organic revenues drop 1%.
Both of these industrial players noted weakness in the oil and gas markets as key issues, but from a bigger perspective, also highlighted what can best be described as sluggish global growth. Not much different from what's going on at Eaton, though the specifics aren't exactly the same.
Eaton doesn't make aircraft, either. But, once again, it makes the parts that allow planes to fly. Image source: Eaton Corp.
The trouble spotsPart of the reason Eaton's organic sales have been so dismal is its hydraulics business. This segment, about 10% of revenues, sells into the heavy-equipment, farming, and construction markets (including the oil and gas industry). That's been a horrible business for a few years now, and it isn't getting any better. Organic sales in hydraulics were down 14%, and operating profits fell nearly 40%. Although it's relatively small compared with the company's electric segments, the ongoing troubles here are a notable headwind. And with booking declining 10% year over year in the quarter, expect more bad news in the future.
The company's auto business was another tough one, with an organic sales decline of 13% and an operating earnings drop of 28%. This business accounted for roughly 17% of the top line. So 25% of Eaton's business was in kind of rough shape.
The rest of the business is doing a little better -- but the key word there is "little." Electrical products (35% of the top line) saw organic sales slightly in the positive column. But electric systems and services (28% of sales) experienced a 5% organic sales drop, and aerospace (a little under 10%) saw a 3% decline. So better than hydraulics and autos, but still not great. Business in Asia, where China's growth continues to cool off, remains an ongoing trouble spot throughout the company's business.
If there was any truly positive news in the quarter, it was that the impact of currency fluctuations were less onerous than expected. The company is now calling for currency headwinds this year to be roughly half of what they anticipated at the end of 2015.
The takeawayThere are two big takeaways here. First, Eaton is dealing with a very difficult market right now, and it's affecting the top and bottom line pretty much as you'd expect. New orders suggest that there's more pain to come. However -- and this is the second point -- even in a bad market Eaton earned a solid $0.85 a share. And it raised its dividend 4% and bought $100 million worth of its own stock. Also, Eaton reaffirmed its full-year guidance of between $4.15 and $4.45 a share. So look for higher quarterly numbers the rest of the year as this industrial giant weathers a tough market in stride.
In the end, it was definitely not a good quarter, but neither was it a horrible one.
The article Eaton Corp. Q1 Earnings: Better Than Expected, but Still Not Good originally appeared on Fool.com.
Reuben Brewer owns shares of Eaton. The Motley Fool owns shares of General Electric Company. Try any of our Foolish newsletter services free for 30 days. We Fools may not all hold the same opinions, but we all believe that considering a diverse range of insights makes us better investors. The Motley Fool has a disclosure policy.
Copyright 1995 - 2016 The Motley Fool, LLC. All rights reserved. The Motley Fool has a disclosure policy.