Earnings Remain Consistent While Spectra Energy Partners Gets a New Parent Company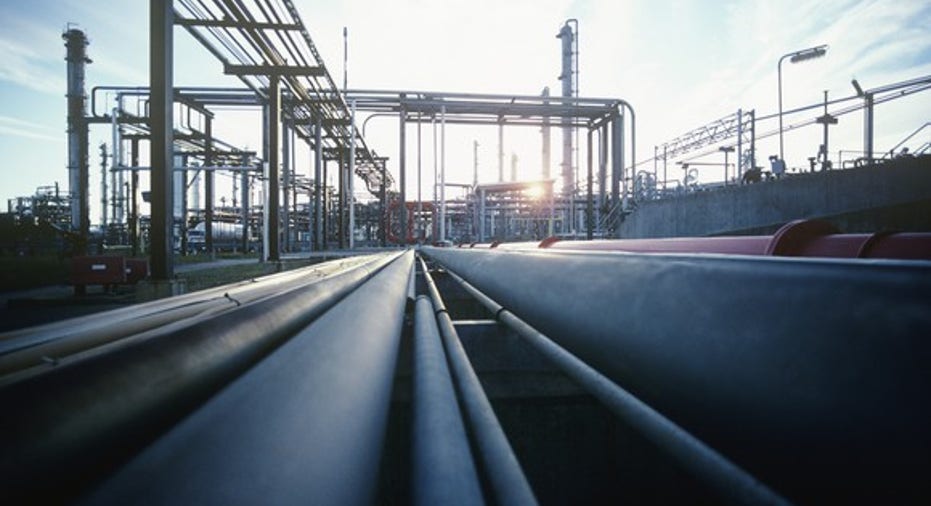 With so much change coming at the upper management and parent company of Spectra Energy Partners (NYSE: SEP), one could forgive the company if it suffered an earnings hiccup this past quarter. That wasn't the case, though, as Spectra generated yet another quarter of consistent results.
Here's a short rundown of Spectra Energy Partners' most recent quarterly results as well as a look at what's in store over the next few quarters and beyond as the company gets a new managing general partner above it.
Image source: Getty Images.
By the numbers
| Metric | Q1 2017 | Q4 2016 | Q1 2016 |
| --- | --- | --- | --- |
| Operating revenue | $700 million | $663 million | $624 million |
| EBITDA* | $499 million | $474 million | $447 million |
| Earnings per share | $0.74 | $0.70 | $0.80 |
| Distributable cash flow | $356 million | $271 million | $371 million |
Source: Spectra Energy Partners earnings release. *EBITDA= earnings before interest, taxes, depreciation, and amortization.
One of the upsides of investing in Spectra Energy Partners is that the merger of its former parent Spectra Energy and its new parent Enbridge (NYSE: ENB) hasn't materially changed Spectra Energy Partners' business. This past quarter, there was a $46 million in charges related to the parent merger, but that is small potatoes compared to the several hundred million in transaction-related costs at Enbridge this past quarter.
On just about every other metric, Spectra Energy Partners held true to its reputation of steady growth. Operating revenue and EBITDA both increased modestly thanks to several major projects coming online in 2016. That modest decline in distributable cash flow and earnings per share is a result of those one-time, transaction-related charges.
The bulk of Spectra's earnings comes from its U.S. Transmission business. This past quarter, ongoing EBITDA -- that's without those transaction adjustments -- increased thanks to several projects coming on line.The largest of those projects was its $1.1 billion AIM pipeline to deliver natural gas to New England.
Looking forward
Since this time last year, Spectra Energy Partners has completed about $1.8 billion in projects. This coming year, management estimates that it will put another $3.9 billion in new assets into service. The bulk of that spending is on two projects. One is the NEXUS pipeline that will deliver natural gas from the Marcellus shale region to the Enbridge's Dawn Hub natural gas terminal that serves as a supply hub for its natural gas distribution in Ontario and Quebec. The other is the Sabal Trail gas transmission pipeline that will deliver 1 billion cubic feet per day of gas to customers in Florida. Sabal Trail is mechanically complete and should be in service in the coming months while NEXUS should come into service in the second half of the year.
These projects and several others slated for service in 2017 translate to full year distributable cash flow guidance of $1.4 billion to $1.48 billion with a distribution coverage ratio of 1.05x to 1.15x. This should help ensure that Spectra Energy Partners can continue its streak of 38 consecutive quarters with a distribution increase.
What management had to say
Bill Yardley, Chairmanand President ofSpectra Energy Partners, commented on the partnership's most recent performance in his press release statement.
10-second takeaway
With Enbridge in the middle of its restructuring process and Enbridge Energy Partners (NYSE: EEP) part way through a strategic review that led to a 40% distribution cut, Spectra Energy Partners looks like the most stable investment underneath the Enbridge umbrella for now. With that $3.9 billion in new assets to come online by the end of the year and another $500 million under construction, there is certainly enough growth in the works to keep Spectra going for a couple of years.
Beyond that, investors should watch to see how parent company Enbridge decides to allocate capital. It said in its most recent investor presentation that it has more than CA$48 billion in expansion projects under review. At the same time, it has four subsidiary partnerships below it to allocate those projects. That's a lot of mouths to feed for one parent organization. Investors will need to keep track of which projects get assigned to which subsidiary.If some projects initially programmed for Spectra Energy Partners are allocated to other entities, it could hamper Spectra's growth in the longer-term future.
10 stocks we like better than Spectra Energy PartnersWhen investing geniuses David and Tom Gardner have a stock tip, it can pay to listen. After all, the newsletter they have run for over a decade, Motley Fool Stock Advisor, has tripled the market.*
David and Tom just revealed what they believe are the 10 best stocks for investors to buy right now... and Spectra Energy Partners wasn't one of them! That's right -- they think these 10 stocks are even better buys.
Click here to learn about these picks!
*Stock Advisor returns as of May 1, 2017
Tyler Crowe has no position in any stocks mentioned. The Motley Fool owns shares of and recommends Enbridge. The Motley Fool has a disclosure policy.