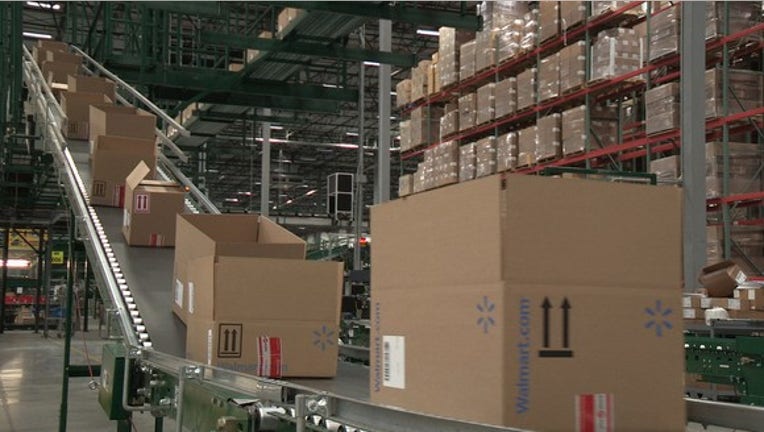 Improved traffic in U.S. stores and vigorous growth in e-commerce helpedWal-Mart Stores, Inc.(NYSE: WMT)finish out its fiscal 2017 year with a slight revenue gain, offsetting some of the grocery deflation pressures the retailer had warned about in its previous sequential quarter.I'll discuss details from the company's fourth-quarter fiscal 2017 report released Tuesday, as well as management's outlook for fiscal 2018, after reviewing headline numbers.
Wal-Mart: The raw numbers
Data source: Wal-Mart Stores.
What happened with Wal-Mart this quarter?
Reported revenue growth of just shy of 1% was paced by a 2.8% net revenue increase in the Wal-Mart U.S. segment, to $83.7 billion.Excluding currency effects, revenue expanded 3% during the quarter.
Wal-Mart U.S. delivered a comparable sales gain of 1.8%, composed of 1.4% growth in traffic, and a 0.4% higher average ticket price.
Wal-Mart International net sales decreased 5.1% to $31.0 billion, but rose 3% on a currency-adjusted basis.
Sam's Club achieved net sales of $14.9 billion, good for a solid 3% increase over the prior-year quarter. A comparative sales increase of 2.4% was split equally between higher traffic of 1.2% and average ticket price growth of 1.2%.
U.S. e-commerce sales rose sharply by 29%. Gross merchandise value, or GMV, improved by 36.1%. The fourth quarter marked the first full quarter of integrated results from online commerce site Jet.comfollowing Wal-Mart's $3.3 billion acquisition of the company in Q3 2017.
Operating income margin declined roughly 40 basis points, to 4.7%.
For the entire fiscal year, Wal-Mart was able to eke out a 1% improvement in net revenue to $485.9 billion, while net income decreased roughly 7% to $13.6 billion.
The organization continues to churn out impressive operating cash flow. Fiscal 2017 operating cash flow of $31.5 billion amply provided for $10.6 billion in capital expenditures, $8.3 billion of share repurchases, and $6.2 billion in dividends paid to shareholders.
Wal-Mart announced an annual dividend increase from $2.00 per share to $2.04 per share, marking the company's 44th consecutive annual dividend hike.
Image source: Wal-Mart Stores.
What management had to say
During Wal-Mart's earnings conference call, CEO Doug McMillon emphasized the increasing role of e-commerce vis-a-vis the overall business. Wal-Mart's investments in technology, fulfillment centers, and bolt-on acquisitions are beginning to yield substantial online traffic, as McMillon pointed out in detail:
Looking forward
During the global retailer's earnings conference call, management offered guidance for the current fiscal 2018 year, which runs from Feb.1, 2017 to Jan. 31, 2018. Wal-Mart expects overall revenue expansion of 2% to 3%, with currency-adjusted growth pegged at 3% to 4%. Operating income is forecast to decline slightly due to continued price investments. Management expects to leaven the effect of some of this promotional and discount activity with "a more disciplined approach to expenses."
Given the factors above, and expected currency effects, Wal-Mart is targeting fiscal 2018 earnings per share (EPS) within a range of $4.20 to $4.40, versus 2017's EPS of $4.32.
Essentially, Wal-Mart expects a reasonably stable earnings environment this year in which it will continue to hone in on key corporate goals, such as better inventory management and its increasingly aggressive push into online sales. As for the immediate future, it's not too early to start thinking about next quarter: Wal-Mart's guidance calls for diluted EPS to fall between $0.90 and $1.00 in Q1 2018.
10 stocks we like better than Wal-Mart StoresWhen investing geniuses David and Tom Gardner have a stock tip, it can pay to listen. After all, the newsletter they have run for over a decade, Motley Fool Stock Advisor, has tripled the market.*
David and Tom just revealed what they believe are the 10 best stocks for investors to buy right now... and Wal-Mart Stores wasn't one of them! That's right -- they think these 10 stocks are even better buys.
Click here to learn about these picks!
*Stock Advisor returns as of February 6, 2017
Asit Sharma has no position in any stocks mentioned. The Motley Fool has no position in any of the stocks mentioned. The Motley Fool has a disclosure policy.