DuPont in asset deal with FMC, delays close of Dow merger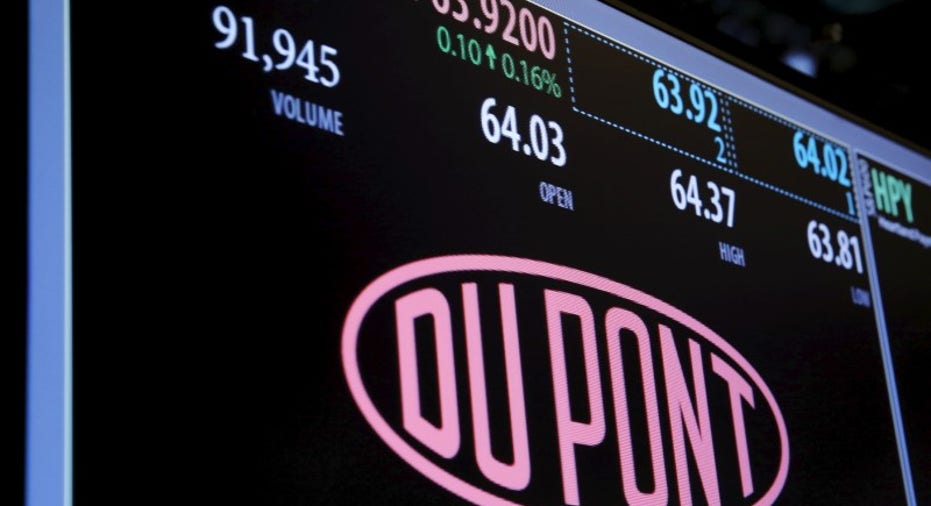 DuPont said on Friday it would buy a unit of FMC Corp and sell its crop protection business to the company to win European Union approval for its merger with Dow Chemical , and delayed the deal's closing again.
DuPont said its $130 billion merger with Dow Chemical, which was expected to close in the first half of 2017, is now anticipated to close between Aug. 1 and Sept. 1.
DuPont said it would sell part of its crop protection unit to FMC and buy nearly all of FMC's health and nutrition business in a deal that will fetch DuPont about $1.6 billion because of the difference in the value of the assets.
FMC's shares were up nearly 15 percent at $70.71 in premarket trading, while DuPont's shares rose marginally.
The Dow-DuPont merger has faced intense regulatory scrutiny due to the significant overlap of their agricultural businesses, which sell seeds and crop protection chemicals, including insecticides and pesticides.
It is still to be approved by regulators in the United States, Brazil, China, Australia and Canada, but Dow and DuPont said earlier this week they were confident of clearance in all remaining jurisdictions.
The combined company will eventually be spun-off into three independent publicly traded companies, the first being called "Material Science Co".
The spun-off company would be made up of DuPont's performance materials business and Dow's performance plastics and chemicals and infrastructure solutions units, among others.
Dow and DuPont said on Friday that they expect the intended spin-offs to occur within 18 months after the closing of the merger.
The Dow-DuPont deal is one of a trio of mega mergers that will reshape the industry and consolidate six companies into three.
The two other big deals being ChemChina's $43 billion bid for Syngenta and Bayer's acquisition of Monsanto .
This is the third time that Dow and DuPont have had to push the expected close.
The deal with FMC is expected to close in the fourth quarter of 2017, subject to the closing of the DuPont and Dow merger.
The transaction, which also includes DuPont divesting some of its research and development facilities to FMC, includes $1.2 billion in cash and working capital of $425 million.
The European Commission had been concerned that the merger of two of the biggest and oldest U.S. chemical producers would leave few incentives to produce new herbicides and pesticides in the future.
(Reporting by Vishaka George in Bengaluru; Editing by Martina D'Couto)