DryShips Inc.'s Stock Got Absolutely Pulverized in 2016, But the Worst May Be Over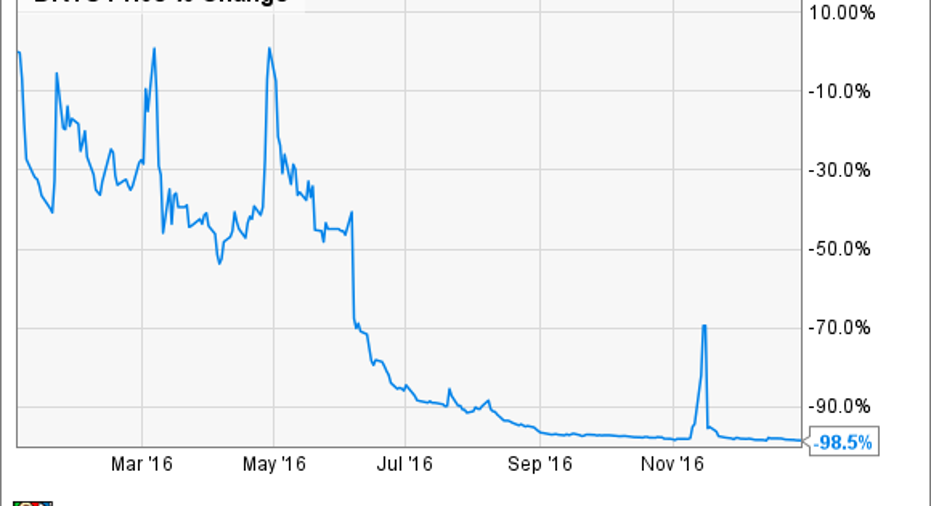 Image source: Getty Images.
It is hard to find the right words to describe DryShips' (NASDAQ: DRYS) performance in 2016. Abysmal, atrocious, and awful are just some of the adjectives one could use to describe a year that saw the company's stock sink 98.5%:
However, that sinking stock price has veiled the fact that over the course of the past year, the company completed several strategic initiatives which should help keep it afloat. Furthermore, it recently secured an option to diversify away from the sector that nearly caused its demise. These factors suggest that the worst might be over, and that 2017 could be the year that DryShips' stock starts riding higher.
Shoring up its liquidity
DryShips entered 2016 in rough shape. The shipper warned investors that the prolonged downturn in the dry bulk segment forced it to initiate discussions with lenders to restructure its debt. In fact, the company had elected not to make the final balloon payment on three of its bank facilities to preserve cash and liquidity.
Because of this dire situation, the company spent the entirety of 2016 working on initiatives to improve its financial condition. These moves included selling non-core assets and working together with the company's founder, its banks, and outside investors to deleverage the balance sheet. This hard work slowly paid off, culminating in an announcement in mid-December that it had secured a new loan with an entity controlled by its founder. As a result of this and other transactions, the company ended 2016 with just $137.5 million in debt, which is down from $237 million at the end of 2015 and a huge improvement from the $5.5 billion in debt it had at the end of 2014. In addition to that lower leverage, DryShips also ended last year with $76.8 million in cash and $79 million of liquidity under its new revolver.
DryShips also secured the support of an unaffiliated investment company, which agreed to purchase up to $200 million of the company's common stock over the next two years. As a result, DryShips has the financial strength and liquidity it needs to rebuild its fleet and start growing earnings.
Image source: Getty Images.
A new way forward
The company took the first steps toward that rebuild in early 2017 by announcing a strategic expansion into the gas-carrier market. DryShips acquired the option, from companies controlled by its founder, to buy four Very Large Gas Carriers (VLGCs) capable of carrying liquefied petroleum gas (LPG). Under the terms of the agreement, DryShips can purchase the VLGCs for $83.5 million apiece, or $334 million for all four vessels. The ships, which are currently under construction, have scheduled delivery dates in June, September, October, and December of this year. Should the company elect to exercise its option, it would finance these transactions with a combination of cash on hand, undrawn liquidity under its revolver, and proceeds from equity sales to the outside investor.
What's important to note about these vessels is that they are already under long-term charters with major oil companies and oil traders. Those contracts would provide DryShips with visible and stable cash flow for the next several years. The addition of these vessels to the fleet would represent a significant shift away from the company's current operating model, which is to own dry bulk shipping vessels leased at spot-market prices. That spot-market exposure has proven to be problematic, because spot prices fluctuate with supply and demand and have been in a prolonged slump over the past few years due to oversupply and weak global trade. DryShips' decision to move away from the spot market and acquire vessels that can supply predictable cash flow would provide a stable floor for its financial results in the future.
Overall, the LPG market appears to be on the upswing, due, in part, to rising demand for liquefied gases by markets in the Far East. In fact, according to the latest market update from LPG shipper Dorian LPG (NYSE: LPG), "the freight market appears to have begun to rebound from multi-year lows."
One of the drivers of that market rebound is growing LPG export volumes from the U.S. due to rising shale production. The U.S was expected to add 433,000 barrels per day of new terminal capacity last year, more than half of that coming from three Enterprise Products Partners (NYSE: EPD) expansion projects in Texas; another 1.5 million barrels per day of export terminal capacity is expected to be added by 2018.
Meanwhile, companies like Enterprise Products Partners continue to explore additional liquefied petroleum export projects to maximize the value of U.S. shale production. This incremental export capacity should drive demand for gas carriers, which bodes well for DryShips' decision to enter this space.
Investor takeaway
DryShips slowly pushed itself away from the precipice last year and appears to be back on solid ground. The company is also beginning to move away from the volatile spot market by rebuilding its fleet with vessels signed to long-term charters, which would supply it with predictable cash flow. With these improvements, it appears that the worst is in the rearview mirror at DryShips, and that better days could lie ahead.
10 stocks we like better than DryShips When investing geniuses David and Tom Gardner have a stock tip, it can pay to listen. After all, the newsletter they have run for over a decade, Motley Fool Stock Advisor, has tripled the market.*
David and Tom just revealed what they believe are the 10 best stocks for investors to buy right now... and DryShips wasn't one of them! That's right -- they think these 10 stocks are even better buys.
Click here to learn about these picks!
*Stock Advisor returns as of January 4, 2017
Matt DiLallo owns shares of Enterprise Products Partners. The Motley Fool recommends Enterprise Products Partners. The Motley Fool has a disclosure policy.