DryShips Inc.'s High Dividend Yield Is Shrinking Quickly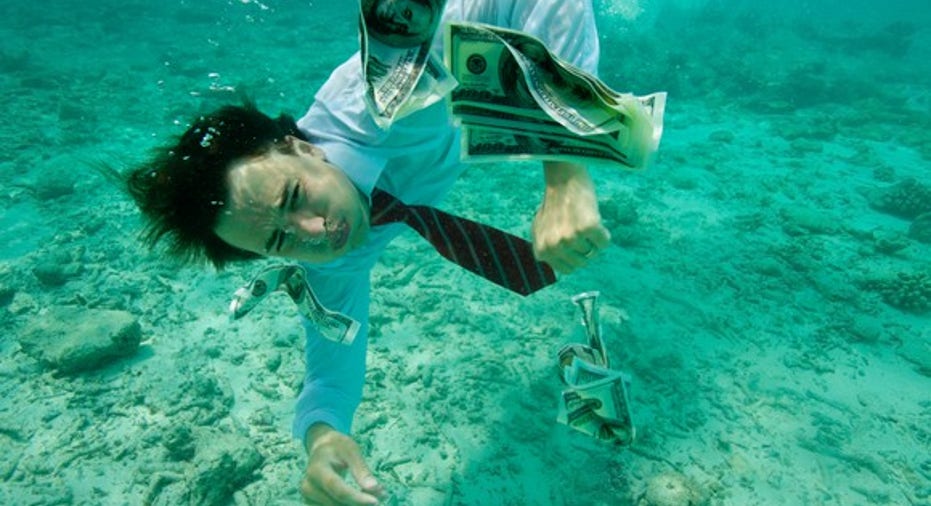 In one of the biggest head-scratchers of the year, DryShips (NASDAQ: DRYS) initiated a quarterly dividend last month. However, the company didn't finalize the per-share rate until this past week, when it said it would pay just under $0.02 per share. At the time of this writing, the stock's price was around $1.67 per share, which implies a generous 4% annual yield.
However, before diving in, investors need to know that there's a lot more to this story. Those details highlight why this payout isn't very appealing and make it clear that income-seeking investors shouldn't go bottom-fishing for this dividend.
Image source: Getty Images.
A flat rate of a different kind
When DryShips initiated its quarterly dividend policy last month, it did things a bit differently than most other dividend payers. The majority of dividend payers set a fixed per-share rate, which gives investors some sense of income visibility. For example, containership company Costamare (NYSE: CMRE) currently pays investors $0.10 per share each quarter. That, though, is down from the $0.29 per share Costamare had been paying before it chose to reduce the payout and shore up its balance sheet.
Another common payout policy is a variable dividend, which fluctuates with earnings. That's the policy of most oil tanker companies, including DHT Holdings (NYSE: DHT). Due to volatile tanker rates, DHT Holdings' dividend has been as high as $0.25 per share to as low as $0.02 per share over the past year.
DryShips'dividend, on the other hand, is almost like a hybrid of the two. The company announced that it would pay out a fixed rate each quarter of $2.5 million, which it would spread around to as many shares as it had outstanding on the record date. That's noteworthy given the rapid rise of its outstanding shares over the past year because it means that this little wrinkle will likely lead to a variable rate dividend on a per-share basis even if it continues to pay out that same fixed rate.
Image source: Getty Images.
Bring on the dilution
When DryShips initially announced that it would pay out $2.5 million across all its outstanding shares, it had about 36.5 million shares outstanding. That cash payment spread over those shares would have amounted to about $0.07 per share. For perspective, if investors bought around the recent stock price, that payout rate implies a 16% annualized yield. However, because the company has been handing out shares left and right this year to raise cash for the expansion of its fleet, the share count zoomed to more than 143.6 million by the record date. Because of that, the per-share amount fell to less than $0.02 or around 4% annualized.
That per-share rate is likely to continue coming down in the future if DryShips maintains a $2.5 million fixed dividend. That's evident by the fact that the company's share count is already up to more than 152 million after it completed another $200 million stock offering just two days after locking down its last dividend. That dilution alone would result in investors receiving 5% less cash next quarter if everything else remains the same.
That said, it's very likely that DryShips will continue to issue new shares and dilute existing holders. That's because the company remains focused on capturing opportunities to diversify and grow its fleet. While it currently has $455 million of liquidity at its disposal, it is just getting started on its latest acquisition binge. So far this year, it has spent $102.5 million on two oil tankers, exercised the option to purchase two newbuild Very Large Gas Carriers for a combined $167 million, and holds options to buy two more for the same price. Meanwhile, DryShips continues to explore ways to expand its dry bulk fleet and take advantage of historically low prices. Needless to say, it could burn through its liquidity rather quickly, especially since its operations are using up cash and it has chosen to pay an unnecessary dividend even though it clearly has better uses for this money elsewhere.
Investor takeaway
It would be a mistake to buy DryShips just because it pays what appears to be a generous dividend. Given its unique dividend policy, the quarterly payment will likely fall dramatically as the company continues to dilute investors by issuing more shares. Furthermore, itshouldn't have even started paying a dividend in the first place because it's not generating free cash flow and could use this money, instead of new shares, to make more acquisitions. Because of these factors, investors who go bottom-fishing for DryShips' dividend have a good chance of seeing their investment sink in value.
10 stocks we like better than DryShipsWhen investing geniuses David and Tom Gardner have a stock tip, it can pay to listen. After all, the newsletter they have run for over a decade, Motley Fool Stock Advisor, has tripled the market.*
David and Tom just revealed what they believe are the 10 best stocks for investors to buy right now... and DryShips wasn't one of them! That's right -- they think these 10 stocks are even better buys.
Click here to learn about these picks!
*Stock Advisor returns as of February 6, 2017
Matt DiLallo has no position in any stocks mentioned. The Motley Fool has no position in any of the stocks mentioned. The Motley Fool has a disclosure policy.