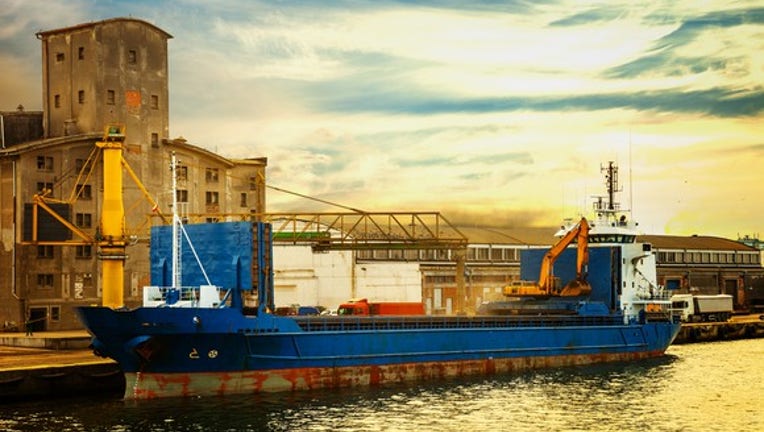 DryShips' (NASDAQ: DRYS) stock has done nothing but sink for the past several years. The primary culprit has been falling shipping rates, which plunged so low last year that the company started bleeding cash, ultimately forcing it to jettison ships so it could pay off debt and stay afloat. However, after shoring up its balance sheet at the end of last year, the company has been able to start rebuilding its fleet. What's noteworthy about the vessels it targeted during the rebuild was that many came with contracts that guaranteed future cash flow. That trend toward cash flow certainty continued this week when the company announced a one-year deal for one of its newest ships, locking in another earnings stream.
Spotting an opportunity
For the most part, DryShips employs its ships on the spot market, which means it takes the going market rate. When rates are high, the company cashes in. However, when they plunge, it can cause devastating problems, especially when rates remain below the company's breakeven level, which was the case last year.
Image source: Getty Images.
However, with spot market rates recovering this year, the company took advantage of an opportunity to charter one of its recently acquired Newcastlemax dry bulk vessels for the next year with a major grain house. DryShips will collect a total of $7.1 million on the contract, which should start at the end of the month. That locks in cash flow from this vessel, providing a secure source of earnings. In fact, that contract implies a dayrate of about $19,450 for the ship, which is higher than the spot market price of $16,000 per day that the company expected to capture on its Newcastlemax vessels when it put out forward guidance last month.
With this contract, DryShips now has three of the four Newcastlemaxesit acquired last month for $124 million under time charter contracts. That gives the company a bit more security over the next year as it works to rebuild its earnings capacity.
Securing the foundation
In addition to those vessels, the other noteworthy addition DryShips made this year were four Very Large Gas Carriers that came with previously signed long-term time charters. The company paid a total of $334 million for these ships, which will bring with them up to $390 million of contracted revenue when including options, providing the company with clearly visible cash flow for the next several years. When added to the Newcastlemax contracts, DryShips now has a foundation of stable earnings that it can count on even if market conditions start to wobble.
This trend toward securing time charters is growing within the shipping industry in the aftermath of getting burned by falling rates in the recent past. For example, rivalEagle Bulk Shipping (NASDAQ: EGLE) recently signed a deal for one of its newly acquired vessels, locking in a fixed charter rate for the next 17 to 19 months. Eagle Bulk Shipping CEO Gary Vogel said about the move:
As Vogel noted, dry bulk rates are notoriously volatile, so it's good risk management to start locking in rates on some ships just in caseprices reverse course. That's why it wouldn't be a surprise to see Eagle Bulk Shipping lock up additional vessels to longer-term contracts if the opportunity arises. Likewise, DryShips will most likely continue to layer in more time charters if it can. Furthermore, the company might continue to target the acquisition of already chartered vessels to increase its earnings visibility.
Investor takeaway
DryShips nearly collapsed as a result of sinking shipping rates over the past few years. That's why the company has focused on adding vessels to its fleet that are either under time charters or that it can charter because those ships will provide it with a steady stream of cash flow to help it stay afloat if rates collapse. That said, while the company is making progress, it still has more work ahead of it given that the bulk of its fleet remains at the mercy of the spot market.
10 stocks we like better than DryShipsWhen investing geniuses David and Tom Gardner have a stock tip, it can pay to listen. After all, the newsletter they have run for over a decade, Motley Fool Stock Advisor, has tripled the market.*
David and Tom just revealed what they believe are the 10 best stocks for investors to buy right now... and DryShips wasn't one of them! That's right -- they think these 10 stocks are even better buys.
Click here to learn about these picks!
*Stock Advisor returns as of April 3, 2017
Matt DiLallo has no position in any stocks mentioned. The Motley Fool has no position in any of the stocks mentioned. The Motley Fool has a disclosure policy.