Drone delight: Expanded airspace allows night flights at higher altitudes across North Dakota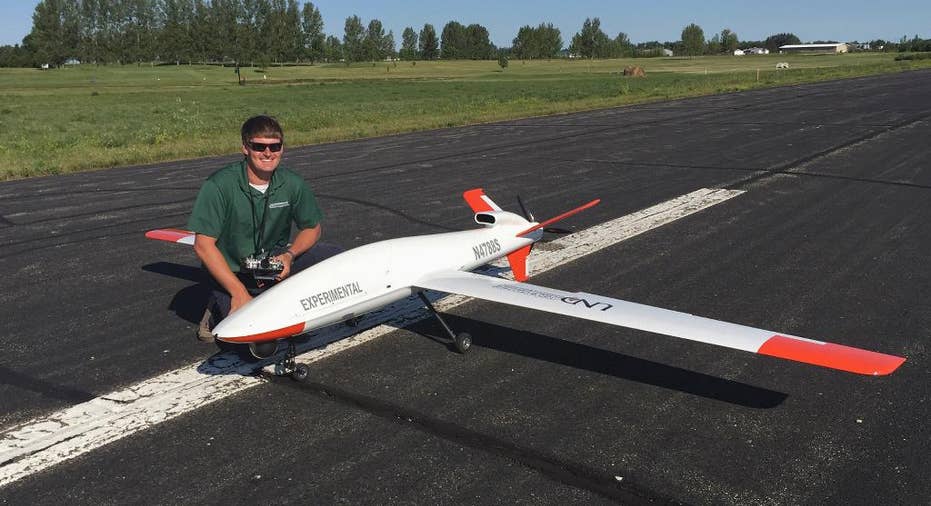 Of the six sites in the U.S. where researchers are trying to figure out how to integrate unmanned aircraft into civilian airspace, only North Dakota's can fly high both day and night.
The Federal Aviation Administration approved a plan last week that allows drones to be flown up to 1,200 feet above the entire state and permits flights at night, a combination that makes North Dakota unique, since other test sites are limited to a 200-foot blanket and daylight hours.
"It really expands the type of operations you can conduct," said Nicholas Flom, director of safety for the Northern Plains UAS Test Site.
For example, some precision agriculture sensors are designed to function at a minimum altitude of 250 feet, he said, and drones that would be flown to look for hot spots in wildfires or used for search-and-rescue missions generally work better at a higher altitude because it gives the cameras a broader range.
Alaska, New York, Nevada, Texas and Virginia also were selected in December 2013 as national test sites for unmanned aircraft, which the FAA does not currently allow for commercial use. As for why North Dakota's wide-open skies were chosen for the higher altitudes, the FAA referred questions to the North Dakota Department of Commerce.
Officials at the Northern Plains site wasted no time getting up in the air at night last week with the Draganflyer X4ES, which was monitored by three University of North Dakota pilots.
"With the lights on the aircraft, it's uniquely easy to see it," Flom said. "It's a little bit different perspective when they take off and land, just from a depth perspective standpoint, but there's no problem seeing anything."
Flying drones at night can have many benefits, said Mark Hastings, the test site's director of operations. Infrared sensors, which can detect people or animals on the ground, seem to work better in cooler temperatures. There's also less air traffic in the nighttime hours and usually lower wind speeds, a challenge for drone pilots especially in North Dakota.
The schedule for nighttime and high-altitude flights has not been determined, but the FAA will be closely monitoring the number of flights, Flom said.
And getting high up has a lot of value, too, allowing cameras to collect more data over a larger area more quickly.
North Dakota State University professor John Nowatzki is spearheading a research project that would use a large drone to monitor crop conditions and plans to ask for a special permit to put an unmanned aircraft with a 35-foot wing span in the Red River Valley at heights of 3,000, 5,000 and 8,000 feet. The pictures from higher altitudes will be compared to those from a smaller drone at 400 feet and satellite images to see what's best at identifying crop conditions such as nutrient deficiencies, disease symptoms and specific weeds.
"The value of flying higher is what our research is going to be about in 2016," Nowatzki said.