Drew Industries Soars on RV Industry Strength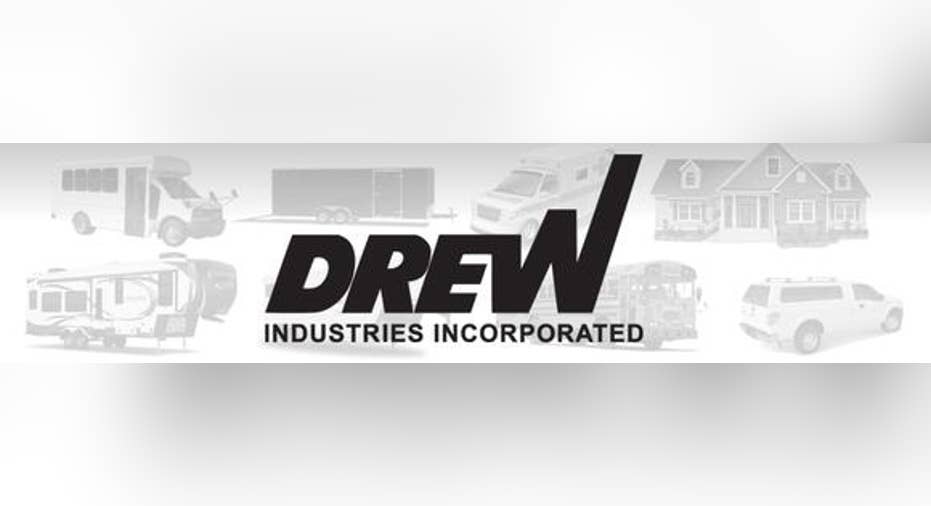 Image source: Drew Industries.
Many investors predicted that as the baby boom generation retired, the market for recreational vehicles would skyrocket. Component maker Drew Industries prepared for that eventuality by focusing its attention on the RV and manufactured-home industries, and coming into Monday's first-quarter financial report, Drew investors wanted confirmation that the company would take full advantage of the opportunity in the space. Drew's results were even better than the ambitious targets that analysts had set for the company, and its future looks brighter than ever. Let's look more closely at the latest from Drew Industries and what's ahead for the component manufacturer.
Drew Industries cruises down the roadDrew Industries' first-quarter results were nothing short of spectacular. Revenue was up 17% to $423 million, easily topping the 11% growth rate that most investors had expected. Net income soared by almost 80% to $20.1 million, and that produced earnings of $1.45 per share. By doing so, Drew exceeded the consensus forecast among analysts by $0.42 per share.
Looking more closely at Drew's figures, the overall strength of the company's businesses was evident. The key RV segment matched the company's overall rate of revenue growth at 17%, and Drew pointed to industrywide figures citing an 11% increase in wholesale shipments of towable RVs as helping to drive its results forward. Acquisitions were responsible for 6 points of Drew's gains in the segment. With the RV division, a 40% rise in aftermarket sales highlighted the importance of going beyond the original equipment manufacturing market for RV components. Operating profit for the segment was up by more than three-quarters from year-ago levels.
As a result of its efforts, Drew continued to make up an ever-increasing portion of every RV that goes out into the market. The components and products that Drew Industries provides for travel-trailer and fifth-wheel RV manufacturers jumped $64 to $2,978, and for motor home RVs, the corresponding figure rose by a more impressive $122 to $1,858.
Drew Industries' manufactured home segment did a great job of keeping up the pace, seeing growth that was much faster than in previous quarters. Segment revenue climbed 16%, and sales to the manufactured housing aftermarket outpaced what Drew sold to original equipment manufacturers. Segment operating profit was up by almost two-thirds.
CEO Jason Lippert celebrated the strong conditions in the industry. As Lippert sees it, "This growth reflects the current strength of our industry as well as the continued execution of our plan to drive growth in our primary areas of focus." The company also pointed to the acquisitions that it has made in order to boost revenue and profit in the future.
What's next for Drew Industries?In particular, those acquisitions could open up new areas of growth in previously untapped markets. Among the buys were a European company producing bed lifts and retractable RV steps and an Indiana-based marine-furniture specialist. By diversifying both geographically and into adjacent industries to the RV space, Drew sees opportunity and isn't hesitating to go after it.
That said, Drew Industries could have some minor headwinds coming later in the year. President Scott Mereness warned that although the declines in aluminum and steel prices gave Drew considerable momentum in the second half of 2015, he has seen some recent increases that could produce more difficult comparisons going forward. Nevertheless, the component maker is used to volatility in commodity prices and can react accordingly as conditions warrant.
Drew Industries investors celebrated the strong results by sending the stock to an all-time record high, climbing 11% in morning trading following the announcement. With the company having celebrated 10 acquisitions since the beginning of 2014 and having worked hard to integrate those purchases into its overall corporate framework, Drew Industries is poised to reap the rewards in the months and years to come.
The article Drew Industries Soars on RV Industry Strength originally appeared on Fool.com.
Dan Caplinger has no position in any stocks mentioned. The Motley Fool recommends Drew Industries. Try any of our Foolish newsletter services free for 30 days. We Fools may not all hold the same opinions, but we all believe that considering a diverse range of insights makes us better investors. The Motley Fool has a disclosure policy.
Copyright 1995 - 2016 The Motley Fool, LLC. All rights reserved. The Motley Fool has a disclosure policy.