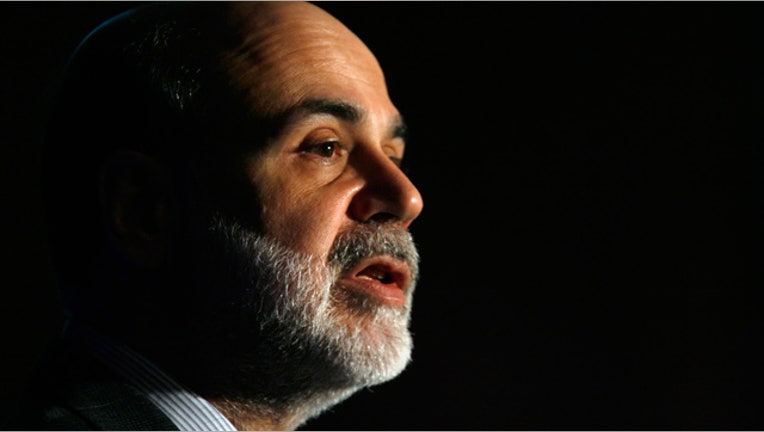 Don't throw away those QE3 hats just yet.
Market players hoping the Fed will refill its easy-money punch bowl were likely struck by  Friday's lackluster jobs report. The government said employers added just 120,000 jobs in March, 41% lower than economists had forecasted and the weakest level since October.
While this one bad report isn't enough to force Ben Bernanke's hand, it does seem to keep QE3 alive as a potential policy option if this sudden deceleration in job creation becomes a trend.
"The soft employment numbers certainly leave the door open for further accommodation and may shift the decision point to the June FOMC as the Fed continues to monitor the incoming data," Michael Gapen, director of U.S. economic research at Barclays, wrote in a research note on Friday.
"Further accommodation" is code for turning the Fed's easy-money spigots back on. Market participants and economists have endlessly debated the merits of a third round of quantitative easing, dubbed QE3, to spur economic growth.
In the most recent instance of QE, the Federal Reserve scoop up $600 billion of long-term Treasurys. While controversial among inflation hawks, the bond-buying exercises kept long-term rates at incredibly low levels and juiced equity prices, creating a wealth effect for many American families.
Earlier this week signs that QE3 was on life support helped send stock prices tumbling, sparking Wall Street's weakest weekly performance of the year. The blue chips retreated 1.15% to 13060, losing 204 points over the holiday-shortened week's final three days.
Fed watchers pointed to new language from the latest FOMC minutes as well as recent improvements in the economy as evidence the central bank was unlikely to launch a third bond-buying program.
But that thinking may have been premature.
After jumping by an average of 245,000 jobs a month over the past three months, U.S. payrolls increased by just 120,000 jobs in March. Private-sector job growth tumbled to 121,000 from 233,000 in February.
The internal metrics weren't encouraging either as retailers shed 34,000 jobs on top of February's 29,000 decline and construction jobs slipped by 8,000 -- the first decline since June 2011.
"The report had an undeniably weak tone and will raise doubts about the strength of the labor market," Gapen wrote.
Most major stock markets were closed Friday in observance of Good Friday, but U.S. stock futures suffered a knee-jerk selloff. Before being halted at 9:15 a.m. ET, Dow Jones Industrial Average futures slumped 120 points, or 0.92%.
While impressive job creation numbers prior to March helped buoy the stock markets in recent months, sending the S&P 500 to its highest levels since 2008, Bernanke and his Fed colleagues didn't seem sold on the data. They indicated the healthy rise in employment could just be temporary.
"The labor market slowdown in March vindicates the more cautious Fed officials," Harm Bandholz, chief US economist at UniCredit Research, wrote in a note, according to Dow Jones Newswires.
Even though the March jobs report is a setback for the economy, it's important to remember it is only a single report and could mark just a blip in the recovery.
Before the Fed loosens already ridiculously easy monetary policy any more, it will be looking for further evidence of a slowdown in the weeks ahead.
"Given that the report reflects only one month of data and some of the underlying cyclical sectors registered payroll gains, we do not view it as conclusively signaling a shift to a lower trend rate of employment growth," Gapen wrote. "We do not believe this number alone is sufficient to propel the Fed into action at the April FOMC meeting."
But the March jobs report also doesn't take QE3 off the table.