Dow's Latest 1K-Point Advance Ties Record, Trump Policy Priorities Fuel Rally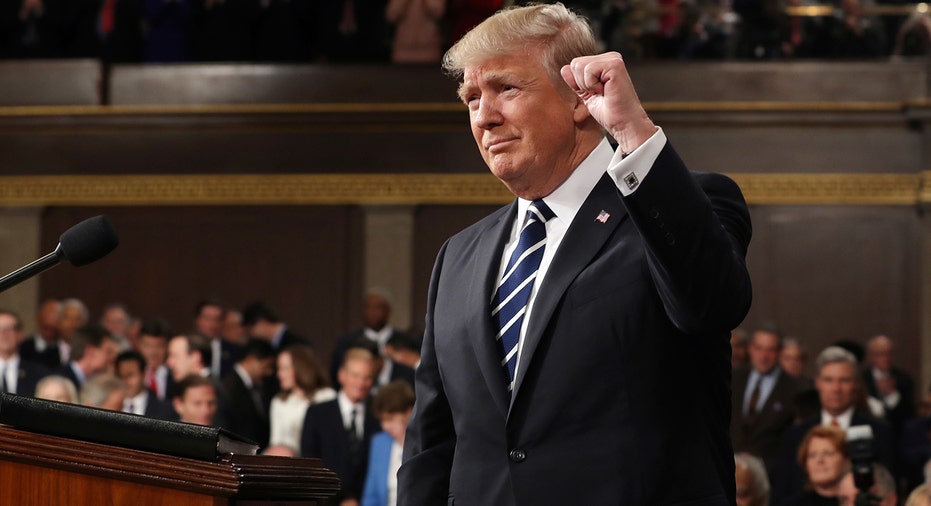 The Dow Jones Industrial Average traded and closed above the 21000 milestone Wednesday for the first time ever in what was one of the fastest 1,000-point advances in the blue-chip index's history.
Optimism on Wall Street came from President Donald Trump's first address to a joint session of Congress on Tuesday night in which he outlined the ways in which he hoped to "make America great again." His policy priorities included repealing the Affordable Care Act – a cornerstone of President Barack Obama's administration, revamping the U.S. tax code, improving trade policies, and requesting Congress approve $1 trillion for infrastructure spending.
The president's speech offered few explicit details about how he plans to move these policy priorities across the finish line, but that didn't seem to bother U.S. investors much who sent the Dow nearly 200 points higher at the start of trade.
"There was little to nothing on deregulation of financial institutions or on what budget cuts will be made to compensate for higher military spending. And he mentioned taxes, but there was next to no meat in any of that," said Michael Block, chief strategist at Rhino Trading Partners.
The Dow rallied 303 points, or 1.5% to 21115 during the session, taking just 24 days to advance from the highly-anticipated 20000 milestone, and matching its progress from 10000 to 11000 in 1999. While the Dow's point ascent ties for the fastest ever, the 1999 run was a bigger boost on a percent basis as it rose 10% compared to just 5% for the latest leg higher.
Heavyweights Apple (NASDAQ:AAPL), Goldman Sachs (NYSE:GS), Boeing (NYSE:BA), 3M (NYSE:MMM), and Johnson & Johnson (NYSE:JNJ) helped carry the Dow to 21000. Those top five gainers, which account for half of the Dow's rally since January 25 when the index first closed above 20000, represent cyclical sectors – including financials, technology, and consumer discretionary – that have seen sharp advancements since Trump's election.
Also helping push stocks higher was a run up expectations the Federal Reserve will move ahead with another rate rise at this month's policy meeting on the 14 and 15. CME Group federal funds futures, a tool used to predict market expectations for changes in monetary policy, showed odds for a March rise jumped from 35.4% on Tuesday evening to 68.6% Wednesday after a deluge of economic data – including consumer sentiment, fourth-quarter GDP, and home price figures – proved the U.S. economy held onto momentum found in the last half of 2016.
"Policymakers have been falling over themselves in the rush to suggest the U.S. economy is ready for another hike, just one quarter after the last one. Compared to the languid pace of tightening over the past year or more, this is a positively giddy pace," said IG Chief Market Analyst Chris Beauchamp.
Trump's surprise November election helped spur confidence both on Wall Street and Main Street that the economy will continue to strengthen with a pro-business president in the White House. Since Nov. 8, the Dow has gained more than 14% while the broader S&P 500 has booked gains of 11%.
As the Dow rallied past a fresh milestone, so did the S&P, which briefly crossed 2400 for the first time ever as the Nasdaq Composite, and small-cap Russell 2000 indexes also hit new all-time highs as they jumped more than 1.3% on the session.