Dow Stumbles, S&P Advances After Quiet Trading Week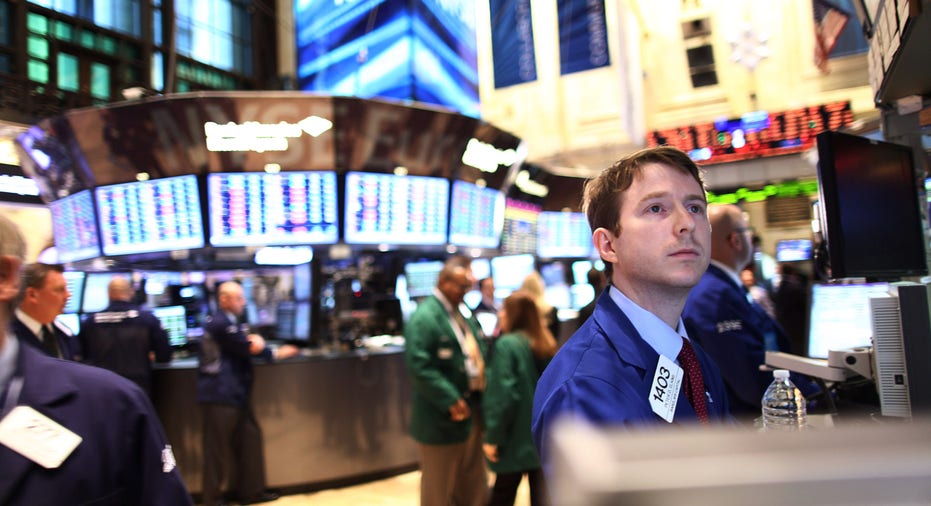 FOX Business: Capitalism Lives Here
The S&P 500 narrowly posted its seventh-straight weekly advance, while the Dow stumbled, in low-volatility trading.
Today's Markets
The Dow Jones Industrial Average rose 8.4 points, or 0.06%, to 13982, the S&P 500 fell 1.6 points, or 0.1%, to 1520 and the Nasdaq Composite dipped 6.6 points, or 0.21%, to 3192.
While it may not have been a quiet week from a corporate news perspective, the markets have traded in a fairly tight range. The Dow fell 0.08%, the S&P 500 rose 0.12% and the Nasdaq slipped 0.06%. Meanwhile, the CBOE's VIX, which tracks implied equity volatility, is trading at 12.46 -- well below its 50 and 200-day moving averages and far from recent highs.
Wal-Mart in Focus
An internal e-mail, obtained by Bloomberg News, quoted a Wal-Mart (NYSE:WMT) executive as saying February sales are a "total disaster" and that the month is off to the worst start in at least seven years.
The company issued a statement to FOX Business saying "a with any organization, we often see internal communications that are not entirely accurate, that lack the proper context and represent individual opinions."
Wal-Mart is a moderately-priced Dow component, meaning it often has an outsize affect on the blue chip average's performance. It recently shed roughly 18 points from the Dow.
It also threw cold water on data released earlier in the day that showed consumer sentiment ticking up. The concern is that consumers may start responding to increases in the payroll tax that took effect in January by cutting back on spending.
A preliminary reading on U.S. consumer sentiment from Reuters and the University of Michigan checked in at 76.3 for February from 73.8 in January, easily topping expectations of 74.8. The markets, which were flat in earlier trading, turned more solidly positive on the news.
U.S. factory output slumped by 0.1% in January from December, missing estimates of a 0.2% increase, according to a report from the Federal Reserve. Meanwhile, the New York Federal Reserve's regional manufacturing gauge rose to 10.04 in February -- its highest level since May 2012 -- from -7.78 in January. The gauge was expected to rise to -2. Readings above zero point to expansion, while those below indicate contraction. The more closely-watched survey from the Philadelphia Federal Reserve is due out next week.
Currency War?
A two-day summit of the Group of 20 finance and central bank chiefs representing most of the world's most powerful economies could garner even more attention than usual. One of the main issues analysts will be looking for is what the group, meeting in Moscow, will say about currency manipulation.
The Japanese have been criticized for artificially pushing the yen exchange rate down in a bid to boost exports, while the Chinese have for years come under fire for keeping the yuan rate low. There have also been concerns in Europe about the euro appreciating too much and potentially hurting the competitiveness of eurozone exports.
Moves in the foreign exchange market tend to have widespread consequences in commodities, equities and other asset classes. A final communiqué isn't expected until Saturday, but drafts often leak early.
On the corporate front, billionaire investor Carl Icahn revealed a nearly 13% stake in Herbalife (NYSE:HLF), the weight management and health drink company that hedge fund manager Bill Ackman has repeatedly called a pyramid scheme. The shares surged some 18% on the news.
In commodities, oil prices edged lower. The benchmark U.S. contract dipped 46 cents, or 0.47%, to $96.85 a barrel. Wholesale New York Harbor gasoline rose 0.59% to $3.134 a gallon. Gold slid $7.50, or 0.73%, to $1,628 a troy ounce.
Foreign Markets
The Euro Stoxx 50 fell 0.26% to 2628, the English FTSE 100 rose 0.04% to 6330 and the German DAX slumped 0.17% to 7618.
In Asia, the Japanese Nikkei 225 sold off by 1.2% to 11174 and the Chinese Hang Seng drifted higher by 0.13% to 23445.