Dow Slips on Weak Data, Mixed Earnings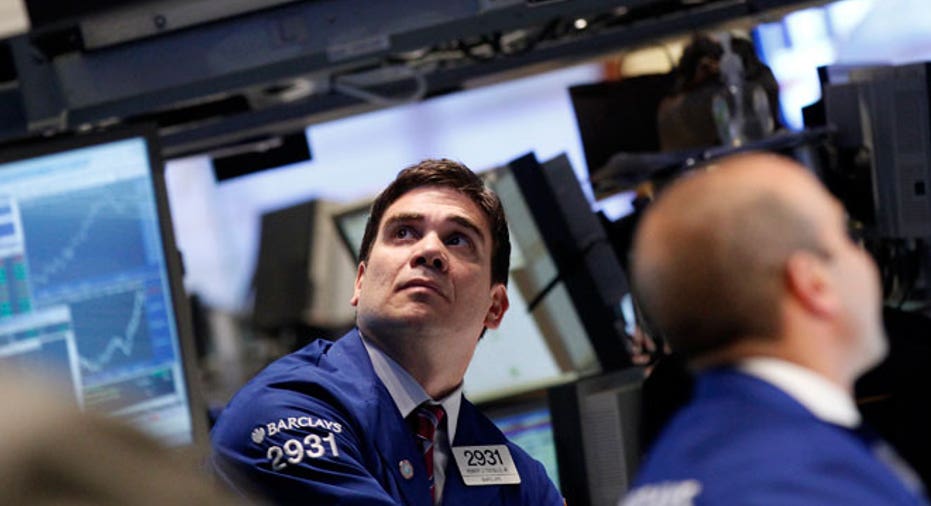 FOX Business: Capitalism Lives Here
The blue-chip average closed on the day in the red as traders responded to a disappointing durable goods report, and mixed corporate earnings. The broader S&P 500 barely budged.
Today's Markets
The Dow Jones Industrial Average fell 43.2 points, or 0.29%, to 14676, the S&P 500 was up 0.1 point to 1579 and the Nasdaq Composite rose 0.32 point, or 0.01%, to 3267.
Corporate earnings remained a major focus on the day. Apple (NASDAQ:AAPL) revealed better-than-expected fiscal second-quarter results after the close of trading Tuesday. However, a considerably weaker-than-expected revenue guidance prompted price target cuts from several major investment banks. Shares of the world's biggest technology company, which have plunged since hitting record highs in September, were mildly lower.
Meanwhile, Boeing (NYSE:BA) posted adjusted first-quarter profits of $1.73 a share, easily beating estimates of $1.49. Sales of $18.9 billion narrowly topped forecasts of $18.8 billion Procter & Gamble (NYSE:PG) unveiled a core fiscal third-quarter profit of 99 cents a share, beating estimates by three cents. However, the consumer products company's sales of $20.6 billion came in shy of expectations of $20.73 billion.
On the economic front, the Commerce Department said orders for long-lasting goods dropped 5.7% in March from February, the biggest decline since August and larger than the 2.8% decrease analysts were expecting. Excluding the transportation segment, orders were down 1.4%, compared to estimates of a 0.5% increase.
A closely-watched survey from the Ifo Institute showed German business confidence slumping in April from the month before. The gauge checked in at 104.4, down from 106.7.
"Although the majority of companies assessed their current business situation as good, they were far more cautious than last month," Ifo head of business analytics and surveys Kai Carstensen wrote in the report. "The German economy is taking a breather."
The country is Europe's economic powerhouse and has an outsize impact on the region.
Later, at 8:30 a.m. ET, the U.S. Commerce Department releases its latest durable goods orders reading. Economists expect orders for long-lasting goods to have dropped 2.8% in March from February.
In commodities, U.S. crude oil futures surged $2.52, or 2.5%, to $91.43 a barrel. Wholesale New York Harbor gasoline climbed 1% to $2.7474 a gallon.In metals, gold advanced $14.90, or 1.1%, to $1,424 a troy ounce.
Foreign Markets
The Euro Stoxx 50 rose 0.51% to 2676, the English FTSE 100 gained 0.11% to 6413 and the German DAX climbed 0.48% to 7695.
In Asia, the Japanese Nikkei 225 surged 2.3% to 13843 and the Chinese Hang Seng rallied 1.7% to 22183.