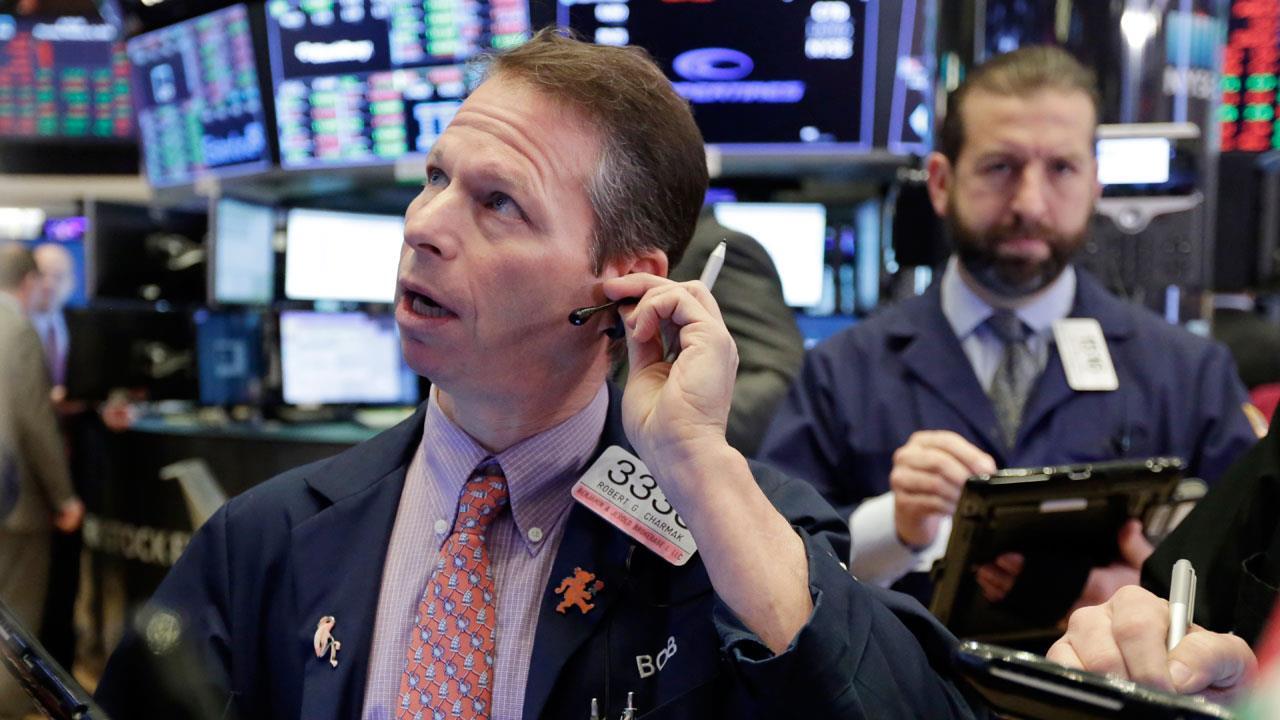 The Dow Jones Industrial Average slipped Monday as the Treaury 10-year note yield approached 3%, making stocks less attractive to investors.
The yield rose to 2.996% in early trading Monday before moving back down to 2.973%. The last time the yield reached the psychologically important 3% level was in 2013.
The Dow decreased 14.25 points, or 0.06%, to 24,448.69. The S&P 500 rose 0.15 points, or 0.01%, to 2,670.29. The Nasdaq Composite fell 17.52 points, or 0.25%, to 7,128.60.
The S&P technology sector was down 0.4%, the worst performance out of 11 sectors. Materials shares traded 0.3% lower.
Shares of Alphabet, Google's parent company, edged higher in after-hours trading after reporting that quarterly profits surged 73% thanks in part to gains in advertising revenue. The stock was down 0.33% at the closing bell, before Alphabet delivered its results.
Alcoa's stock posted its worst one-day loss in nine years as the U.S. government extended a deadline for America's companies to comply with sanctions against Russian aluminum rival Rusal. Alcoa shares tumbled 13.5%.
Under Armour jumped 4.2% after receiving an upgrade from Deutsche Bank analysts.
Sears rallied 7.6% on news that the hedge fund run by CEO Eddie Lampert suggested that it would be open to buying the Kenmore appliance brand.
| Ticker | Security | Last | Change | %Chg |
| --- | --- | --- | --- | --- |
| AA | ALCOA CORPORATION | 22.77 | +0.55 | +2.48% |
| GOOGL | ALPHABET INC. | 1,092.48 | -24.21 | -2.17% |
| SHLD | n.a. | n.a. | n.a. | n.a. |
With nearly one-fifth of the S&P 500 companies reporting earnings so far, the results are well ahead of expectations and consistent with the outperformance in previous quarters. Companies are expected to report combined earnings growth of 18%, according to Factset.
Ever since early January, as analysts were scrambling to account for tax reform in their 2018 earnings forecasts, earnings growth in the high teens for the first quarter has been the consensus expectation and may already be taken into account when it comes to stock prices.
"As strong as that result would be, it may not be enough," Ameriprise Chief Market Strategist David Joy wrote in a note to clients.
West Texas Intermediate crude rose 24 cents to $68.64 a barrel.