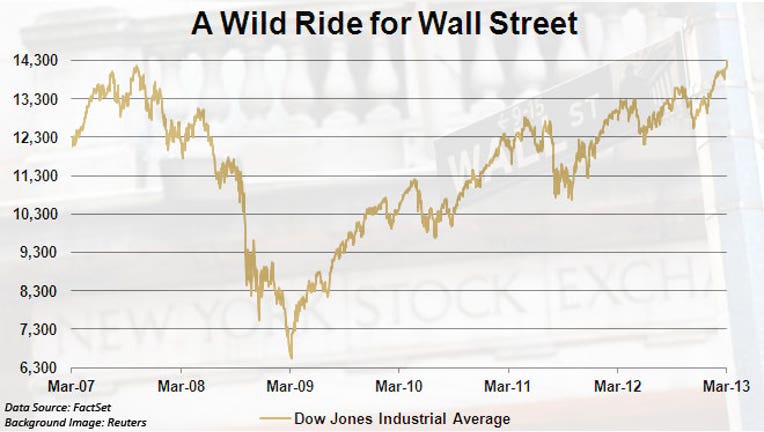 The Dow Industrials blew past all-time highs on Tuesday, capping off a four-year bull market party that many crisis-scarred Americans declined to attend.
This week's milestone leaves many asking whether it's too late to jump back into the market.
But market veterans don't expect the already-hot stock market to shoot straight up from here, with many calling for at least a short-term break that could provide an appealing entry point for investors still on the sidelines.
Of course, the caveat is that a correction rarely comes when everyone expects it to.
"Obviously this market looks pretty good right now, but it can be put flat on its back with a number of potential surprises that we know are out there but are ignoring right now just because we're feeling good as investors," said Bruce McCain, who helps manage more than $20 billion as chief investment strategist at KeyCorp.'s (NYSE:KEY) Key Private Bank.
There are legitimate reasons for investors to feel good right now: the Dow easily knocked out its all-time intraday record high that had been set in October 2007 -- weeks before the Great Recession began.
Since tumbling to a bear-market low of 6547.05 in March 2009, the blue chips have surged 118.08% as fears of a depression turned out to be overblown and incredibly easy Federal Reserve policies began taking effect.
Room to Run?
Despite the impressive start to 2013 -- the DJIA is up as much as 9% -- some believe the markets may continue setting record highs.
"We expect to go higher," said David Bianco, chief U.S. equity strategist at Deutsche Bank (NYSE:DB).
Bianco has a 1600 year-end target on the S&P 500, representing a 3.7% gain from Tuesday's highs and a 4.9% increase from Monday's close at 1525.20. He notes that 1600 represents a sub-15 price-to-earnings ratio on Deutsche Bank's 2013 earnings per share target of $108.
"The risk is building to the upside on our earnings target, even if full-blown sequestration takes hold," said Bianco, who called equity valuations "ridiculously low" compared with interest rates.
Ironically, the latest market landmark comes just days after the triggering of sequestration, the $85 billion of automatic spending cuts caused by Washington's political paralysis.
"The markets have come to simply ignore what's going on in Washington," said McCain. "Sequestration was viewed as a minor sideshow compared with the fiscal cliff."
Another Spring Break for the Bulls?
On the other hand, some market watchers believe investors should brace for at least a short-term correction, which is defined as a decline of 10% or more from recent highs.
"While the housing market is recovering, we don't think it's yet enough of a game changer to turn that growth from 2%-trend to 3%-trend," said Barry Knapp, head of U.S. equity strategy at Barclays Capital (NYSE:BCS).
Knapp said even though "the Fed is all in," the markets are likely headed toward a "growth-related correction" at the end of the first quarter or the beginning of the second.
Such a pullback would be nothing new as Wall Street has suffered springtime retreats in each of the past three years.
Knapp, who has a modest year-end price target of 1525 on the S&P 500, believes this pullback may be triggered in part by the expiration of the payroll tax holiday, which is projected to sap $125 billion from disposable income in 2013.
"The effects of the tax hike in the system are just coming through now. The market hasn't really caught up to this as a macro factor yet," Knapp said.
Internal documents leaked to Bloomberg News last month revealed that executives at Wal-Mart Stores (NYSE:WMT) believe February sales have been a "total disaster" due to a "potent one-two punch" of increased payroll taxes and delayed tax returns.
Timing a Pullback
Knapp also isn't a believer in the argument that stock prices look undervalued based on earnings projections.
"The stock market looks cheap to the bond market but that might just be an argument that the bond market is really expensive. We think valuation is okay but not a reason to be bullish stocks," he said.
Of course, it's notoriously difficult to time a pullback in the markets, in part due to the herd mentality that often takes hold among investors.
"Virtually everyone seems to be searching for a pullback so maybe what we need to do is run this thing even more" to make room for a retreat, said McCain. "This is a treacherous time to be too cute about trying to reduce exposure on the premise of a pullback. You've got to be ready to zig or zag."
Despite the record highs, many market participants remain skeptical of the current rally's foundation, pointing to 7.9% unemployment, anemic gross domestic product growth and historic help from the Fed.
"The fundamentals don't support it but that doesn't matter," said Joe Saluzzi, co-head of trading at Themis Trading. "When it stops, it's going to stop hard. But who knows when that will be? Even if I think it's silly, it doesn't mean I'm going to fight it. You'd be crazy to fight it right now."
It's not clear whether the buzz generated by the Dow's new record highs will help persuade retail investors to jump back into the markets, nor whether such a development would even be positive or negative for stock prices.
Bianco said he doesn't believe "retail is going to be an engine" to propel stock prices, saying the market will "climb a lot higher" even without it.
McCain noted that retail participation, which has largely been absent during the current bull market, can often be a contrarian signal.
"A lot of new players coming off the sideline may be the beginning of the end for this short-term rally," said McCain.