Dow Roars Past Record Highs on Strong Data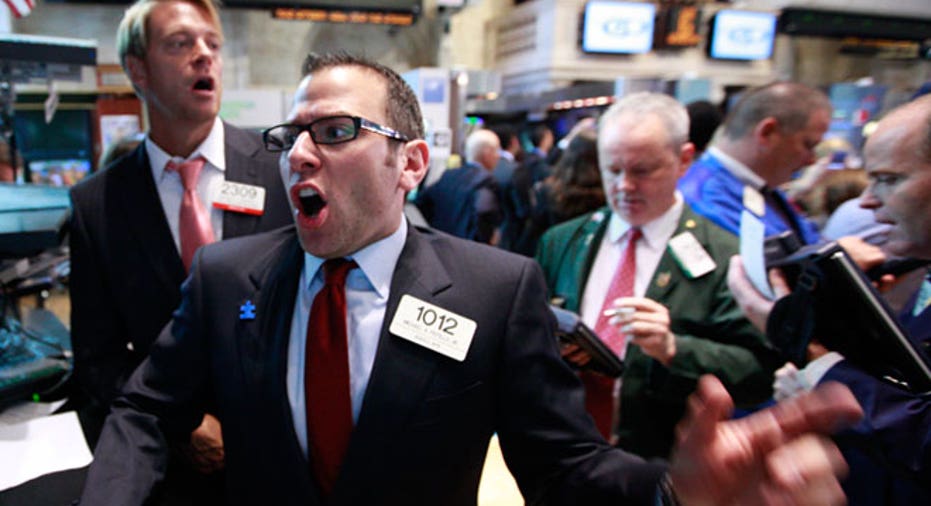 FOX Business: Capitalism Lives Here
The Dow surpassed its all-time high notched in October 2007 Tuesday as traders responded to a round of strong data from the U.S. and Europe in the latest sign U.S. markets are putting the financial crisis behind them.
Today's Markets
As of 3:25 p.m. ET, the Dow Jones Industrial Average climbed 125 points, or 0.88%, to 14252, the S&P 500 gained 13.8 points, or 0.9%, to 1539 and the Nasdaq Composite rose 35.2 points, or 1.1%, to 3216.
The Dow managed to knock out its record closing and intraday high in ten minutes of trading Tuesday, climbing above the 14198.10 level for the first time ever. The blue-chip average has been on a wild ride since it last hit record levels. In March 2009, during the depths of the worst financial crisis since the Great Depression, it plunged as low as 6547.05. It has taken numerous sizeable falls since then, too, notably during the U.S. debt-ceiling debacle in the summer of 2011.
"It's been a tough four years," said David Bianco, chief U.S. equity strategist at Deutsche Bank, "but the market has finally recovered." Bianco pointed to several factors for the recent move up on Wall Street, including a calming of the eurozone debt crisis, and acceleration in Asian economies. He also said sequestration, while a short-term economic drag, has also lessened the likelihood of another downgrade on U.S. debt.
The broader, and more closely watched, S&P is still about 2% away from its record high of 1565.15. Bianco expects that market barometer to climb up to record levels in April or May.
Still, not all analysts struck a bullish tone.
"New Dow highs will certainly make headlines across the country but we simply don't believe that those headlines will lure in retail investors that have proven hesitant despite the equity market's rally over the last several years," wrote Dan Greenhaus, chief global strategist at BTIG, in an email. "One headline, (no) matter how powerful, shouldn't overwhelm the psychological damage done to investors over the last twelve years."
Every major sector was in the green on Tuesday. Cyclical sectors, like industrials, technology and consumer discretionary retailers, performed best. On the other end of the spectrum were defensive players, like utilities and consumer staples. Volatility pulled back more than 4%, as tracked by the CBOE's VIX. Traders also ditched Treasury bonds, sending the yield on the 10-year rising 0.016-percentage point to 1.897%.
Economic Data Lift Sentiment
The Institute for Supply Management's gauge of service sector activity rose to 56 in February from 55.2 in January, topping expectations of a reading of 55. Readings above 50 point to expansion, while those below point to contraction.
Meanwhile, retail sales across the eurozone climbed 1.2% in January from December, following a 0.8% decline the month before. The composite purchasing manager's index for the 17-member currency bloc was also revised up slightly to 47.9 for February from an initial estimate of 47.3 -- indicating the pace of contraction was slightly slower than expected.
Elsewhere, oil prices edged up after slipping below the $90 a barrel mark for the first time this year on Monday. The benchmark contract recently rose 20 cents, or 0.23%, to $90.33 a barrel. Wholesale New York Harbor gasoline gained 0.26% to $3.107 a gallon. Gold advanced $10.30, or 0.66%, to $1,583 a troy ounce.
In corporate news, Qualcomm (NASDAQ:QCOM) boosted its quarterly dividend 40% to 35 cents and unveiled a $5 billion share buyback plan to replace its $4 billion plan.
Foreign Markets
The Euro Stoxx 50 jumped 2.4% to 2683, the English FTSE 100 climbed 1.4% to 6432 and the German DAX soared 2.3% to 7870.
In Asia, the Japanese Nikkei 225 edged up 0.27% to 11683 and the Chinese Hang Seng inched higher by 0.1% to 22561.
Follow Adam Samson on Twitter @adamsamson.