Dow Rallies to New High as Cyprus Fears Ebb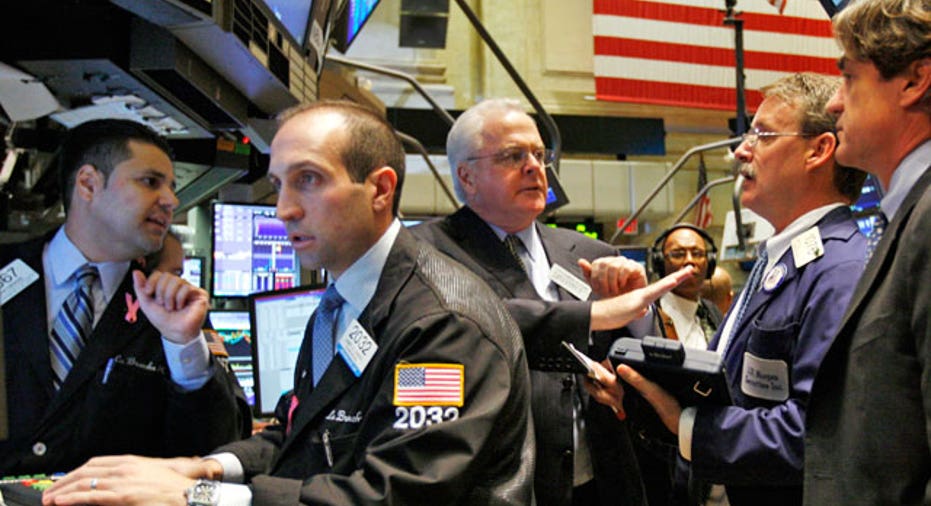 FOX Business: Capitalism Lives Here 
The blue-chip average logged a fresh record closing high as traders grew less anxious about the situation in Cyprus and mulled a batch of mixed data. Meanwhile, the broader S&P 500 came within just points of its all-time peak.
Today's Markets
The Dow Jones Industrial Average climbed 111.9 points, or 0.77%, to 14560, the S&P 500 gained 12.1 points, or 0.78%, to 1564 and the Nasdaq Composite rose 17.2 points, or 0.53%, to 3252.
After a quiet day on the data front Monday, the pace of releases picked up significantly Tuesday.
The Commerce Department said orders for long-lasting goods climbed 5.7% in February from January, outpacing estimates of a 3.8% increase. Excluding the transportation segment, orders were down 0.5%, missing estimates of a 0.5% increase.
The report on long-lasting goods provides a snapshot of demand for a wide range of items and will factor into the first-quarter gross domestic product reading. Indeed, it sparked upward revisions to Barclays' and Goldman Sachs' first-quarter economic growth forecasts.
Home prices in 20 U.S. metropolitan areas rose 0.1% in January from December on a non-seasonally-adjusted basis, according to the S&P/Case-Shiller home price report. Economists expected a slightly larger increase of 0.2%. Prices climbed 8.1% from the same month in 2012, topping estimates of a 7.9% rise.
A separate report from Commerce showed sales of new single-family homes dropped 4.6% in February to a seasonally-adjusted annual rate of 411,000 units. Economists had expected sales to fall to 422,000-unit rate last month.
The housing market has been showing signs of recovery recently, helped by low interest rates and a recovering economy. However, economists say the rebound from the collapse of the housing bubble is likely to proceed at only a modest pace.
The Conference Board reported its index of consumer attitudes fell to 59.7 from a downwardly-revised 68 in February. The figure fell short of economists' expectations of 68.
The markets zigzagged Monday, with traders digesting news suggesting the Cyprus bailout that utilized funds from bank deposits as a down payment would be a template for the future. However, in comments to FOX Business, several European Union officials downplayed that theory, saying the situation there "unique."
The European Union still remained a focus as banks in Cyprus remained closed until Thursday as the country worked to wind down its second-biggest lender, protect insured deposits and prevent what could still be a catastrophic bank run.
"Calm has finally descended after the turmoil of the Cyprus bailout, but the damage to investor confidence has been done,"  Chris Beauchamp, a market analyst at IG wrote in an e-mail.
Elsewhere, oil and gasoline futures pushed higher. The benchmark U.S. crude oil contract rose 53 cents, or 0.56%, to $95.34 a barrel. Wholesale New York Harbor gasoline edged up 0.17% to $3.077 a gallon. In metals, gold fell $7.40, or 0.47%, to $1,599 a troy ounce.
Foreign Markets
The Euro Stoxx 50 fell 0.01% to 2649, the English FTSE 100 rose 0.1% to 6286 and the German DAX gained 0.19% to 7885.
In Asia, the Japanese Nikkei 225 slumped 0.6% to 12472 and the Chinese Hang Seng climbed 0.27% to 22311.