Dow Posts Worst Week of 2012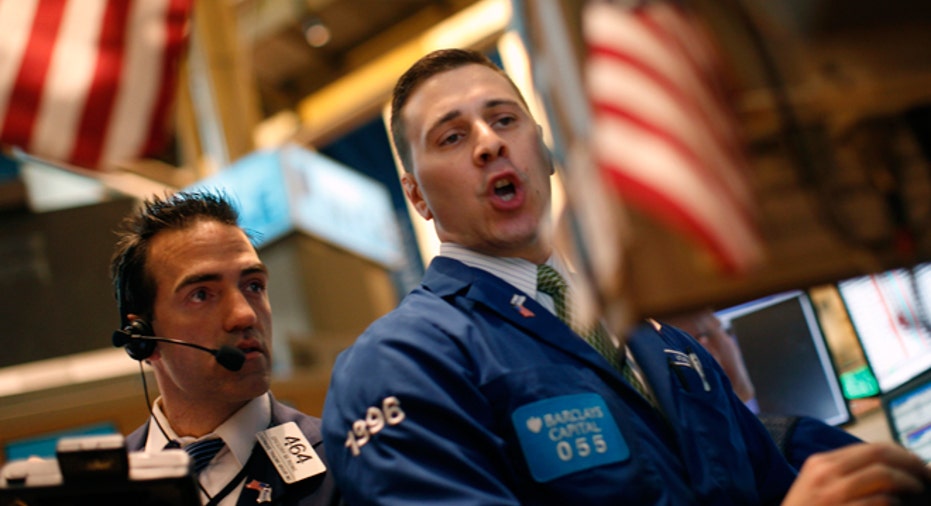 FOX Business: The Power to Prosper
Despite ending the week on a high note, the blue-chip average posted its worst week since December amid swelling anxiety about global economic growth prospects.
Today's Markets
The Dow Jones Industrial Average rose 34.6 points, or 0.27%, to 13081, the S&P 500 gained 4.3 points, or 0.31%, to 1397 and the Nasdaq Composite climbed 4.6 points, or 0.15%, to 3068.
For the week, the Dow shed 1.2%, the S&P 500 dipped 0.5% to snap a five-week winning streak, while the Nasdaq tacked on 0.41%.
Looking at the broad markets, energy names like Halliburton (NYSE:HAL) and materials stocks such as Alcoa (NYSE:AA) were the biggest outperformers on Friday.
Homebuilders took a big hit. KB Home (NYSE:KBH) was under particularly heavy pressure after it said it saw orders sink 8%. Other big names in the sector were down sharply too, including: D.R. Horton (NYSE:DHI), Lennar (NYSE:LEN) and Toll Brothers (NYSE:TOL).
Hewlett-Packard (NYSE:HPQ) and Bank of America (NYSE:BAC) were the blue chips that posted the best performance.
Commodities jumped after broadly falling in the last session on supply fears from Iran. The benchmark crude oil contract traded in New York climbed $1.52, or 1.4%, to $106.87 a barrel. Wholesale RBOB gasoline gained 1.4% to $3.385 a gallon.
In metals, gold rose $19.90, or 1.2%, to $1,662 a troy ounce. U.S. Treasury prices advanced, pushing yields down. The yield on the 10-year slipped 0.029% to 2.254%.
Global Growth Worries
There has been a resurgence in anxiety that growth in several key foreign economies may be slowing down even expansion in the U.S. picks up steam. A report Friday showing business sentiment in China, the second biggest economy in the world, dipped in March added to the prior session's "bearish sentiment" over weak factory data, analysts at Nomura wrote in a note to clients.
The chance that even large countries in the eurozone, such as Germany and France, may not be immune to headwinds from the debt crisis there also weighed on confidence. European shares were off 0.6% while China's Hang Seng closed with a loss of 1.1%.
Adding to the negativity, a report on U.S. new homes sales disappointed. Sales of new single-family homes fell 1.6% in February to a 313,000-unit annualized rate, short of the 325,000-unit rate expected. The reading for January was also revised lower by 3,000 units.
Corporate News
BATS Global Markets withdraw its initial public offering after a hectic day filled with bad traders and serious technical issues after pricing at $16 a share on Thursday.
Foreign Markets
European blue chips fell 0.19%, the English FTSE 100 rose 0.16% to 5855 and the German DAX climbed 0.21% to 6996.
In Asia, the Japanese Nikkei 225 sold off by 1.1% to 10011 and the Chinese Hang Seng dropped 1.1% to 20669.