Dow Outpaces Broad Markets, Reclaims 14K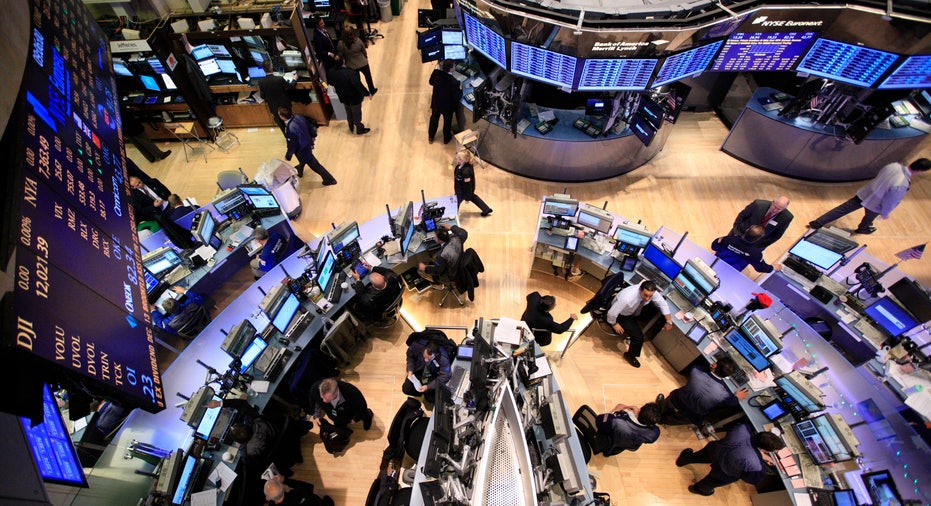 FOX Business: Capitalism Lives Here 
The Dow Industrials led the way higher Tuesday, with blue chips like Bank of America, Alcoa and Hewlett-Packard posting solid gains.
Today's Markets
The Dow Jones Industrial Average rose 47.5 points, or 0.34%, to 14019, the S&P 500 gained 2.4 points, or 0.16%, to 1519 and the Nasdaq Composite fell 5.5 points, or 0.17%, to 3186.
Out of the Dow components Coca-Cola (NYSE:KO) and Cisco (NASDAQ:CSCO) posted the worst performance by a wide margin. Bank of America (NYSE:BAC), Hewlett-Packard (NYSE:HPQ), Alcoa (NYSE:AA) and Home Depot (NYSE:HD) performed the best.
There was no shortage of news stories for traders across the globe to consider on the day.
On the corporate front, Coca-Cola revealed adjusted quarterly profits that beat Wall Street's expectations. However, the blue-chip soda company's revenues came in shy of estimates. McGraw Hill (NYSE:MHP) also posted mixed results, with profits topping expectations and sales missing.
Meanwhile, Barclays (NYSE:BCS) revealed plans to slice 3,700 jobs as part of a plan aimed at shaving roughly $2.6 billion a year in costs. The British investment bank is still reeling from a scandal in which it is accused of rigging Libor, a global benchmark interest rate.
On the political front, the Group of Seven industrialized nations reaffirmed its "longstanding commitment to market determined exchange rates." Since exchange rates directly impact the competitiveness of exports, there have been fears brewing of a global currency war in which certain countries would look to devalue currencies in hopes of boosting exports. Indeed, China has long been accused of keeping its yuan undervalued.
North Korea conducted a third nuclear test, igniting a hailstorm of international condemnation. Global markets, including those in Asia, shrugged the move off.
"Pyongyang had been warning since mid-January that it would conduct such a test," Alastair Newton, an analyst at Nomura wrote to the Japanese investment bank's clients. "Markets were not, therefore, taken by surprise and appear to have been more or less unmoved by the news."
Newton did warn, however, that the "latest development (is) bad news not only for stability on the Korean peninsula but also for wider regional stability."
Tuesday evening, after the markets are closed, President Barack Obama will give his first State of the Union address of his second term. He is expected to discuss plans to stimulate the struggling U.S. economy as well as plans to avert sequestration.
Oil futures ticked up. The benchmark U.S. contract climbed 25 cents, or 0.26%, to $97.28 a barrel. Wholesale New York Harbor gasoline gained 0.34% to $3.032 a gallon. Gold rose $1.20, or 0.07%, to $1,650 a troy ounce.
Foreign Markets
The Euro Stoxx 50 rose 0.44% to 2634, the English FTSE 100 gained 0.4% to 6302 and the German DAX edged up by 0.02% to 7635.
In Asia, the Japanese Nikkei 225 soared 1.9% to 11369. Chinese markets were closed for the Lunar New Year.