Dow on Track For Third-Straight Weekly Gain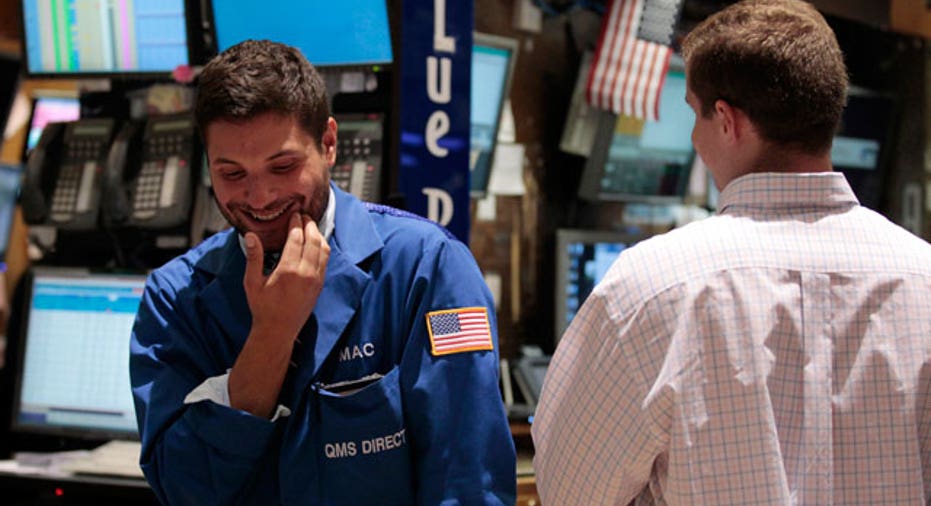 FOX Business: The Power to Prosper
The markets are rallying once again, and the blue chips on their way to the third-straight weekly advance, the longest since April.
Today's Markets
As of 12:08 p.m. ET, the Dow Jones Industrial Average climbed 66.3 points, or 0.58%, to 11,544, the S&P 500 jumped 9 points, or 0.74%, to 1,213 and the Nasdaq Composite gained 17.3 points, or 0.66%, to 2,638.
The energy and basic materials sectors posted strong gains in late-session trade on the back of a major rally in futures markets .  Technology stocks also performed solidly after tech titan Google (NASDAQ:GOOG) unveiled robust quarterly profits.  However, financials lagged behind for a second day.
In energy markets, crude jumped $2.57, or 3.1%, to $86.80 a barrel.  Wholesale RBOB gasoline gained 7 cents, or 2.4%, to $2.82 a gallon.
Gold gained $14.50, or 0.87%, to $1,683 a troy ounce. Copper leaped 10 cents, or 3.1%, to $3.41 a pound. The benchmark 10-year Treasury note recently yielded 2.239% from 2.185%.
Retail sales jumped 1.1% in September, or 0.6% excluding the automobile sector.  Analysts forecast gains of 0.7%, or 0.3% excluding vehicles. Sales held up "surprisingly well" despite the market turmoil and still weak labor conditions, according to Peter Boockvar, managing director at Miller Tabak + Co. Business purchases have helped buoy vehicle sales despite weakness in the consumer sector in the past two years, according to a research note from Goldman Sachs.
Consumer sentiment, however, took an unexpected fall in early October.  The Reuters/University of Michigan gauge of consumer sentiment fell to 57.5 from 59.4, missing expectations of 60.2.  Additionally, consumers' expectations for the future dropped to 47 from 49.4 -- the lowest level since 1980. Confidence in the consumer sector is a major factor in purchasing decisions, so it may impact retailers.
Google unveiled earnings of $3.63 billion, or $9.20 a share, on an adjusted basis, easily topping analysts' estimates of $8.74 a share after the closing bell on Thursday.  The search giant benefited from strong advertising revenue, and said its bid to tap into the red hot social networking market is proceeding at quick pace.  Shares surged more than 5%.
Traders were also keeping a close eye on the Group of 20 financial ministers and central bank officials who are kicking off a three-day meeting in Paris.  The group, which represents many of the world's biggest economies, is expected to discuss methods of tackling Europe's twin sovereign debt and financial crises.  In a sign of the lingering tensions there, Standard & Poor's sliced Spain's credit rating to "AA-" from "AA" amid concerns about the country's economy.
European stocks fared well despite the downgrade, with the Euro Stoxx 50 climbing 0.98% to 2,355. The euro soared 0.74% to $1.39, while the greenback slipped 0.43% against a basket of world currencies. The euro is now at a four-week high against the dollar.
Foreign Markets
The Euro Stoxx 50 rose 0.98% to 2,355, the English FTSE 100 gained 1.2% to 5,466 and the German DAX climbed 0.89% to 5,967.
In Asia, the Japanese Nikkei 225 dipped 0.85% to 8,748 and the Chinese Hang Seng slid 1.4% to 18,502.